http://www.freepressjournal.in/analysis/votebank-politics-northeast-on-the-boil-r-n-bhaskar/1326458
The Northeast turmoil could actually clean up votebank politics across India
— By RN Bhaskar | Aug 02, 2018
The Nellie nightmare gripped India on February 2, 1983. Overnight, Assamese tribals surrounded three villages filled with Bangladeshi migrants.  They slaughtered some 3,300 people – mostly women and children. Preliminary investigations suggest that the police knew of this in advance. But they did nothing.  Investigations were never completed.

Politicians promptly stepped in (with premeditated intent?) to assure migrants that they would be protected.  A new vote bank got created.
That in turn intensified the crippling Assam blockade of the 1980s. It was aimed at preventing further erosion of local demographics in Assam and the rest of the North East (http://www.asiaconverge.com/2018/05/citizenship-votebank-northeast-and-work-permits/). Finally, an accord was signed in 1985, where the government agreed to set up the National Register of Citizenship (NRC) and weed out foreigners.
March 25, 1971 became the cut-off date for identifying Indian citizens. But little was done, till a PIL was filed in 2009 before the Supreme Court.  In 2015, the NRC work resumed in full earnest. By the time this article appears in print, the NRC for the North East will be formally released. Some 4 million people (mostly Muslims) may be excluded from this list.
The NRC will be challenged. But the die is cast. Belatedly, the government of India has begun work on introducing work permits for migrants (http://www.asiaconverge.com/2017/08/legalise-work-permits-for-migrants/). That would allow migrants to legally work in India, but without voting or land ownership rights.
Yet big headaches will follow. What happens to migrants who already own land? What about Hindu migrants?  And what happens when similar demands are made in other states where illegal squatters have become votebanks?.
Watch how politicians have permitted slums on prime land in the wealthiest centres in India.  They have abetted and protected squatters as slum dwellers.  This has marginalised the vote share of existing communities.  It has made a mockery of local governance. Worse, politicians are now demanding free houses for squatters in the very areas that they currently occupy illegally.
The Assam issue is explosive.  In today's world – armed with mobile cameras, television networks, social media and tech savvy audiences – nobody wants another Nellie massacre.  Bobody wants a Northeast blockade either.  Moreover, the Northeast comprises regions where secession is just a step away.
Hence, law (thanks to the Supreme Court) and caution will finally begin the process of weeding out foreigners, and giving them work permits, without voting rights.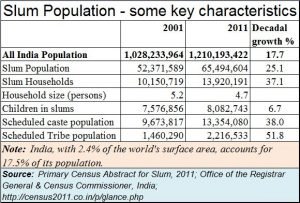 Once that happens, it won't be long, before NGOs begin demanding that justice be done in other parts of India as well.  True, slum-dwellers are not foreigners.  But they are illegal occupants, who now want their ill-gotten gains to be legitimised.  They dilute local demographics and thus impose a non-representative politician as the new elected representative.  The new leader is more interested in taking care of his constituency, not in the welfare of the city.  Thus, cities are ransacked and bankrupted in much the same way Nadir Shah did when he invaded India and plundered its temples.
Take for instance the city of Mumbai (http://www.asiaconverge.com/2014/03/caste-politics-of-slums-their-effects-on-cities/). It is the financial capital of India, and – sadly — has been denied much of the money that its tax paying people have generated. This makes Mumbai similar to Assam and the Northeast.
Consider the Census 2011 figures. Slum population for the country grew at 25% compared to the national population increase of just 17.7%.
Then watch how slum households have increased faster than slum population.  This is the result of government schemes which allow benefits to households, not to people.  So each household is entitled to so many units of subsidised power, or LPG, or other benefits.  Obviously, when you have a lopsided policy, people will adopt peculiar solutions.
Observe how slum populations for scheduled castes (SC) and scheduled tribes (ST) have grown faster than the above two categories. That should have been expected. Slums get formed when a group of people squat (illegally) on public land.  The police can evict them, but don't. Sometimes, they have specific instructions to even protect the squatters (as happened a decade ago when new slums were sought to be created on JNPT land).
Yet when public spirited persons file complaints urging the courts to intervene, the best safeguard is to put up busts of Ambedkar, Gautam Buddha or even Mayawati.  Any action against ST or SC squatters then becomes an act of atrocity against minorities or SC or ST.
Obviously, if migrants pay rent, or buy their land, then they are legal occupants —  with full voting rights.  Otherwise, their votes must remain confined to the areas they come from.  Allowing illegal squatters voting rights is like stuffing ballot boxes with bogus votes.
Expect the NRC of the Northeast to have major ripple effects all over India.
Comments can be posted to RNB@asiaconverge.com