http://www.freepressjournal.in/business/jnpt-acting-chairman-neeraj-bansal-our-sez-serves-every-class-of-industry/1376275
JNPT's Neeraj Bansal talks about investment plans
— By Jescilia Karayamparambil and R N Bhaskar | Oct 16, 2018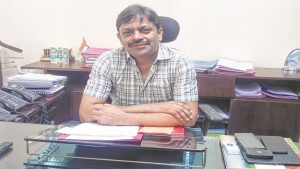 Government-owned Jawaharlal Nehru Port Trust (JNPT) has been constantly improving across various parameters. During the financial year 2017-18, the port handled total cargo of 66 million tonnes and 4.83 million TEUs of traffic the highest ever container traffic handled by the port since its inception. Neeraj Bansal, acting Chairman of JNPT, wants to continue this pace of growth. He is optimistic that the port will continue to take steps that will fortify its position in the sector.  In a conversation with Free Press Journal's Jescilia Karayamparambil and R N Bhaskar, he talks about the company and its ambitious plans.
Edited Excerpts:
What is the progress made in dry ports?
We are setting up four dry ports- Wardha, Jalna, Nashik and Sangli. In case of Wardha and Jalna, we have already acquired the land and all other developmental activities like rail connectivity, road connectivity, development of the plot, etc, are on-going. We are already out with a tender for Wardha. We are hoping to work with some strong logistics player because it is a unique concept. This is not a simple Inland Container Depot (ICD). But here we are trying to set up a huge industrial park along with this ICD facility. When we talk about development of dry ports, the biggest challenge will be cargo aggregation.  We also want to increase containerisation. Our percentage of containerisation is low.
A country's efficiency in cargo evacuation can been measured from the percentage of containerisation. The initial idea behind setting up these four dry ports was that we serve a narrower hinterland, as compared to a larger hinterland which the port caters to. Having a cargo aggregation centre nearby can allow goods such as agro-produce, domestic products etc, to reach the centre which then gets put into the containers and then moved to JNPT for export. This led to conceptualisation of dry ports.
While work of Wardha dry port is at a very advanced stage, our next focus will be on Jalna. We are in talks with the state government for land in Nashik and Sangli.
What is the progress made with  Vadhavan port?
It is a joint venture between the government of Maharashtra and JNPT. It is a true federal port where both the state government and central government are partners. This is the 20-metre natural draft port. And if you look at entire state of Maharashtra on the West Coast there is only one container port. So looking at the industrial growth and penetration of Maharashtra, we need more ports. We need new locations for the ports and Vadhavan can (fit the bill).
We are at a very advance stage of completing the Detailed Project Planning (DPR). So once the DPR is ready, and approved by the central government, then the project can move ahead. We can support the industry when the demand for cargo increases and in my view Vadhavan can play the most critical role in this. Vadhavan will be an all-weather cargo port. So you are entering into different ball game now. And ultimately cargo will come if it makes economic sense. Of course, it does not mean that other ports will become redundant because of Vadhavan.
How long will it take to prepare the DPR?
I think the last four or five studies have already been conducted. So they are already at an advanced stage. So it will be prepared in less than a year's time (probably within five to six months). The port will be completed in the next three to four years.
What is the progress made with PSA terminals?
We have gone ahead with the PSA phase one and PSA phase two will start within the next one and half-two years. So, we will comfortably complete the project by 2022-23.
How do the Special Economic Zones (SEZ) fit in the port sector?
If you look at the concept of Sagarmala, the idea is to have industry come close to the ports. A huge amount of money is spent on logistics. So having industries close to ports can save a lot on logistic costs. Ports create huge value for industries, especially when JNPT is concerned. We are the busiest port and can connect to every nook and corner of the world. The SEZ will bring industries closer to the port area and that takes care of the last-mile connectivity issues.
We started marketing the SEZ a year ago. We have already sold 80 acres of plots. Recently, we have attracted a huge investment from DP World for 44 acres in the Free Trade & Warehousing Zones (FTWZ) plot. They paid around Rs 566 crore – a premium price – which shows the value industry sees in the FTWZ sector.
Which are the sectors that are  showing interest in SEZ?
One is small and medium scale industries. We are capturing the requirement of those industries too. Out of the 80 acres of plot, almost 40 acres of land have gone to SMEs (Small & Medium Enterprises) and 44 acres have gone to the FTWZ. For the next plot tender, we hope to encourage the industrial hub concept and attract manufacturing units.
Currently, we have around 15 SMEs. We are coming out with 268 acres of plots in the SEZ area. This would be for the big industry.  For these big industries, we have put a condition for employment generation as well. For every acre, there have to be specific employment numbers. So it serves the purpose of 'Make in India' and 'Skill India'. JNPT's SEZ serves every class of industry. If you look at the rate for different tenders, it is quite different.
What is the investment made by  JNPT in last few years?
There is a greater focus on creating the world class facilities. So, if you look at the Rs 8,000-crore investment by PSA, around Rs 3,000 crore for road project which is already six to eight lane project; and Rs 2,000 crore for a drilling project. (Incidentally) the Rs 2,000 crore drilling project is 90 per cent complete. Then we are looking at SEZ and at the various flyovers and other issues, which will cost around Rs 1,500 crore. Then there is a railway project worth Rs 70,000 crore, which is being undertaken by Dedicated Freight Corridor Corporation of India (DFCC). Around Rs 4,000 crore investments will be made by JNPT.
Most of the projects are 50 per cent complete. We will be investing almost Rs 500 crore on each dry port. This time we are setting up two dry ports. Thus, we are running projects worth Rs 15,000 crore at JNPT currently.I am not phasing it out now. This total outlay does not include Vadhavan as it is a huge project (an informed guess would be around Rs 50,000 crore).
What is the progress made on Dedicated Freight Corridor (DFC)?
There is a lot of focus of the central government on the DFC completion. There was some land issue and Maharashtra has its own land issue too. By 2020, the corridor is likely to connect to JNPT. The project is on fast track now.
How do you view cabotage relaxation?
The biggest change took place with this new cabotage relaxation policy which was announced by the government in May.It is a game changer.
Are you considering purchase of the debt-laden Dighi port?
In case of Dighi port, we have expressed interest. We have submitted an LOI (letter of intent). I am bidding for it which means I have cash with me to buy the port.
How attractive is Dighi port?
More than 10 port companies are participating. So, that answers your query. There will be some who will say that revenue or road connectivity or rail connectivity will be a challenge. It is a mixed bag. There are some serious challenges. But we are serious about participating in this process.
What is the progress made on the coastal berth front?
JNPT is setting up a coastal berth. Around 50 per cent of the work is over. We will be providing a green channel along with the coastal berth. This coastal berth is between the BPCL Jetty and fourth container terminal. This will allow more cargo to come up.
Private players will not do it because this may not be remunerative for them or this may not be financially viable for you. But government-run ports must switch to this initiative. The government is trying to talk to private players about embracing a green channel concept.
Apart from coastal berth, which are the other initiatives that help attract more cargo?
JNPT is looking at several initiatives. We are looking for opportunities that would help us generate more cargo. In case of shallow-water berths which are currently being used for the cement, we want to convert them into a new terminal. This will help us get a little space for handling liquid, general cargo and thus create more space for industry.
Comments can be posted to RNB@asiaconverge.com