https://www.moneycontrol.com/news/business/aditya-birla-health-insurance-the-changing-contours-of-medical-insurance-3046721.html
Aditya Birla Health Insurance redefines health insurance

RN Bhaskar — Oct 17, 2018 health insurance, medicare,
Medical Insurance is a fascinating business.  The need is immense. But the awareness of this need is pathetically poor.  Medical insurance companies normally generate a steady flow of business for hospitals, but can help keen a check on medicare costs as well.  However, if they don't manage their own business and numbers well, they could end up losing money.  Hence it is pleasantly surprising to see Aditya Birla Health Insurance Company Ltd. (ABHICL) opting to venture into this field with concepts that would normally have been considered expensive by many other medical insurance companies.  That it does this, and still intends remaining in the black, is creditable.
ABHICL has done three things that many of its ilk have not.
First, unlike most medical insurance companies which contact the customer only at the time of collecting the premium and at the time a claim is made, ABHICL tries to maintain contact with the customer throughout the span of the policy. But more on this later.
Second, unlike many of its peers which use TPAs (Third Party Administrators) to manage the claims customers made, ABHICL prefers to do all claims in-house. "These are my customers.  I would prefer to understand them than letting an outside like a TPA decide what should be done with my customer's claim," explains Mayank Bathwal, the company's ceo.
Third, unlike many insurance companies which prefer to hedge their risks by keeping medical insurance as a division of their non-life insurance operations, ABHICL has opted to be a stand-alone medical insurance company.  That makes it more vulnerable to the risks attendant to this line of business.  The risks are many. But so are opportunities.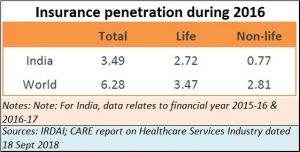 To understand these risks and opportunities, one needs to look at the field of medical insurance itself.
The need is there, but . . .
But let's look at the need aspect first. The fact is that India is terribly underserved by insurance (see chart).  The penetration of health insurance is even lower.  Given that only 25% of the premiums of non-Life come from health insurance, its penetration could be less than 0.3% of the population. That poses both a danger as well as an opportunity.  The danger is that market development will take a lot more effort than in most other countries.  The opportunity is immense because the potential for growth is tremendous.
The potential is huge also because of another reason.  The Indian state has almost abdicated its responsibility for ensuring the provison of good medicare.  It has money for subsidies, for the perquisites of elected representatives.  It doles out higher wages for public sector employees.  But it does not care for health.
Look at the three tables in the chart below.

Health expenditure in India is excruciatingly low. It would have been easy to glibly dismiss this by saying that the low expenditure is indicative of the good health enjoyed by Indians.  But a casual visit to any of the government owned hospitals tells you another story.  The dehumanising conditions under which Indian citizens are made to stand in queue after queue – first to get their case papers ready, then to meet one doctor, then to get diagnostics done and so on.  The person is ailing, and the state makes him stand in queues almost oblivious of the pain he suffers. The milling of ailing people in every queue reinforces the belief that India has many sick people who often go without treatment.
The third table in the chart underscores the poor allocation of funds to healthcare, and the centre table to the fact that most people have to pay out of their pocket for their healthcare needs compared to most other countries.  India is a country where it takes just one major ailment of a person to bankrupt his middle class family.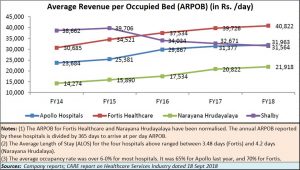 What is worse is that private quality medicare does not come easy (see table).  Just look at the huge costs involved per patient per bed.  Even small nursing homes in slums charge around a third or one-fourth of these fees on a per patient per day basis.  There are visible signs of extortionate charges everywhere.
High medicare costs
The exorbitant costs are themselves the result of three policy flaws.
First, there is the sheer shortage of good medicare at government hospitals.  There are good doctors, but the numbers are few.  Carelessness and (often) collusion with private diagnostic centres ensure that x-ray, CAT scan, sonograph machines and similar equipment do not function at government hospitals, compelling poor patients to go to private centres to get their examination reports ready. In the face of shortages, the private sector finds a chance to be rapacious.
Second, is the inability (it appears to be unwillingness) on the part of the government to allow more medical colleges to come up.  There is a licence raj in the sanction of medical colleges.  Government run medical colleges are few in number, causing private medical colleges to charge capitation fees or demand donations of almost Rs.1 crore per seat (for post graduate medical education the donations could exceed Rs.2 crore). When medical students have to pay these high fees, they are compelled to charge patients high rates to recover their cost of education.  What makes the situation cynical, even criminal, is the unwillingness of the administrators to accept at face value the medical degrees of the best of Universities overseas.  As the result, there is a deliberate attempt to create a shortage of medical seats and medical graduates for India, pushing up attendant costs. As a result, India has one of the lowest ratios of doctors compared to the population (http://www.asiaconverge.com/2018/08/ayushman-bharat-great-concept-doctors-overlooked/).

Third is the sheer neglect of administrators to streamline even diagnostic care.  No standards exist. Each diagnostic centre uses norms for pathological tests dictated by the manufacturers not the medical board. The brazen practices of referral fees, kickbacks and collusive relationships make patients pay huge amounts, often for tests that may not even be needed.
This is where medical insurance should have blossomed – thus reducing the risk for potential patients. But that hasn't happened (see table). While the numbers of patients covered has gone up, the growth rates have declined.  Premium rates have gone up, possibly indicative of the high cost of medicare and the risks that this exposes health insurance companies to.
Another factor that prevents the health insurance companies from growing well is the reluctance of young people to take up medical insurance.  When they are young, they do not see the need.  When they are old or ailing and need it, it is already too late. Premiums skyrocket at such times.
Health management, not health financing
And this is where ABHICL is doing things that might actually help expand the market for health insurance. Explains Bathwal, "We, as an industry, have been playing the role of passive health financing. We wait for an event to happen and then pay for it. This has led to business challenges such as profitability, managing claims, etc. We want to move from pure health financing to health risk management. Health financing will remain an important part of our proposition, of course."
What he wants to do is to get each of his customers become part of his health management programme.  When a customer signs up for a health insurance policy, he is advised on how to manage his health after the medical results are out (all medical tests are usually taken at home, but for some exceptional cases).  ABHICL opts to reward customers who take care of their health with a reimbursement of a percentage of the premium paid. Says Bathwal, "We will reward you for health behaviors that you demonstrate. For leading an active life, for at least 13 days in a month (we have ways to measure that, including an app for the phone), you could get back 30% of the premium! The effective premium you paid can actually become Rs.7,000 instead of Rs.10,000. You can use the accumulated money anytime, during the year or at the end of the year. You may use it to pay for health expense bill or even pay renewal premium. This money is yours. We call this incentivising wellness, incentivising healthy living."
But it does not end there.  In case of a chronic illness, the insurance company kicks off its flagship offer  — "chronic care management program". This allows for two benefits – one, a health coach is appointed, who will guide and assist the patient and commence with the OPD (out-patient department or pathological, doctor consultancy) expense benefit for the insured. Second, if the person has to be hospitalized, it advises on the hospital, helps with the registration formalities and finally helps with the discharge formalities.
By doing all this, the company is providing a customer with a sense that even the premium paid during his healthy days is worth the effort taken.  The relationship between the company and the patient becomes stronger, and even the family begins to like the programme which helps reduce health related risks. Adds Bathwal, "Some versions of our products start covering hospitalisation costs from day one. No waiting period. For us it is a journey. We are really happy with the way it is moving. This is what I call innovation."
Will all this translate into profits? "My belief is that we can bring down the claims ratio over a period of time – by at least 5-10% relative to industry averages for efficient players. These are players who are comparable to us in terms of how they manage claims.  We can definitely bring in a delta of 4, 6, 8, even closer to 10% because you will attract healthier people into your pool and you will keep your customers healthier."That, Bathwal belies will translate into bigger profits.
Modicare
But what about Ayushman Bharat or Modicare?  It is touted as the world's largest health insurance programme.  Bathwal believes that any expansion of the market will help.
But there are many skeptics.  They find three dangers with the scheme.
First, given the shortage of doctors (http://www.asiaconverge.com/2018/08/ayushman-bharat-and-healthcare/), the insurance scheme for the poor will push them more towards private clinics.  The biggest beneficiaries will be private clinics, without there being any significant improvement in the overall healthcare situation. You will have first rate charges being demanded for second rate treatment.
Second, unless the licence raj of medical colleges is dismantled, the conditions for healthcare will get worse.
Third, will most private clinics being flooded by lower middle class patients now covered under the Ayushman Bharat scheme, you will have a crowding out of the middle class.  This group will find small clinics too crowded, and first rate hospitals too expensive.
But, maybe, that is where insurance companies have an opportunity — by educating people about the benefits of healthcare programme. Most corporates have already begun flocking to such programmes under the group health insurance policy schemes they offer.  It is early days yet, but it is possible that – unwittingly – Ayushman Bharat may trigger the lawmakers to take a relook at the entire spectrum of health services.
It is time that the average Indian was given better healthcare, and fewer grandiose promises.
Comments can be posted to RNB@asiaconverge.com