https://www.freepressjournal.in/business/mbpt-chairman-sanjay-bhatia-cruise-tourism-will-play-a-vital-role-in-re-imagining-plan-jescilia-karayamparambil-and-rn-bhaskar/1378687
Sanjay Bhatia on how MbPT starts reimagining itself
Jescilia Karayamparambil and RN Bhaskar
Reimagining business is the need of the hour for Mumbai Port Trust (MbPT). It is now moving from its core business to more citizen-centric activities. Sanjay Bhatia IAS, Chairman, Mumbai Port Trust, is optimistic that the cruise business undertaken by MbPT will bring in new growth prospect that is less congested and more sustainable. Bhatia talks to FPJ's Jescilia Karayamparambil and RN Bhaskar about MbPT's activities.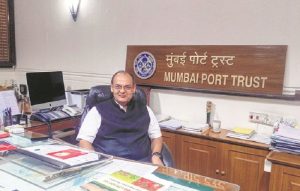 Edited Excerpts:
MbPT is moving from its core activity to other activities. Can you share the details?
All over the world wherever there are ports that have been developed within the city and handle large scale cargo, there is a conflict of interest (within the city). This conflict is mainly due to traffic caused by movement of cargo (and the lifestyle demands a city wants, free of heavy trucks blocking up arterial roads). MbPT has reached that stage as well. In South Korea, there is Busan Port, and in the US, there is Miami port, there are many such ports in cities (world over) which had to reimagine themselves as they were part of the city. So, we have decided to continue to deal with the oil business in Jawahar Deep Island (erstwhile Butcher Island) through a pipeline so that it does not disturb the city.
About 70 per cent of our trade involves oil. So we will continue to expand in that direction. Secondly, we will expand our services on the ro-ro side (these are large boats that allow cars and even trucks to roll-on, take the journey, and then roll-off when the destination is reached). Last year, about 2,50,000 vehicles were exported and that will be our focus area. All the vehicles that are manufactured in Pune, Aurangabad etc will be exported from here. We have developed very good systems for that.
Whatever material that is imported into the city comes in containers, and then it goes to JNPT, and from there it goes to Bhiwandi, and then it comes back to the city. It travels 150 kms and comes back here. We have a proposal with JNPT that the material will come to us as part of coastal cargo and warehousing space will be provided for that. So that city congestion comes down.
Cruise tourism will play a vital role in the re-imagining plan. All the ports that I mentioned before have shifted their focus too. Right now, we have reserved one berth for international cruises. Last year, 40 cruise ships came to India which attracted 50,000 passengers. This year domestic cruises are also starting and we have just now completed our domestic cruise terminal near Bhaucha Dhakka (or Ferry Wharf in Mumbai). From there, Mumbai-Goa cruise will start. I am expecting big ships also to arrive at the domestic cruise terminal.We are aiming at 150 ships in total this year. By next year, we aim to make it 300 ships which will mostly comprise domestic cruises.
How many tourists are you expecting?
Last year, we attracted around 50,000 tourists. By 2019, we will have around 1,00,000 tourists and by 2020, we will have around 1,50,000 tourists.
Immigration, customs and cruise terminals have three different authorities which do not have a unified approach. What is the approach here?
This issue has been taken up at the national level. One of the renowned consultants in the world was called to prepare the roadmap for cruises. They have given this report; and after that new standard operating procedures (SOP) have been prepared for these three organisations. Right now, SOP Amendments are being observed, where standardisation of procedures are prepared on what they can do and cannot do.
If I am a foreign tourist do I have to go through this immigration at every point?
There is a special permission given and e-visas have been introduced. There are e-landing cards as well. Mainly these tourists will pass through green channel without any hurdle.
How many berths have been earmarked for cruise services?
We have many berths. So there is no separate berth at present allotted for this service.
Will security concerns arise with influx of tourists?
Security issues will not be a concern here. Activities related to ports will take place in the secured area and the domestic cruises will be out of the (custom bonded and secure) port area.
Near Bhaucha Dhakka, there is some level of encroachment there. Would that be cleared?
We are preparing a new evacuation plan. The work of evacuation has already started and it will be completed in few months' time. We are connecting the P D'mello road to our port road through another connection. There will be specialised facilities and parking spots that will be created in the area where the evacuation process is taking place.
MbPT's goldmine lies in real estate (in South Mumbai). Most of these properties are under subsidised rentals and concessions. How do you plan to handle that?
We have been given special planning authority status. Thus, we have prepared a masterplan in this area. The roadmap has been developed but it has to be converted into a planning proposal which is in consultation
with the government under the MRTP Act.
How much time will have to pass by before the occupants of MbPT properties start paying market rents?
It will happen pretty soon. We are already giving notices to people whose contracts have ended. We have asked them to start paying market rents. By end of 2025-2030, everyone will have to pay market rents.
In respect of land reclamation in Jawahar Deep Island, MMRC will be providing you with debris. Has worked started there and what is the cost involved there?
Yes, we have received the environmental permissions. They would be providing this debris (from the earth excavated by the metro rail system that is currently being constructed) to us for free. The only cost involved is transportation cost from our plot near the sea to the reclamation area.
What is the progress post Cabotage relaxation?
The Cabotage relaxation has happened. So, foreign flag vessels can carry domestic goods while they are exporting. It is just that the customs have not issued a notification which was expected to come by end of October or beginning of November for ro-ro. It is awaited.
What will be your capex for the next few years?
We are doing a very big project at Jawahar Deep Island which is worth around Rs 800 crore. We are developing a new jetty there and it will be completed by June 2019. The international cruise terminal is Rs 300 crore project. In the next year or two, we will be undertaking projects worth Rs 2,000 crore.
What is the progress made in the ropeway project?
We have invited expression of interest. We have prepared a DPR. The whole project is worth Rs 800 crore and is a PPP project. This ropeway is from Sewri to Elephanta. There are two global players who have shown interest.
Which segment will drive MPBT's growth?
On the cargo side, we are stable. We are looking at future growth coming from oil and cruise business.
Comments can be posted to RNB@asiaconverge.com