https://www.freepressjournal.in/business/sci-cmd-anoop-kumar-sharma-sci-has-remained-afloat-amidst-big-crisis-in-shipping-business/1380388
Anoop Kumar Sharma steers SCI's fortunes through choppy waters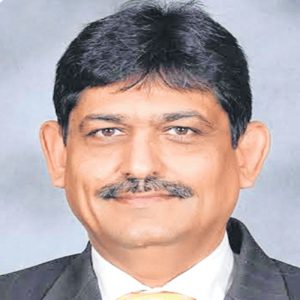 This is a very large gas carrier, this is a multipurpose support vessel…, says Anoop Kumar Sharma, CMD of the Shipping Corporation of India (SCI), pointing to the images on the screen of his office desktop. These are the types of the second-hand ships that SCI purchased under his tenure. Sharma, who joined the company in September 2016, wants to follow the strategy of discarding old vessels and buying second-hand vessels at lower cost and keep streams of revenue flowing. Sharma has other plans for the company too which he shares with FPJ's Jescilia Karayamparambil and R N Bhaskar.
Edited excerpts:
Which business division is driving growth?
Bulk, tanker, technical, offshore, liner and passenger are some of the services that are doing very well for us. We are a profit-making company. The biggest business for us comes from the bulk and tanker division. It has grown substantially over the years. Most of our ships are energy ships. It is from this business that we get the maximum revenue. These businesses have grown substantially. In tankers, we have crude oil, product tankers, LPG and LNG tankers. In bulk, we have pure bulk carriers which carry products like iron ore, coal, soya bean, wheat etc.
Is the business doing well?
The shipping business has been going through a big crisis for quite some time. However, SCI has remained afloat in these conditions. Many companies were wiped out. India has probably two big shipping companies— SCI and Great Eastern Shipping – that have survived the turbulence. SCI has been in the black. However, freight trade, tankers, bulk and everything else have been down for a number of years. But now the bulk rates have picked up, we are waiting for the tanker business to go up once the winter sets in.
The dry bulk segment has been working in the favour of SCI. Do you see that as a steady growth contributor?
Yes, you are right about the dry bulk segment's performance. Over the last one year, revenue in the dry bulk sector has increased by 50 per cent. The dry bulk has been incrementally contributing to SCI's revenues (5 per cent to 12 per cent in the last 1.5 years).
How much of your business is through government support and how much is otherwise?
This question is rather irrelevant because we do not get any support from the government in respect of cargo. There is no preference given to us. We only have the right of first refusal (ROFR) which is given to all Indian flag vessels.  If you ask me how much government cargo you do, I will say I will try to do the maximum. But I must win it through a tender.
It is not given to me on a platter. I am competing with Great Eastern Shipping and other tankers of the world. We make sure that IOCL, HPCL and BPCL give SCI cargo on competitive basis. In case of crude oil, whatever crude oil is produced in India goes through SCI. It is not as a law but we win it.
If the ROFR goes, will it hurt business?
It will hurt every Indian flag  vessel. There will be no incentive for anybody with the Indian flag. My  view is that if the right of first refusal (ROFR) is taken away then give us a level-playing field. We should get the incentives that foreign vessels enjoy.
To be competitive, do you have to cut costs?
Our costs are comparable to any company around the world. The only place where we end up paying more is on the crew wages and taxes. So, your operating cost is like anywhere in the world. Our capital cost is much higher, on account of the 5 per cent GST (Goods and Services Tax). We get hurt in capex and opex front too.
Does that mean you will continue the same strategy of acquiring ships until 2020?
Yes, we will continue the same strategy until then. I want SCI to become the biggest especially in the energy sector.
Do you see the trade war impacting businesses?
The trade war has some advantages and disadvantages. Soyabean which was not going outside of India is now getting exported.
We are facing problems too. Due to the trade war, there is hardly anything going to China. We had to reduce one service around this region. Today everything is volatile and thus we have to take quick decisions.
In the last 3-4 years, what changes have helped the industry?
There are some factors that have positively impacted the industry during the last three-four years. This includes: scrapping of excessive tonnage along with reduction in delivery of new vessels; gradual pick up of world trade growth (which is now being stunted once again by trade war concerns); spurt in dry bulk freights and containers segments (Asia-Europe); and M&A in the certain segments of shipping.
What are SCI's revenue targets for 2021 and beyond?
I do not want to give you any revenue projections at this point especially with my Q2 results due to be announced early next month. However, optimistically with some acquisition of the right asset class supported by an improvement in shipping freights, SCI should be able to achieve a revenue of Rs 4,500-5,000 crore by March 2021.
Comments can be posted to RNB@asiaconverge.com