https://www.freepressjournal.in/analysis/ailing-airlines-victim-of-the-governments-meddling-hand/1531739
Airlines become victims of the government's meddling hand
RN Bhaskar May 23, 2019
By now, almost every industry analyst has begun to write-off Jet Airways.  Jet had big dreams. It had benefitted from many favourable government policy decisions – right from being granted prime slots to having a policy crafted by the government which allowed its vessels to fly overseas.
But then, like so many industries which were once backed by government favours and largesse, Jet also fell.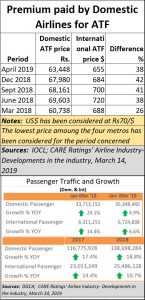 A similar fate could afflict Air India as well. It remains the biggest beneficiary of government largesse.  It should have been privatised or even closed down long ago. Yet it survives, burdening taxpayers with more write-offs. That could be because it would not have suited the privileged.  Ministers get upgraded to first class automatically without having to pay for it. Ditto for senior government officials and select national award winners. Such benefits would not have automatically been extended to them by private airlines.  The payment terms would have been more transparent.
And yes, occasionally, you have the unsavoury incident of an award winner flying executive class after paying economy class fares, yet billing clients business class fares for reimbursement.  And you also have elected representatives beating up airline crew (and breaking their spectacles) without even being jailed for violence — a cognizable offence.  Such opportunities too might have been denied by private airlines.
The price at which planes were bought, the manner in which ministers were not even charge-sheeted, even though there was court documentation overseas of bribes being paid to the aviation minister, were matters that successive government have sought to overlook – unless of course political considerations demand that the person be called a crook, and media hype against him orchestrated accordingly.
In fact, the airline industry in India remains one sector where the heavy hand of the government is constantly visible – right from granting licences, to framing policy, to even granting bank loans.  When an airline does fold up, eventually, it could mean that the promoter has fallen out of favour – politically.
Logically speaking, neither Kingfisher nor Jet should have faded into the sunset. They were favoured airlines. They got more money from banks than warranted.  That is how Kingfisher and Jet could notch up outstanding over Rs.5,000 crore and 8,000 crore respectively. Someone twisted the arms of bankers without any written orders.  Somehow, when the airline promoters fell out of favour, the bankers were left holding the sack.  And – as always – the common man will eventually pay the price though higher bank charges and additional taxes.  Did someone talk of transparency and ease of doing business?
Look at the table alongside.  There was growth in passenger traffic – both domestic and international.  Airlines don't normally fail when demand growth is strong. Yet, it happened in India. One factor could be the way the government chose to price aviation turbine fuel (ATF).  As a CARE Ratings report points out, during FY 2019, the price of crude oil decreased "by 7.3% whereas the price of ATF during the same period has gone up by ~3%. This clearly indicates the entire benefit of reduction in crude prices is not passed on to the industry even though increase in prices is more dynamic. This despite the Government reducing excise duty on ATF by 3% from 14% to 11% in November 2018.".
The table shows how ATF globally was much cheaper than ATF in India.  So flying overseas would allow an airline to purchase ATF at cheaper prices. That could lower costs for some routes. Logically, therefore, airlines flying overseas should have made more money.  But Jet obviously didn't. Was it because the political price for this favour became too high?  Maybe, forensic examination of Jet Airways' books will reveal some details.  But it is best not to count on it.  The ways in which governments make disclosures are usually strange and mysterious.
That is why CARE Ratings' recommendation is important: "There is an urgent need to address this difference in price of ATF for domestic and international airlines as it gives an advantage to international airlines."   Sadly, even a government that called itself nationalistic, could not even the pitch in favour of domestic airlines! This could happen to domestic coastal shipping too (http://www.asiaconverge.com/2018/10/indian-shipping-grows-overseas-not-in-india/).
So what does the future hold out for the remaining airline survivors? A lot will depend on whether the new government continues to create policies that favour select airlines.  Logically speaking, the reduced competition – thanks to Jet airways' demise – could translate into improved airfares.  That could mean better profits.  But then logically speaking increased passenger traffic should not have allowed Jet Airways or Kingfisher to collapse.
Logic does not always work with the airline industry in India.  The heavy hand of the government is always visible.
Comments can be posted to RNB@asiaconverge.com