https://www.moneycontrol.com/news/india/indias-poor-spending-on-higher-education-is-making-other-countries-rich-5284501.html/amp
The other two parts of this series can be found at :
Education #2: Enriching other nations, while pauperising India
RN Bhaskar  —  May 19, 2020
Some would say that India's policymakers harbour a death-wish.  They often introduce policies that can only ensure the decimation and degradation of India.
This is what almost happened when India tried to sell away India's milk interests– but was mercifully saved. This is what happens with India's policies relating to several other areas – including gold, rooftop solar  and even water.
But the most grievous harm has been caused by their policies are those relating to education. This is best visible when one considers the numbers of students going overseas.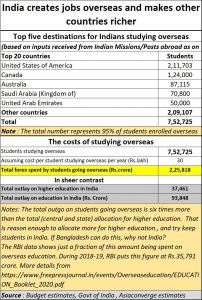 This number is difficult to track.  But if one compiles the numbers reported by Indian missions overseas, it is possible to arrive at a fair number – though in reality these numbers could be a lot higher.  They may exclude students who go overseas on vacation, stay with relatives and do a short term specialised course at some small institute or the other.
But an approximate the total number is important – for several reasons.  It gives you information about the countries Indian students prefer.  If only one could have a time-series of such numbers, it would also tell us which countries are climbing up in terms of popularity with students, and which countries are losing favour.
For instance, the UK declined in popularity for two years in succession, till the authorities permitted students studying there to work in the UK for two years after graduation. Canada appears to have the most interesting possibilities if students want to work overseas.  But education in the UK and the US can be expensive.  In the UK (which accounted for 16,550 students as in July 2018) it would cost students around $114,000 each year (around Rs.80 lakh).  In the US costs could be over $,140,000 (Rs.1 crore) at its well-known universities.  Canada would be a bit less expensive than the UK.  But the EU (and China) could be the most attractive.
EU countries are significant because most of their education for foreign students is offered as scholarships.  Selection is tough.  Only merit gets in. Many do not charge tuition fees at all.  The only costs for such students would, therefore, be the costs of living and entertainment.  Experts put this number at around US$15,000 a year.  But Indian enrolments at EU universities are very small, thus putting them under the "Other Countries" category in the table alongside.  Germany had 15,308 students from India (mostly for STEM courses).   In France, enrolments were lower at 6,000 students while Italy has 2,348 students (mostly for gastronomy, jewellery design and fashion).
So how much money did all these students spend each year collectively? That is not certain.  Requests to the RBI for information went unanswered.  References on government websites showed RBI's numbers for 2018-19, but they appear ridiculously low.  The RBI puts this figure at Rs.13,993 crore.  Now if you divide this amount by 7,52,725 students, it would mean that each student paid barely 1.8 lakh per year.  Preposterous!
One explanation could be that many students paid the fees without going through the RBI.  Some may have got the money from their relatives staying overseas.  Some got paid through funds available in those countries.  Children of many bureaucrats and ministers are known to receive scholarships for their children from Universities overseas often through affiliates (direct and indirect) of businesses located in India (it will be extremely difficult to show this as a bribe).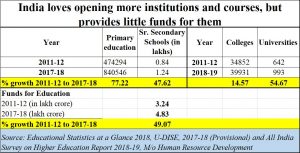 But if you take a very conservative ball-park average of Rs.30 lakh for each student ($15000 for EU students, and Rs.80-100 lakh for students elsewhere), you get an cumulative expenditure of a whopping Rs.7.5 lakh crore per year. In reality the amounts could be larger and staggering.
Now, compare this with the government's own allocation of barely Rs.4.83 lakh crore in 2017-18.  Mind you, this was for all education – primary, secondary colleges and universities.
True, this amount looks larger than the Rs.3.34 lakh crore the government allocated for education in 2011-12, but if you adjust amounts for inflation, the amounts allocated in 2017-18 are lower than that allocated six years earlier.
Thus even while real money for education declined, the government took pride in increasing the number of primary schools by 72% over these six years,  Senior secondary school increased by 48%; colleges by 15%; while the number of universities (that too!) increased by 55%.
In other words, while money should have doubled in real terms over these six years just to keep pace with what was being spent earlier, the government actually reduced education expenditure in real terms. And then the government tells its people that it cares!
As a result, India ends up creating more jobs – often for better paid teachers — and consumer spends in countries overseas, when this could have been done in India for Indians and mostly by Indians.  India could have been a great hub for education – it used to be one when Nalanda and Taksashila were around 2,000 years ago.  But the government hasn't done this.
It prefers to play politics instead, by dumbing down quality standards at schools, opening enrolment even for sub-standard students  at college levels, and burdening even institutes like the prestigious IIMs and the IITs with conditions like reservations for students.  Worse, it now wants reservations for teachers. But more on this later.
If education is the bedrock on which the future aspirations of a country are built, India's policymakers have all but wrecked the foundations  Quality of education at most government schools is abysmal (more on this too later).  And policymakers gloat over the new institutes and courses they have launched, even while leaving them under-provided for.   They have preferred to keep other countries happier instead.
Comments can be posted to RNB@asiaconverge.com