https://www.freepressjournal.in/analysis/policy-watch-banking-sector-should-be-flashing-red-ditto-for-economy
The finance minister's directions could hurt the banking sector grievously.
RN Bhaskar — 19 November 2020
On November 10, 2020, the finance minister announced three decisions (https://wap.business-standard.com/article/finance/issue-only-rupay-cards-seed-all-accounts-with-aadhar-by-dec-fm-to-banks-120111001413_1.html) that should have made bankers and economy-watchers squirm.  That they did not could have been on account of two reasons: They were blissful unaware of the implications. Or, over the years, they have developed extremely thick skins.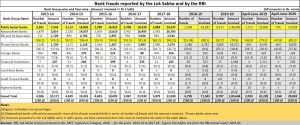 Remember, these announcements were being made as the chief guest at the 73rd annual general meeting of the Indian Banks´ Association (IBA).  This is a body for government-owned banks, which have been responsible for the largest number of bank frauds (see table). And as the following analysis will show, all the demands of the finance minister are fraught with risk – not just for the government owned banking sector, but for the entire country as well.
First, the FM asked [government-owned] banks to only issue RuPay cards as the first option to customers.
Second, she exhorted them to seed all bank accounts with Aadhaar number and, wherever necessary, with PAN (permanent account number) by December this year. "I will not be patient to hear that accounts not linked with Aadhaar or PAN still exist beyond December 31. There should not be any unverified account in the system," she added.  She later admitted that this deadline could get extended to March 2021.
Third, she advised banks to treat their retired employees the way they do in defence. She said, "There everyone is treated as one family, be it the servicemen or retired. I want to have the same culture in the Indian banking system and want them to take care of their retired employees in a better way."
She also urged bankers to improve professionalism and the amalgamation of banks should be taken as an organic way to create large banks to serve aspiring India: "I want eight State Bank of India [entities] in the country. Every bank should be professional and in the post-COVID-19 world, as the world changes, you should also not remain the same, especially after the amalgamations."
All the three suggestions are fraught with risk.
First, the finance minister should not tell bankers what to do.  Micro-management is not allowing banks to be professional. Pushing RuPay cards is the job of product managers, not bankers.  Bankers give customers what they want, and not what the government may want them to have. This confusion about the role of bankers can have profoundly serious consequences.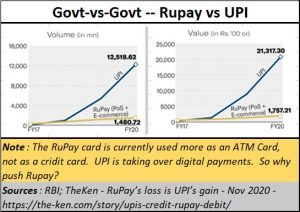 Moreover, as a recent TheKen report showed (https://the-ken.com/story/upis-credit-rupay-debit/), RuPay is already the biggest card network in India, with more than 500 million bank accounts linked to it, and has over 600 million such cards in the market. But RuPay is being threatened not by foreign cards, as much by government owned UPI. The latter has become NPCI's new favourite, and RuPay is forced to make room for its younger, more powerful sibling.  This will also harm RuPay's prospects, as other avenues for payments may get blocked.  This is evident from the chart below.
Moreover, the RuPay is used more as an ATM card, not a credit card.  Digital transactions have been taken over by UPI.  Both UPI and RuPay are owned by NPCI which in turn is owned by the government.  So is the government keen that all cash withdrawals from banks are through RuPay and not other cards?  Does it want all transactions to be only through the NPCI?
This leads us to another reason why UPI and the NPCI should be regarded with immense caution.  NPCI has a clause which requires it to overwrite the older account numbers of customers with the newer account numbers (http://www.asiaconverge.com/2018/02/how-aadhaar-and-npci-together-open-the-door-to-major-frauds-and-impersonations/). .  Despite reminders about the risk that this requirement could pose, and the way this could encourage frauds and money laundering, this clause has not been dispensed with. Moreover, as NPCI itself claims emphatically, it does not keep any logs of transactions and bank account numbers issued against the same Aadhaar card.

Instead of letting RuPay fight for its own existence in the market place, and inste4ad of hobbling RuPay to UPI, the danger is that all high networth individuals will ask banks for other cards (mostly Mastercard and VISA) leaving RuPay to cater to smaller customers who do smaller transactions or cash withdrawals.  As the numbers of 'suspect' transactions begin to overwhelm the system, both UPI and RuPay will get a bad name.
Linked to this is the second commandment.  Link all Aadhaar with PAN for bank accounts.  This as a recent article pointed out (http://www.asiaconverge.com/2020/11/aadhaar-pan-combined-through-article-139aa-threaten-banking-financial-integrity/) threatens the very banking fabric, and could concert India into one of the biggest money laundromats in the world.  Do remember that new PAN cards issued based on just the Aadhaar card is around 42% of the total population of PAN cards (see table). The potential thus for dummy bank accounts being opened only to launder Rs.1.8 lakh each year through each account creates a potential for money laundering that could be in the region of Rs.15 lakh crore year on year, and  could swell to Rs.30 lakh crore annually.  With more Aadhaar cards coming into the system, this number could swell further.  The matter is still being debated in the courts, and it is unwise of the finance minister to push for this linkage.
There is the third issue which ought to cause much concern.  Increasing the pay packages of retired bankers is a good idea, but first find out whether such a package should be made applicable to all the retired bankers.  Bankers who were associated with tainted accounts should not be given any of the retirement benefit.  If they were pressured by seniors, let them come out with those charges.  This enhancement of retirement benefits could be viewed as a  way of buying their silence.  If you want to cleanse the banking system, the guilty must be first exposed and then punished, irrespective of whether they are bankers, or senior government officials or even ministers.  Buying silence is not a way to bringing professionalism into banking.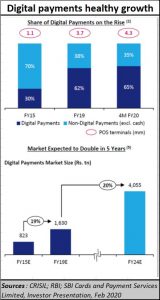 That is why the finance minister's exhortation that "Every bank should be professional" rings hollow.  Recently SBI wrote off Rs.1.23 lakh crore  with a paltry recovery of Rs.8,969 crore (https://www.moneylife.in/article/sbi-writes-off-rs123-lakh-crore-of-bad-debt-recovers-paltry-rs8969-crore-in-8-years/60905.html) . Canara Bank wrote off Rs. 47,310 crore with a recovery rate of just 19% (https://www.moneylife.in/article/canara-bank-rs47310-crore-write-off-in-8-years-just-19-percentage-recovery-latest-psb-loot/61857.html). Bank of Maharashtra wrote off Rs.7,100 crore with a recover of just 4% (https://www.moneylife.in/article/bank-of-maharashtra-writes-off-rs7100-crore-bad-loans-recovers-just-4-percentage-in-8-years/61189.html) . Bank of India refused to share any information on loan write-offs over the past eight years by giving an excuse that it would 'disproportionately divert its resources'! According to its annual reports, however, the bank wrote off Rs.57,275 crore and recovered just 23% or Rs,13,560 crore over the past eight years (https://www.moneylife.in/article/bank-of-india-refuses-to-share-under-rti-information-on-rs57275-crore-bad-loans-written-off-and-23-percentage-recovery-in-past-8-years/62056.html)And
Collectively, Indian banks(largely government owned banks)  wrote off  Rs.2.12 lakh crore of bad loans in 2018-19 (https://www.business-standard.com/article/finance/india-s-banks-wrote-off-rs-2-trillion-worth-of-bad-loans-in-2018-19-119112900099_1.html). And then you have a terrible performer, Indian Overseas Bank, which wrote off Rs17,821 crore and recovered just Rs102 crore or 0.5% from 66 big defaulters. These big defaulters, whose loans were written off, include Bhushan Steel & Power Ltd (Rs1,274.97 crore), ABG Shipyard Ltd (Rs693.62 crore), IL&FS Financial Services (Rs499.97 crore), Vadraj Cement Ltd (Rs521.8 crore), Lanco Infratech Ltd (Rs510.32 crore), IVRCL Ltd (Rs615.39 crore), Lanco Amarkantak Power Pvt Ltd (Rs875.94 crore) and Frost International Ltd (Rs841.03 crore).
It must be underscored that all bad loans are nothing but a squandering of taxpayers' money.  Much of the 'bad loan'  was either non-application of mind, or collusion. Very few cases were a result of business decisions gone wrong. Officers who cleared such collusive loans need to be punished, not rewarded with sinecures or higher retirement benefits.  This is true of government officials and politicians as well.

There is no doubt that the market for digital transactions is growing rapidly (see chart). It is expected to double in five years. The growth rates could be higher, because India remains an under-penetrated market compared to what is happening in the rest of the world.
At such a time, and with such a huge opportunity, there is a need for more robust systems, greater accountability, traceability, and market competition.  The finance minister's demand that only one payment system should be promoted, that only one type of card should be given out, and with an NPCI not willing to keep a track record of payments and account numbers –all these are pointers to a grave crisis looming large. There is a danger that each of the finance minister's prescriptions could cause grievous harm to the financial edifice (or whatever is left of it) in India. The exhortation to link Aadhaar to PAN is therefore not just foolishness.  It borders on the verge of promoting illegality.
The finance minister needs to be a bit more careful about issuing such 'commandments.  Indian banks are already at the edge of a precipice.  Don't push them further.  It could damage the very economy that is being sought to be revived on the slogan of atma nirbharta.
Comments can be posted to RNB@asiaconverge.com