https://www.freepressjournal.in/analysis/telecom-disruption-the-airwaves-are-buzzing
OneWeb and SpaceX could disrupt telecom in India
RN Bhaskar — 18 February 2021
In the first week of 2021, short video on Elon Musk grabbed eyeballs (https://www.youtube.com/watch?v=hKUOkiKHD8U&feature=youtu.be).  But in the sound and fury that surrounded the Jan 6 attack on Capitol Hill, it was mostly forgotten.  But it has a message for India.  Expect huge disruptions in the telecom and IT sectors.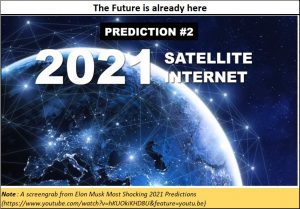 The dramatis personae could be Google, Amazon, Bharti Airtel, Huawei. Telesat and Elon Musk.  And in the background would be almost all the other telecom and data center players.
Five predictions for 2021
But let's go back to the video. The five predictions for 2021 are:
Self-driving cars will be in action in the world by 2021.
2021 is when satellite internet rolls out.
People look to the Moon once again, to inhabit it, mine it, even colonise it.
Solar energy and power saving technologies will grow faster in 2021.
Fifth – Elon Musk will become the world's wealthiest man (a prediction made by the director of the video, not Elon Musk himself).
Of these the most relevant for this article is prediction #2.  The Elon Musk plan could change the very way telecom works. Australia has already selected Elon Musk's Starlink-SpaceX to be the ISP provider for that country's 5-G technologies. Discussions with Germany are underway, and soon with other countries.
But then when you look further, you find many more who are playing this game.  Equally adroitly. Especially Bharti Airtel.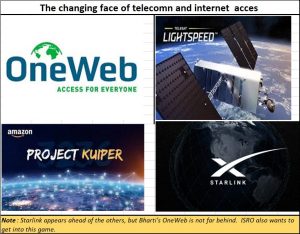 But what exactly is Starlink-SpaceX doing?
The story started first with Iridium, the satellite telephone company which went belly-up in 2000. And then came Google which floated Loon – which was about sending gas balloons up in the sky all over the world. Wi-Fi frequencies would then be beamed down all over the world creating a global network.  This would provide internet access to remote place.  It would be cheaper than laying cables to such distant places with small audiences. The project crash-landed because it began burning up too much of money, and the balloons could not stay up in the air for too long.
LEOs and GEOs
Then, suddenly, the world began looking at LEOs or low earth orbit satellites.
The concept of a LEO became popular in the late 'nineties when Iridium wanted a telecom network in the sky.  Unfortunately, Iridium went bust. But the concept was resurrected by others.  Better technology, and newer concepts, breathed life into LEOs. However, some people still confuse LEOs with Geosynchronous Equatorial Orbit (GEO) satellites.
A GEO network involves satellites which appear to be fixed as they move at the same angular velocity as the Earth and orbit along a path parallel to Earth's rotation. So, a satellite above Mumbai will remain hovering over Mumbai because it travels at the same speed as Earth's rotation and revolution.  Thus, it keeps pace with its position in the sky, travelling with the earth around the sun, and also spinning with the earth's rotation.
They fly around 35,000 km above the Earth's surface.  Unfortunately, given the curvature of the earth, they cannot provide continuous service above or below approximately +/- 70 degrees latitude (https://www.iridium.com/blog/2018/09/11/satellites-101-leo-vs-geo/).
LEOs fly at lower heights (hence the name) between 160 to 2,000 km. A constellation of LEO satellites can provide continuous, global coverage.
Unlike GEOs LEOs fly at a much faster pace, partly because of their proximity to Earth. Its low height and high speed make it a favourite with telecom players. It offers lower latency (delay in receiving the voice signals from sender to receiver) to the point that people cannot distinguish its connection from a wired telephone call.
Starlink SpaceX
Starlink is a subsidiary of SpaceX which has already started sending vessels into the space and bringing them back safely to earth for reuse, on the next trip. The company believes that space tourism is just round the corner.
It has been putting up LEOs for its Starlink project.  According to the video referred to above, Starlink has been launching some 60 satellites each month and currently has around 1,000 satellites in the sky.
It has obtained approval from the US government's FCC for around 12,000 satellites. To appreciate the magnitude of this number, please bear in mind that the total population of satellites of all countries in the world comes to around 3,300satellites. If one considers all satellites that have been put up in space, including those that are drifting and have been decommissioned, the number is no more than 10,500.
However, SpaceX must first submit to the FCC its plans on how it will ensure collection and disposal of space garbage because of the huge number of satellites it will place in orbit.
Starlink has already won a grant of $850 million for providing connectivity to 35 states in the US.  Eventually, it wants to be a global network. Obviously, the big businesses that could be riding on this network would be social media, entertainment, banking, education, telecommunications, even telemedicine.
What makes a LEO network endearing is that it can offer download speeds of 50-150 mbps per second which could go up to gigabits. And while satellite communication is expensive, it is certainly cheaper than the cost of laying cables to reach small communities.  That is why such projects are always set up in partnership with governments which want to ensure that even the remotest village has telecommunication, internet, and data connectivity.
But that costs money.  Despite the US grant, Musk has been waiting for some additional funds.  As he stated (https://www.business-standard.com/article/technology/starlink-to-go-public-once-cash-flow-gets-predictable-elon-musk-121020900914_1.html) just a few days ago, "Once we can predict cash flow reasonably well, Starlink will IPO." Musk also added that the price of the service is "meant to be the same price in all countries. Only difference should be taxes & shipping."  How that will pan out in India is not known.
Bharti Airtel's OneWeb
By May 2020, Airtel was already reeling from the body blows thrown at it by Jio-Reliance. Just around that time, Sunil Mittal, promoter of Airtel through Bharti Enterprises, did something incredible. He quietly went ahead and bid for the flailing and bleeding OneWeb.
Headquartered in the UK, it had run into financial problems. Mittal picked up a 45% stake in the venture thus becoming its anchor investor. The British government and Indian telecoms conglomerate Bharti Enterprises together put up $1 billion to buy OneWeb.
The UK backed this deal because it saw this company as a crucial part of its plans in its post-Brexit revival (https://www.vccircle.com/with-bharti-deal-in-the-bag-britain-rockets-into-unknown-with-oneweb)
By end May 2020, "OneWeb, which began as WorldVu in 2012, had 74 satellites already in orbit, as it ramped up launches immediately before collapsing in late March" says Reuters.
Britain depended on OneWeb to add to its positioning technology. With Brexit being sealed, access to EU's Galileo network could pose problems.  And depending only on the American GPS system would not have been very comforting. The additional payload could be built in the UK. But additional investment potentially running to more than $1 billion – on top of the $1 billion British/Bharti commitment – would be needed. Mittal was confident of raising it.
While OneWeb and Bharti declined to comment on this deal, people at Airtel were thrilled.  They could see in the deal a strategy that could possibly trounce JIO.
As pointed out by Reuters, OneWeb had already secured radio spectrum and regulatory approvals needed to operate its satellites and ground infrastructure and offer services around the world.  It already had all the licences and regulatory clearances required.
It would also help Bharti-Airtel consolidate their telecom businesses in Africa and the plans they nurture bout expanding in other territories as well.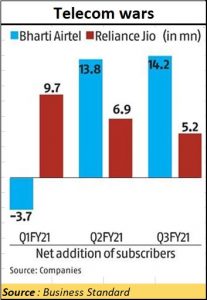 A big added advantage was that OneWeb came with very influential backers which included Qualcomm, Airbus, Virgin Group, and eventually Japanese investor SoftBank. Together they had pumped roughly $2 billion into this company.
Even while plans to integrate OneWeb with the group's India strategy were being fine-tuned, Airtel had managed to arrest the bleeding from the Jio-inflicted wounds. It kept on working on improving its customer base and its average revenue per user (ARPU).  By last month, Airtel showed Indian investors how it had managed to best Jio for at least two quarters (see chart). By January, Business Standard reported that "Bharti Airtel added the highest number of subscribers in November, ahead of Reliance Jio, even as Vodafone Idea lost customers during the period, according to the latest TRAI data (https://www.business-standard.com/article/companies/airtel-adds-4-37-mn-users-in-nov-voda-idea-loses-subscribers-trai-data-121012801891_1.html)."
Unanswered questions
None of the players are willing to talk about what LEOs could mean for India.  Can a 5-G exchange sit in the sky?  Obviously, telecom towers are not required, saving on both time and money.  Access would now be possible to the remotest village.
If yes, it could imply that with proper encryption and the creation of additional frequencies for transmission and dissemination, governments may have to modify their regulations.  After all, how do you regulate anything that does not even have a server on the ground, just receiving handsets? Would that not be like satellite phones?
What about Huawei's plans?  Informed sources say that Huawei has been eyeing OneWeb closely.  It will cater to several telecom networks and that is extremely tempting for its 5-G offering.  The Indian government's statement that the entry of Chinese players into the telecom space has not been ruled out, is an added incentive. But Huawei isn't talking either.
ISRO matters
Earlier, OneWeb planned to launch its LEOs through the French Arianespace. But Brexit, and Mittal's overtures to ISRO, could

change that arrangement.  After all, ISRO's launching costs are considerably lower than those of Arianespace.  And working with the government agency in India would open other doors and regulatory comfort for Mittal in India.
And finally in in February 2021, the government owned ISRO announced its willingness to welcome private participation (https://www.livemint.com/news/india/isro-gears-up-to-launch-satellites-built-by-private-players-onboard-pslv-c51-11608225510488.html).
And thereby lies a tale.  ISRO (https://www.isro.gov.in/) did invite private participation in the late 1990s through its commercial arm Antrix (https://www.antrix.co.in/).  ISRO had always wanted private funding for its space programmes. Antrix was the arm that was meant to make this happen.  But then it hunkered down and closed the hatches in wake of the 2-G scam, after the government cancelled all licences that were given to Devas Multimedia (http://www.asiaconverge.com/2020/01/arbitration-and-investment-protection/). The deal had been cleared at all levels in the government.  Devas went in for international arbitration, won the award.  The government appealed, lost again. Now the government has decided to level criminal charges against Devas, while the latter has moved the courts in the US for attachment of Government of India assets.
But with SpaceX announcing its plans for 2021, ISRO could not afford to remain a silent bystander.  Hence the plunge into the formal announcement. It will now work with Indian players (read Bharti Airtel/OneWeb).
India beckons
In November 2020, Mittal, in an interview (https://telecom.economictimes.indiatimes.com/news/oneweb-plans-to-offer-broadband-services-in-india-by-june-2022-sunil-mittal/79333745), stated that he planned to start OneWeb's India services in May-June 2022.   "By October next year, we will provide services in 50 degrees north which will be all of UK, Northern Europe, Polar and Alaska and northern part of Russia. We will start to test these services (in India), sometime in 6-8 months but these services will not be 24/7. Every day, you will have a few hours of service because the satellite revolves around the whole globe."
Once the network is completed, service will be round the clock.
What about regulatory issues?  Mittal states that around 30 countries have licensing requirements. "We have already got the permissions in many of the countries. The rest of the world does not need any permissions. India is one of those 30 countries. We are already engaged with ISRO. The good news is that the Prime Minister has taken upon himself to ensure that there is a private participation in the space program of India. So, yes, we will be applying for landing rights, permissions, setting up ground stations in India."
Telesat
There is one more competitor in the wings – Telesat.  But it will focus first on North America, and its business strategy is B2B.  India it will usually be with a consumer connect.  So, neither SpaceX nor OneWeb will be unduly worried about it.
Telesat Lightspeed, the LEO network of Telstar (https://www.telesat.com/leo-satellites/) wants to revolutionize global broadband connectivity by delivering a combination of high capacity, security, resiliency and affordability with ultra-low latency and fibre-like speeds.
It is privately held and headquartered in Ottawa, Canada, with offices and facilities around the world, Telesat's principal shareholders are Canada's Public Sector Pension Investment Board and Loral Space & Communications Inc.
Little is known about its plans.  But what is known is that it wants to build a $5 billion global satellite network which can bring a fibre like connectivity to businesses worldwide (https://www.cnbc.com/2021/02/09/telesat-building-5-billion-lightspeed-global-satellite-internet.html).
On February 9, 2021 it announced that Thales Alenia Space will build its next-generation broadband satellite network called Lightspeed and that it would largely focus on business-to-business solutions.
The network, known in the industry as a constellation, will consist of 298 next-generation satellites that will orbit the Earth at an altitude of about 1000 km, or a little over twice the altitude of the International Space Station.
Obviously, the coming months should be fun filled with loads of excitement on the future of telecom.
Comments can be posted to RNB@asiaconverge.com