https://www.freepressjournal.in/analysis/coronavirus-rules-are-for-others-not-for-politicians-or-elections
Elections show contempt for pandemic rules
RN Bhaskar — 8 April 2021
On 30 March 2021, NITI Aayog member Dr V K Paul had some profoundly serious words (https://pib.gov.in/PressReleasePage.aspx?PRID=1708790) for his media audience: "We are facing an increasingly severe and intensive situation in some districts but the whole country is potentially at risk. All efforts to contain the virus and save lives should be taken," he said.
Filled with irony
His words fill economy-watchers with dread.  Yet the warnings are fraught with irony.

On the one hand you have policy announcements which talk about stern measures being enforced to prevent the second wave of the pandemic from damaging India's economic prospects.  On the other you have politicians who have brazenly announced that all such regulations and warnings are for common folk and opposition ruled states.  You also have the distasteful emergence of law enforcers becoming extortionists as a recent episode with a person at Mumbai airport showed (https://www.freepressjournal.in/mumbai/mumbai-udasi-claims-10k-demanded-to-skip-quarantine-probe-ordered).
Clearly, politicians do not pay heed to the warnings of Niti Aayog; and it is probable that they don't even take extortion by law enforcement agencies seriously.  Few policemen have been convicted and sentenced for such infringements.  Municipal officers who irregularly gave permission for a hospital to be located in a mall still remain without a charge sheet filed against them.  Similarly, officers who do not act against illegal constructions despite several letters being written and continue moving around. Their greasy palms continue to be open, allowing even more illegal constructions to sprout up.
What underscores this contempt for regulations and precautions is the disdain with which politicians have been calling election rallies in the states going for elections.  The picture alongside relates to just four states.  But the story is the same in every state.  Crowds gather, most always being transported from other places to the venue where the election rally is to take place.  They are without masks.  They do not practice social distancing.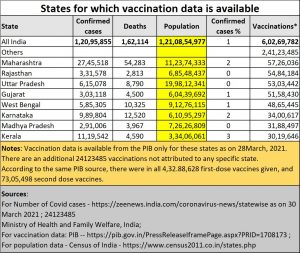 And the politicians gathered there do not remind the crowd to observe either social distancing or to wear the masks.  Understandable. It is difficult to rouse a rabble, if they have masks covering their faces.  That would prevent full-throated war-cries, wouldn't they?
Data gaps
It is not that they are unaware about the seriousness of the situation.  Go to the government's own website where government certified announcements are made (https://pib.gov.in/PressReleaseIframePage.aspx?PRID=1708173).  It is one of the few websites that give you some contemporary data.  True, it is only about eight states where vaccination drives are being undertaken with full vigour (see chart). Yet, this too is welcome information.
But vaccination details are of little use without the corresponding information about the number of coronavirus infections that the state has witnessed.  For that, we could not find comprehensive information from any government website.  But we found a private website dutifully updating the status of coronavirus infections state-wise (https://zeenews.india.com/coronavirus-news/statewise as on 30 March 2021).
Then you realise that the number of infections too do not really make sense unless they are a percentage of the total population.  For that we had to go to the Census 2011 figures (https://www.census2011.co.in/states.php).  They relate to 2011, true.  But with no other authentic figure on state-wise population available, this was the best alternative.
When you put these three sets of figures together, a remarkably interesting pattern begins to emerge.
First, even though over 60 million vaccination doses have been given to people, as of March 30, more than 60% of these vaccinations relate to just eight states. The remaining 24 million – or 40% of total vaccinations – will therefore have taken place in the remaining 21 states and seven Union Territories.
But why can't the data for these states and Union Territories also be provided? An annexure on the website doesn't cost much. Frankly, we don't know.
Secretive government
One reason is the government's extreme aversion to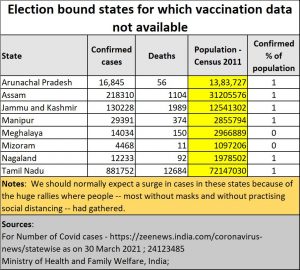 providing information to the general public.  This is shocking.  The ministers are there, and so are the executives, because taxpayers pay for their upkeep.  They must provide to the people of India an account of how their money is being spent.  They must keep people informed about what work is being done and where, and on work not being done. When a government tries to conceal information, it is extremely discomforting, to say the least.
What is even more interesting is that many of the states for which vaccination information has not been provided are states which are election-bound. While vaccination data for Kerala and West Bengal have been provided, no such details are available for other election-bound states (see table).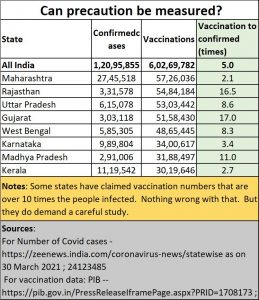 Then watch how skewed the progress of vaccinations has been.
Well-managed states like Kerala account for vaccinations which are under 3 times that of the total number of infections.  But in some states like Gujarat and Rajasthan, the number is 16-17 times.  While this could mean a faster rollout of the vaccination programme there could be other interpretations.  A careful study of such rollout programmes needs to be undertaken.
Uttar Pradesh accounts for 8.6 times the number of infections.  All along, anecdotal evidence suggests that the number of infections has been under-reported.  It has infections for less than 1% of its population.  So does Bihar, for which vaccination data has not been provided.  So, could it be a case of overreporting vaccinations and under-reporting infections? More explanations are certainly called for.
What about the EC?
Then come back to election states.  Why did the Election Commission not lay down rules to ensure that lives are not lost?  Is an election more important than human lives?  Why is it that BJP which loves pontificating about morals and values is silent about this callous behaviour?  Other political parties are guilty too, but the government is currently led by the BJP, so it must take up much of the blame.
Even the Prime Minister of India did not frown when election rallies were called during a pandemic.  There are pictures showing ministers unmindful about the pandemic rules that are in force across India. One memorable instance is that of Assam minister and senior BJP leader Himanta Biswa Sarma at a rally in Kattigorah in Assam's Cachar district.  The PTI photograph shows the crowds — without masks and without social distancing — milling around the minister not more than three feet away.
Shouldn't these ministers be stripped of their right to be leaders, since they are willing to expose common people to the risk of infection and death?  Do rules, penalties and restrictions only exist for malls, hotels, marriages, and protest rallies (even festivals) but not for politicians at election rallies in the midst of a raging pandemic?
We do not know if the actual numbers of infections in these election-bound states will ever come out.  But the portents are extremely disturbing.
They point to a lust for power and popularity, where lives of common citizens do not matter.  The Election Commission has lost its image of being socially responsible or laying down fair rules.  The politicians are guilty of supporting rules for the rest of India, but not for their own election campaigning.  The executive is at fault for introducing regulations that are clearly discriminatory, and for their reckless attitude that underscores their disdain for life.
It remains to be seen if the judiciary will also share the blame by sitting quiet and not expressing its extreme disapproval over what has happened.
Comments can be posted to RNB@asiaconverge.com