https://www.freepressjournal.in/analysis/the-missing-dead-series-part-ii-why-are-states-under-reporting-deaths-not-just-covid-19-deaths
The entire series can be found at http://www.asiaconverge.com/2021/06/missing-dead-series/
The missing dead series – Part II
Why are states under-reporting deaths, not just Covid deaths?
RN Bhaskar
States under-reporting Covid deaths is well known by now. Some states have been so brazen about it, that the courts have had to step in and give them a tongue lashing.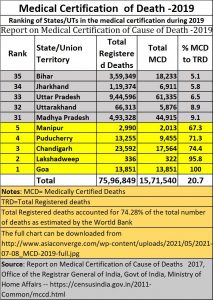 Among the states that have received the sharpest of rebukes from the courts are Uttar Pradesh (UP), Bihar, Jharkhand, Madhya Pradesh (MP) and Uttarakhand.
Uttar Pradesh was ordered by the Allahabad High Court to provide data to Judicial officers on a daily basis (https://scroll.in/article/993547/adityanaths-government-ordered-to-give-uttar-pradesh-covid-19-death-data-to-judicial-officers-daily) . In fact, this author believes that the future stability of India depends on reining in the malpractices in UP (http://www.asiaconverge.com/2021/04/little-governance-till-uttar-pradesh-is-tamed/).
The Patna High Court has hauled up the Bihar government for an "opaque system" of maintaining birth and death records. It categorically stated that, for whatever reasons, the state's reluctance to publish the number of fatalities during the Covid pandemic period was uncalled for and not protected by law (https://www.ndtv.com/india-news/bihars-pandemic-death-secrecy-myopic-not-legally-desirable-high-court-2467868) .
The Jharkhand government was also hauled up by the Jharkhand High after the bodies of Covid-19 victims were seen piled up at Muktidham (cremation ground) in Ranchi's Harmu area. "It is the responsibility of the Ranchi municipal corporation and others to ensure that there is no issue in conducting last rites."
Madhya Pradesh agitated the Supreme Court over the discrepancy in data provided by state governments and that collected by non-government sources.
NDTV stated that the biggest inconsistency was seen in Bihar where some 75,000 people died of unexplained circumstances, with symptoms like that Covid. Other states including Madhya Pradesh, Andhra Pradesh, Tamil Nadu, Karnataka, and Delhi have also shown discrepancies in their death figures, amounting to 4.8 lakh excess deaths in these five states. (https://www.india.com/news/india/all-covid-19-deaths-to-be-certified-centre-tells-supreme-court-on-unaccounted-fatalities-4754875/)
Uttarakhand was ordered by its High Court to immediately conduct an audit of Coronavirus related deaths  and called the reports submitted by the state as a "totally vague, sham and misleading" (https://www.indiatimes.com/news/india/misleading-and-unacceptable-uttarakhand-high-court-slams-governments-covid-19-deaths-audit-543442.html).
Many other states have also been hauled up by the courts for under-reporting Covid deaths.  NGOs engaged in ground verification of covid deaths have noted that the actual numbers could be 9-10 times higher than those claimed by the state.  Eminent personalities like Silicon Valley entrepreneur, Vinod Khosla tweeted about how someone his friend in India knew was declared a non-covid casualty in the medical certificate.  He too believes that the figures are grossly understated (https://twitter.com/vkhosla/status/1393667463334666240?s=20).
States The Economist in its 12 June 2021 issue "…a rough estimate . . . of between 1.8 million and 2.4 million deaths from the disease "could be expected.  That would make the actual Covid deaths as many as six times more than official numbers admit.
 Beyond Covid deaths        
But if one goes beyond Covid, one finds that these very states have been concealing all kinds of information about people who died in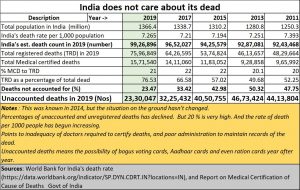 their respective territories. The data provided by the Census of India about registered and medically certified deaths (https://censusindia.gov.in/2011-Common/mccd.html) makes one sit up.
However, to understand the data, it is important to note that all deaths can be put into three buckets.
The most reliable, and desirable, is death that is certified by a doctor, stating the cause of death.  If it is a natural death, then no autopsy is required.  But if there is a suspicion of foul play, the police have the powers to ignore the doctor's certificate and send the body to be autopsied.  The forensic report will then determine whether the death was natural or should be treated as accidental, or even murder.
Unfortunately, there is a shortage of forensic laboratories in India (see chart). This is compounded by vigilante gau rakshaks compelling them to focus on identifying whether seized meat is cow meat or that of other animals (http://www.asiaconverge.com/2021/03/jjudicial-and-the-extra-judicial-will-there-be-a-face-off/).  Humans become less important than animals at such times.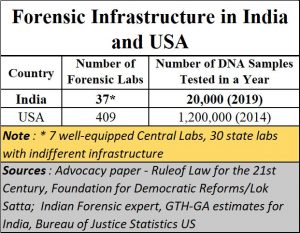 Therefore, to avoid forensic reports, the death is just registered without a cause unless there is pressure (either from the courts or from politicians) to get forensic reports ready.
Nonetheless, the available data does provide some insights.
First, the percentage of medically certified deaths has generally been over 20% of the total number of registered deaths.  This points to either a paucity of doctors, or a reluctance on the part of doctors to provide a reason for death.  Or both.
The first is well documented.  The second is not spoken about.
For example, if a man dies of malnutrition or starvation, would a doctor in a village certify the death as being caused by malnutrition?  If he does so, he will be hounded by the state authorities and a variety of charges will be levelled against him.  He might even lose his certificate of practice.  So, the doctor prefers not to certify the death if he does not want to lie.  The death is registered, but not medically certified.  But doctors are also known to certify such deaths as "on account of natural causes".  A lie, true.  But prudent given the present conditions of governance.
Were the cause of death due to malnutrition get recorded, someone could sue the government and claim damages.  Heads might also roll.  Therefore, the solution is no medically certified death.
A second finding is that the percentage of "unknown deaths" has actually declined from around 47% in 2011 to 21% in 2019.  Even so, 21% is embarrassingly high. Losing 23 lakh people each year without a trace is extremely worrying, even frightening.
Third, the death rate in India, as given by the World Bank has begun going up. It was 7.194 per 1,000 people in 2015.  It has climbed to 7.265 by 2019.  Clearly, Ayushman Bharat (http://www.asiaconverge.com/2018/08/ayushman-bharat-great-concept-doctors-overlooked/) has not worked.
Fourth, the worst performers on medical certification are Uttar Pradesh. Bihar, Madhya Pradesh, Uttarakhand, and Jharkhand.  All these states have medical certification of deaths at less than 10% against a national average of over 20%. The numbers show the extent of the fudge when it comes to recording deaths.  It will not be surprising therefore that the 21% unrecorded deaths could be found mostly in these states.  The percentages there could swell to over 30-40%.
And lastly, the best performers are Goa, Lakshadweep, Chandigarh, Puducherry, and Manipur.
So, what should India do to ensure that the recording of deaths improves? That will be dealt with in the next article.
Comments can be posted to RNB@asiaconverge.com