Mathurbhai Savani – New vision from an old diamond player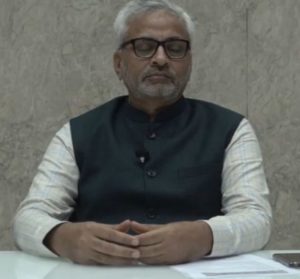 Mathurbhai Savani, one of the older players in the Indian diamond industry, has been a driving force in the implementation process of the Surat Diamond Bourse. Apart from his involvement in the industry, he has also been a pioneer in many socio-economic development schemes which have been successfully adopted across Gujarat by successive Governments. His numerous awards include the Padma Shri, India's fourth highest civilian award. In a freewheeling chat, he discusses the thought and action behind the creation of the Surat Bourse, the industry growth plans and other matters.
He gave the interview in Gujarati to Pankaj Joshi and RN Bhaskar.  Given below are translated and edited excerpts:
Idea behind Surat Bourse [https://youtu.be/ZCsZSNq1cEE ]
In 1975, Morarji Desai, the Parliament representative of Surat, called the leading textile manufacturers in the city. He explained in detail the merits of consolidating their diverse locations into a single location. Such an aggregation would help attract buyers multifold because of choice at a convenient point. This one single step has enabled Surat textile industry to prosper. Different eras, different preferences, good and bad times – the texte industry has sustained.
The logic for the Diamond Bourse is the same. You would know that nine of ten diamonds worldwide pass through Surat. Buyers for diamonds processed from Surat come from 175 nations. So if we attract all those buyers to just one single location having 4,200 sales offices, it will offer the same convenience, thereby creating the same buoyancy for the Indian gems industry.
Likewise, all rough diamond auctions done worldwide can happen at the Bourse. Again the principle remains the same – when there is convenience and choice, buyers will come from everywhere. The Bourse inauguration is due shortly.
Now we look at how sellers can benefit. Right now, Indian gems sell in multiple nations, and for that, different offices in different countries are needed. Sellers aggregating at the Bourse can save on stocking (inventory) costs and office costs of multiple locations.
So there is overall a clear logical argument – from convenience, from comfort, from security angles. This single step will help the regional economy as well in activity terms. Transport, accommodation, shopping – all these activities will pick up. Whenever a marketplace is established, support activities always see a surge in demand. You may want to know that Surat city right now in terms of growth is fourth worldwide. This Bourse establishment will only catalyse growth further.
Challenges in the execution [https://youtu.be/4-7cFchGp-0]
The internal consensus had to be established. Getting 4,200 diamond business owners together for a single location proposal was an achievement. No middleman, no government body was involved here. It was entirely the trade talking to one another. When the Minister Mr Piyush Goyal learnt this, even he was astounded. This shows the internal understanding among the trade community.
Within this 4,200 strong community, then a committee has been set up specifically to oversee the creation of this project. The committee has 30 members, again all from the the trade. Eight of us are directors with specific responsibilities. There is no salary, no profit, no remuneration. It is this structure – again without any external participants – that has overseen the execution of the project. Such execution is a guidance for similar projects across the country.
Of course, any project of this scale – single plot land with clear and marketable title – was not doable without Government support. To that extent, the Gujarat government support was vital. They helped create the Dream City in Surat across 562 hectares on the lines of the GIFT City.
For the Bourse, we had an execution team of 1,000 – 1,200 people working again on no profit basis. The whole process can actually be a lesson for management schools.
Surat as a global processing hub — [https://youtu.be/BAtyBxVtEyA]

If we look at how the diamond trade has evolved over the decades, two prominent communities – Jain and Patel – have built up the diamond trade in Surat. It is but natural that these would use their growing businesses to enable prosperity in their communities. Involvement of the community means comfort for the promoters in searching growth opportunities.
On the other side, with such rise in skilled and committed people, it is natural for the city to rise to prominence. Surat's advancement can be understood once you understand this bonding. On the industry front, with technological advancement, whatever output was being done in Israel found equivalent output in Surat. So developing and maintaining leadership could happen.
In future, this growth will sustain because there will be no second thoughts on investment or adoption of technology. Industry will continue to invest.
Surat from competition angle [https://youtu.be/j-3EIBf_3qk]
As of now, there is no threat to Surat from any global centre. What is lacking is an international airport. The permissions are in place and implementation is being done. Right now there is a Surat – Sharjah flight already. We need more such routes and it will happen. The initial permissions are already in place and now it is a question of each additional one.
Regarding alternative feeder centres in India, it will again be possible only when Surat entrepreneurs will take interest in scaling up activity there. Even in any other state, it would only be our local entrepreneurs who would have the understanding and capabilities to create processing hubs
Forward plans [https://youtu.be/9wf6z8iN290]
The industry invests for growth consistently. What individual companies plan to invest is their internal matter. Their capacity, their growth – these are individual matters.  At an aggregate industry level in Surat, there are seven lakh skilled workers having their source of work and income. If we talk further of ancillary and support functions, again the business supports lakhs of workers.
Lab-grown diamonds [https://youtu.be/N6Ur37GN7OQ]
When you talk of lab-grown diamonds, there is a separate market for that category. There is a significant difference which will always exist. Both types of products will have their customers. The customers will be different from each other, in both preferences and product prices. Both diamond categories (natural and lab-grown) will have their customers coming over in the Surat Bourse, but there is no clash envisaged. To give a parallel example, in Saurashtra there is a small town which specializes in creating brass jewellery which looks like gold. That product has its market, as does original gold jewellery. Both exist together.
Regarding policy and ground support, both Central and State government are giving us enough support. The growth of natural diamonds will not suffer, though the current war situation may see a temporary impact.
Comments can be posted to RNB@asiaconverge.com