Kiritbhai Bhansali on Diamonds and India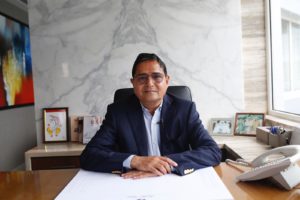 Kirit Bhansali, founder of Smital Gems, is a committee member of the Bharat Diamond Bourse and the GJEPC. In a brief chat, he outlines the potential of the Indian diamond industry, and where exactly will the opening of the Surat Bourse act as an accelerator. in an interview with Pankaj Joshi and RN Bhaskar, he spoke about how diamonds and India were a perfect fit, meant to benefit each 9ther.
Given below are edited excerpts:
The interplay of Bharat Bourse and upcoming Surat Bourse
Having the bourse in Surat was the need of the hour. Surat has seen the diamond industry grow progressively but in a random manner. Surat as of now has diversely located manufacturing units and office spaces which will now come under one roof. Bharat Bourse office owners anyways have 50,000 – 100,000 sqft units in Surat. Those will just get transferred and consolidated (https://youtu.be/Xaaz0p_3Hqg).
Industry growth and two locations
The diamond industry in India is a big success story. Indian gems and jewellery sector in totality is going to touch $40 billion in exports. You can understand therefore that the need now is to consistently tap the huge potential in exports overall and jewellery exports in particular. Therefore, from that viewpoints, two separate marketing locations will help. One more point of view in favour of a second location is that many of our established businesses now have the next generation coming in, who are looking at a larger product portfolio, working in bigger offices. So a well-planned layout is just what will appeal to them. When we started, 40 lakh sqft appeared large, but today the entire Bharat Bourse is booked. I do not think there is any lack of demand for more offices from the side of the diamond people.(https://youtu.be/_jW6l6VdSl4)
Comparitives of both bourses
If you look at each location, both the geographies (Mumbai and Surat) have their own attractions. Surat will take some years to match up to Mumbai as a marketing hub. Primacy of Bharat Bourse is sustainable as of now. And if you think one is a threat to the other, that is extremely unlikely to happen. If you recall, about 10-15 years ago, people had started to move from Belgium to Dubai. Then people were suddenly worried about how Belgium will survive. The story is before all today – Dubai saw growth, but Belgium did not shrink or die. Growth happens, so does diversification. It is for the good. (https://youtu.be/sd8YIllSDFg)
Recent developments and impact
Currently, in the prevailing environment of conflict, the reduced supply of Russian roughs is definitely a factor. However, against that, Indian processors tend to have 3-4 months stock in hand, and sourcing talks are on. So while prices of roughs are rising, that is also a market situation. The demand is also looking up from different global markets. Even as of now, production flow will be managed. (https://youtu.be/lEN38rihWyI)
The lab-grown diamond factor
Lab-grown diamonds are here to stay. From the view of a competing product, we must understand that both natural and lab-grown diamonds cater to different markets. The segment which wants natural diamonds will not settle for lab-grown diamonds. This is despite the fact that the price difference is huge. We see the target audience for lab-grown diamonds as one which is totally different from the traditional buyer. That being said, lab-grown diamond market definitely has growth potential.(https://youtu.be/H13Py9uOtkk)
The FTAs with UAE and Australia
The Indian government  has recently executed free trade agreements (FTAs) with Australia and the UAE. We believe this is an extremely positive development for us. For one, we can now tap the huge demand for studded jewellery in Australia. Regarding the UAE market, you must know that GJEPC has opened an office outside India for the first time, in Dubai. This indicates the potential they see. These agreements are a tribute to the hard work put in by the Minister Piyush Goyal and his team (https://youtu.be/RLPnOKuL5XM).
Upcoming jewellery centre
The Maharashtra government has allotted around 21-22 acres at Mahape (Navi Mumbai) for a jewellery centre. The location offers excellent connectivity, be it to Pune, to Nashik or key parts of Mumbai like BKC and South Mumbai where the diamond trade still has some offices.. Work on the centre will start in a month or two. The plan for now is to have 32 lakh sqft across offices and manufacturing units. Gold jewellery players are taking interest and talks are on. We believe diamond jewellery players will follow suit.(https://youtu.be/fyFj3RvKOXs)
Surat's consistent primacy
If we are to view the core primacy of Surat, one big obvious indicator is that today all top diamond players have originated from Gujarat. The trend started with Palanpuris (North Gujarat), and now there are Kathiawadis from Saurashtra too. When Narendra Modi became the Chief Minister in 2001, he gave a conscious vision and boost to the industry – why can't Gujarat be the top manufacturing hub globally? This vision has been a driver for the industry since then through the good and bad times.(https://youtu.be/jkQ2_dv-0Fc)
Surat's momentum
Surat is for long attractive for talent. Skilled workers today come from different parts of the nation, but Surat's current size gives it momentum. Surat offers a good environment, good pay, quality of life to people in the industry. We believe this momentum will sustain and only get more rapid from here.(https://youtu.be/QdkPqIPdJ2s)
Industry growth globally
We as an industry see that our exports are set to grow rapidly, primarily because of the FTAs and the duty reduction impacting costs positively. It must be mentioned that the consistent interaction and support from Government side is also a heartening factor. Today gems and jewellery is contributing 10 percent of the national export target of $400 billion. We are fully committed to support enhanced overall export targets of Indian economy at our own level.(https://youtu.be/eV_itANed3E)
Mixed domestic market outlook
If you look at the domestic market you will see that growth signals are mixed. There is a slight secular shift, in the sense that the new generation is not that keen on jewellery as the previous generations have traditionally been. Their focus on style, however, could create a new market. And anyway India's economic size, the sheer population and spending habits are positive factors in any situation. (https://youtu.be/vcnIxvjKPw0)
China as a presence
When you look at the global map of gems and jewellery, China is a large presence no doubt. They have capacities, but our workmen skills are generational, and China has a long path to travel. Our advantage on the ground is obvious to all. Also, our Indian diamond industry growth has been in a spirit of unity and support among the players. We believe in growing together.(https://youtu.be/31fMhY-JZfk)
Another key advantage is that Indian players sell diamonds on credit, which China cannot at present. Our long-standing relationships enable credit-based business without worries over collection. Overall our offices in the USA are much more in number.
Even in lab-grown diamonds, India remains the large player. No doubt, on the scale front especially China will create some advantages with time, but India will remain number one worldwide.
All the videos and pix have been taken by Emmanuel Karbhari,  Picswire (Copyright with Asiaconverge)
Comments can be posted to RNB@asiaconverge.com