Reshma was given opportunity to succeed at her dream by training under ASDC.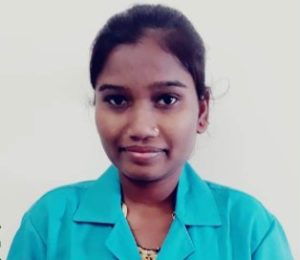 Reshma comes from a small village of Rajegaon District Gondia. She is an avid admirer of the medical fraternity and hope to dedicate her life in service of others. As we know life, presents numerous opportunities to those who are brave enough to grab them and Reshma was presented with her opportunity to succeed at her dream by training under the General Duty Assistant course provided by Adani Skill Development Centre, Tiroda.
Reshma was very nervous on her first day at skill training but she was determined to improve her skills and qualification. Thanks to her hard work and the "fantastic" support from her tutors, the 21-year-old proved herself – and she is now ready to tackle the world of work.
"When I first came to the training centre, I didn't have many friends" she said. "However, I met lots of new people and quickly found new friends that really supported me and boosted my confidence."
Reshma studied towards qualification in English, Computers, Personal Development, and General duty Assistant. As part of her course, Reshma learnt so many things like how to understand patient's needs which she then put in to practice during her mandatory work experience placement at Portea health care Hospital Mumbai.  She enjoyed her placement experience, where she further developed her communication skills and confidence.
Reshma Currently work with Portea Health care Hospital Mumbai. As a General Duty Assistant where she earn monthly salary of Rs.9000.
Comments can be posted to RNB@asiaconverge.com