https://news.cgtn.com/news/2023-04-01/BRICS-countries-vow-to-improve-global-governance-and-development-1iElInIrwNq/index.html
BRICS countries vow to improve global governance through closer cooperation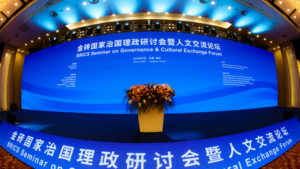 Representatives from BRICS countries gathered in eastern China's Jiangsu Province to share experiences in governance and discuss a global development pattern that is inclusive, balanced and mutually beneficial.
More than 200 representatives gathered at the 2023 BRICS Seminar on Governance & Cultural Exchange Forum offline and online from Thursday to Friday. The themes of this year's forums are "A New Blueprint for BRICS Cooperation, A New Dynamic for Global Development" and "Closer Cultural Ties for Stronger BRICS Partnerships."
Sun Yeli, deputy director of the Publicity Department of the Communist Party of China (CPC) Central Committee and minister of the State Council Information Office, said at the opening ceremony that China, through long-term exploration and practice, has explored its way of modernization, which is a path benefiting both China and the world. It's proved that developing countries can pursue a new way of development based on their own conditions.
The current global economy is imbalanced and struggling to recover, and it's important to improve global development and governance. BRICS countries should independently pursue ways to realize modernization and make choices that suit their development needs based on their national conditions and culture, said Du Zhanyuan, president of the China International Communications Group at the opening ceremony.
Experts at the seminar agreed that to propel the BRICS mechanism to a higher level of closer partnership and broader scope, there should be more economic cooperation, governmental support and people-to-people exchanges.
Two new reports on global development and governance were released at the seminar on Thursday, named the BRICS in Global Governance: New Role and New Model, and Global Survey: BRICS Cooperation in the New Era of Global Development 2022.
The reports revealed achievements by the BRICS cooperation mechanism in the fields of global political security, economy, trade and finance, sustainable development, and cultural and people-to-people exchanges. And the reports show 81.9 percent of people in 25 major countries across five continents agreed that BRICS countries enjoy good governance capacity.
At the parallel sessions of the seminar on Friday, experts from the BRICS countries conducted pragmatic and productive exchanges on seven topics: seeking global development consensus for win-win solutions; strengthening the foundation of global development for an open world economy; building momentum for global development through technological innovation and transformation; sharing global development opportunities for quality partnerships; promoting mutual learning and safeguarding common values; strengthening media cooperation to spread the voice of BRICS; and gathering the power of youth to create a better future.
Comments can be posted to RNB@asiaconverge.com