Customercare at Xiaomi sucks
The second part of the sorry saga can be found at https://asiaconverge.com/2023/06/xiaomi-is-disdainful-about-customer-service/
Disclosure: Till last fortnight, I have been a fan of Xiaomi's products.  I have been using its phone for more than a decade now. But my experience of terrible customercare has made me revise my admiration for the company.
On account of this confidence and faith, in February 2023, I ordered a Xiaomi watch from the MI store.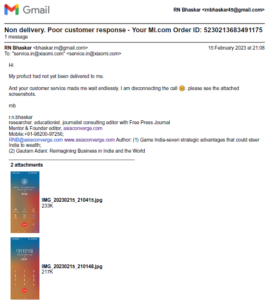 By 15 February, it did not reach me, and efforts to contact Xiaomi on phone were not successful. My doubts about Xiaomi began.
But the watch finally arrived, and I was happy with it.  It restored my faith in Xiaomi being a good company.  But . . . . .
On 8 June, in less than three months since the purchase, the watch stopped functioning.  Its display vanished.  Tried everything, but with no luck.  Finally sent Xiaomi an email at service.in@xiaomi.com .
Xiaomi replied promptly with instructions on how to register my complaint and how to get an appointment with its service centre. The promptness of the response was rerassuring.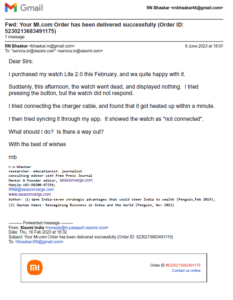 On 9 June, I got confirmation that my service centre had been identified as V Kare Informatics at Ghatkopar, Mumbai, and the address was supplied. Helpfully, a Google Map link too was provided. My appointment was for 14 June 2023 and my complaint token No was 6155865.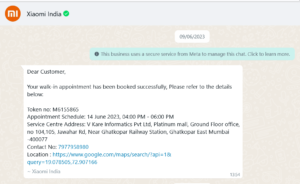 I tried to ring up the centre by ringing up the number supplied in the confirmation message, but there was no reply.
Anyway, I went to the Google Map link location and got off near Titan house.  But I found no V Kare Informatics there.
So, I caught an autorickshaw and went to Platinum Mall in Ghatkopar, which was the given address in the confirmation note through WhatsApp. No V Kare Informatics there as well.
I tried to call up V Kare Informatics at least 14 times. No reply.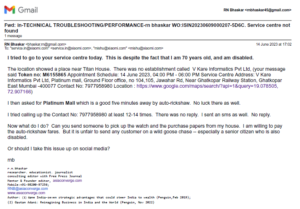 I finally returned home and sent a complaint to Xiaomi.  No response for two days.  Suddenly the alacrity had vanished.  I was greeted with silence. Xiaomi's WA chat service was of no help either.
I am now left wondering.
Is Xiaomi such a great company after all?
Does it have a fictitious V Kare Informatics to gull customers?  Or has V Kare pulled a fast one on Xiaomi?
How can the Google Map location and the address given be for entirely different locations? And why isn't Xiaomi responding?
I hoped to hear from Xiaomi.  With no response forthcoming, I put up a thread on Twitter — https://twitter.com/rnbhaskar1/status/1669547661945438208?s=20 . I ot a response from Xiaomi on Twitter "could I come on the DM (direct messaging) and discuss the problem I faced?  I replied in the open mode (I saw no reason for the DM) stating that the company hadmy telephone number and my email address.  If it did not have it, the attachments provided could refresh its memory and records.  No response.  A couple of days later there was anothe Twitter response — could I come on the DM? Once again, I told it to contact me on phone or email. Xiaomi's managers appear to be unwilling to do that.  I wonder why.
Hence this blog on my website.  I shall be posting the URL of this on all social media platforms.
Conclusion: Xiaomi's products are better than most others in the same category.  But its customer service sucks.  Don't go to customer service centres, till someone from the store confirms the location where they exist and the working hours as well.  You could be spared a bum's rush.
Comments can be posted to RNB@asiaconverge.com