Xiaomi is shamelessly disdainful about the inconvenience it causes to customers, especially the disabled
Please also refer to https://asiaconverge.com/2023/06/customercare-at-xiaomi-sucks/ which is the first part of this sorry saga.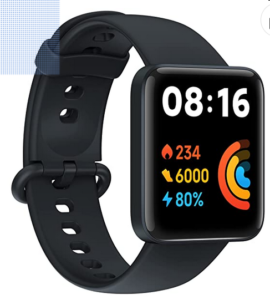 On 14 June, 2023, I wrote to Xiaomi, informing me about how it had sent me on a wild goose chase (https://asiaconverge.com/wp-content/uploads/2023/06/2023-06-14_email-to-xiaomi-informing-of-my-visit-to-service-centre-768×535.png).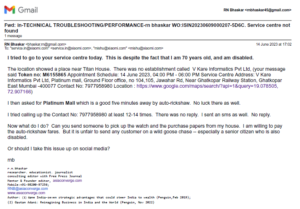 I had explained in that letter that in spite of my disability, I had taken the trouble to go to the service centre it had asked me to visit  .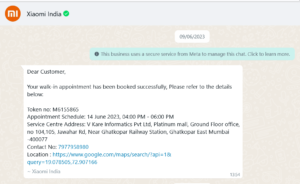 On 26 June, Xiaomi sent me an email, which I received on 27 June.  It said that it was sorry to learn that "you are unable to find the location of the service center regarding your Redmi Watch 2 Lite device replacement".  That was a blatant lie.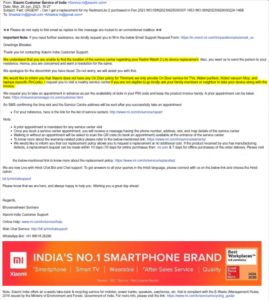 The address provided by Xiaomi, and the google link provided, both pointed to different locations.  The service centre was not even in existence at any of the two locations.  I tried to ring up that number at least 14 times, but got no reply. Finally, I gave up.  I the process, I wasted almost two hours of my time, spent 5around Rs.500 is trying to locate the state, and was left exhausted because I had tried moving around despite my disability.  A copy of my disability certificate can be downloaded from https://asiaconverge.com/wp-content/uploads/2022/12/2022-12-24_2013-08-28_Disability-certificate-colour-rnb.pdf .
I therefore wrote to Xiaomi on 27 June informing the people there that they had tried suggesting that I was incompetent in not being able to find the location.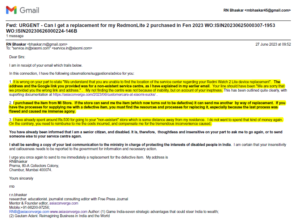 I pointed out that the mistake was theirs, not mine.  That I had spent time and money in trying to locate the centre.  And hence the least they could do was to send the replacement to my residence. I also warned them that they were liable to pay for damages, and that I would be forwarding a copy of their email to the ministry in charge of protecting the interests of disabled persons.
For me, Xiaomi was guilty of the following:
Supplying a product that was defective.  That happens, and hence can be excused.
Supplying me with an address and a google link to a service centre that was non-existent.  It was a fiction of someone's imagination.  That is not only a mistake, but is perverse. That is inexcusable.
It had thus hurt and inconvenienced a customer, and the fact that it did so with a person who was disabled was worse.
Even after it knew about the disability, the people there had the gall to suggest that I send someone else if I could not make it myself.  No attempt was even made to apologise, or compensate me for my troubles and pains. Terrible.
It tried to tell lies by stating that I was "unable to find the location".  This is adding salt over injury. That is serious, and inexcusable.
On 29 June, 2023, a Xiaomi representative rang me up (see the call logs – URL) and tried to ask me to repeat all the facts relating to the case.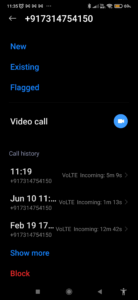 Clearly, the person had not even read my emails.  When I said so, he said that he was only cross checking my statements.  Charming indeed!
He also said that it could not send me a replacement – that it was not their normal procedure to do so – and that I would have to come to the service centre. I curtly told him that if the replacement wasn't sent to me within a week, I would take up this matter with the government of India – for cheating on the warranty terms, or giving out wrong information, for lying to customers, and for not compensating him for the inconvenience caused, the needless time and expense wasted, and the refusal to offer to compensate or ameliorate the damage already done.
I shall wait for a week.  And then I shall proceed.  First, I shall complain to the government (the people concerned with consumer affirs, the corporate cell, and the department which is there to protect the interests of the disabled).  I then reserve the right to haul Xiaomi to consumer courts and claim substantial damages from it.
This is not the way it treats any customer.
Comments can be posted to RNB@asiaconverge.com