Turmeric gets a shot in the arm
RN Bhaskar
Turmeric farmers should see better prices both in domestic and export markets soon.  This is because of the efforts of the government's KVKs (Krishi Vigyan Kendras) and NCDEX (which funded the setting up of two laboratories for testing and grading turmeric). Turmeric is important because it is one of the main spices consumed in the eastern part of the world. It is also a big export item from India.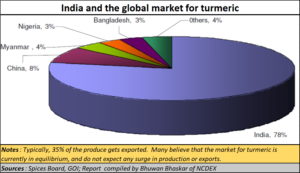 India is the biggest
How big is the Indian spices market?  According to "Research and Markets (https://www.researchandmarkets.com/reports/5768963/india-spices-market-industry-trends-share) the India spices market size reached Rs.160,676 crores in 2022. Looking forward, the researcher expects the market to reach Rs.298,909 crores by 2028, thus registering a CAGR of 10.9% during 2022-2028.
According to the Spices Board India (http://www.indianspices.com/box2info.html) "Despite the COVID pandemic, spices export from India has continued its upward trend during 2020-21 and has attained an all-time high of US $ 4 billion (Rs.328,000 crore at Rs.82 to a USD) for the first time in the history of spices export. During 2021-22, the export of spices/spice products from the country has been 15,31,154 tons valued at US$ 4.1 billion.

In terms of share, the turmeric market for India is small in the world of spices – just around Rs.3,000 crore — but in terms of relevance, and imputed value, it could be several times bigger.
India is the largest turmeric manufacturer, consumer, and exporter. Other big producers are China, Myanmar, Nigeria, Bangladesh, Pakistan, Sri Lanka, Taiwan, Burma, and Indonesia, etc. India accounts for about 78% of world output and 60% of turmeric exports. Almost all Asian countries love turmeric, and domestically consume almost 90 per cent of their turmeric supply. In India, however, approximately 35% of production gets exported.
According to Grand View Research (https://www.grandviewresearch.com/industry-analysis/turmeric-extract-curcumin-market), the global curcumin market size was valued at USD 6.6 billion in 2020 and is expected to grow at a compound annual growth rate (CAGR) of 16.1% from 2020 to 2028.
Amazing qualities
This growth can be credited to the inherent properties of the product, such as anti-cancer, antioxidant, and anti-inflammatory properties. It is also widely used in skin-care applications, including the prevention of ringworms, eye infection, leech bites, sore skin, bruising, and swelling among others, which, in turn, is expected to drive the growth of this market over the forecast period. Curcumin is an active ingredient commonly extracted from turmeric and ginger.
As of now, there are no certification standards required for exports.  Thus, the laboratories set up in India will make this transition easy, as and when certification becomes mandatory. Currently, for sales both within India and overseas, prices are determined based on moisture, colour, and weight. Pharma companies which seek to use turmeric as an input do insist on curcumin content, as it is the active ingredient.
NCDEX which funded the setting up of two laboratories in Tamil Nadu with an outlay of Rs.46 lakh from CSR funds in 2017-18, has been actively involved in working with KVK to educate farmers in using the lab facilities.
It started its 'Parakh' initiative with an objective to help farmer producer groups with agri infrastructure equipment so that the farmers may fetch optimum prices for their crop. More than 2000 farmers have used these two labs since the inception, as intimated by MYRADA, the NGO which is running them.
While all looks rosy, there are some niggling fears that creep up. The government likes to wax eloquent about what it has been doing to upgrade agriculture, and how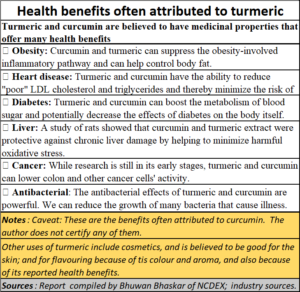 much it means to India.  It talks more about farmers when elections approach, and just pays lip service thereafter. But a look at the KVK ICAR (Indian Agricultural Research Centre — https://kvk-icar-gov-in) website confirms such fears. The latest reports relate to 2019.  The number of KVKs  mentioned on the website is 1038 (The government website says that 1038 KVKs reported for the Pradhan Mantri Kisan Samman Nidhi 2019 — https://kvk-icar-gov-in.translate.goog/PM_Kisan.aspx?_x_tr_sl=en&_x_tr_tl=hi&_x_tr_hl=hi&_x_tr_pto=tc). But a check with the industry put this number at 731. Clearly, a case of overhype cannot be ruled out.
The future could be pharma
In the future, one of the largest purchases may come from the pharma sector.  This would be especially true of Ayurveda product companies in India and elsewhere. This is because, conventionally, people repose immense faith in the medical and healing properties of turmeric.  In India, it is used as a vivid yellow-orange cooking spice. It is also referred to as the poor man's saffron – a less expensive flavouring substitute with a yellow taint. It is popular as a medicinal plant which belongs to the Zingiberaceae (ginger) family.  In many Indian rituals the use of turmeric is not uncommon.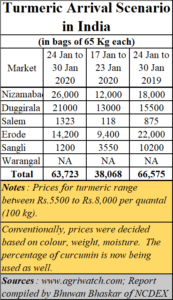 This is a popular medicine used in the treatment of various diseases in Ayurveda, Unani, and Siddha (Selvi et al., 2015). It is used as a herbal remedy, as a disinfectant, with anti-bacterial properties.  It is used for healing muscle pain, and pain in the joints of the human body. And it is believed to have major healing properties for various organs of the human body. As Bhuvan Bhaskar's report puts it, "It is known for its anti-diabetic, antiseptic, antibacterial, anti-asthmatic, ant ulcerative, insect repellent and wound healing properties (Ammon and Wahl, 1991). This is also used during duties as a ritual colorant (Wilson, 2005). Indian turmeric is favoured as compared to other countries due to its high content of curcumin." If standardized and made consistent, it could command premium pricing as well.
Turmeric (Curcuma longa L.) rhizome is the widely used additive that is the turmeric that gives flavour, colour and adds spices to food preparation in almost all countries in Southeast Asia.
It is also used as a food colouring agent by several food industries. It is used mainly in dairy foods, snacks, pasta, confectionery, ice cream, bakery, and in making savoury items. It is commonly used in flavoured milk beverages, processed milk, and desserts in dairy products to produce lemon and banana colours.
In India, the main turmeric producing states are Telangana, Andhra Pradesh, Tamil Nadu, and Karnataka, Odisha and West Bengal, and Maharashtra.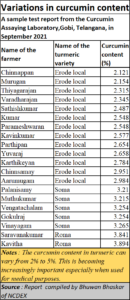 Yet, it remains a seasonal crop. It is primarily available on the market in two seasons, the first season from mid-February to June, and the second season is from mid-August to October. Depending on the variety, the duration of the turmeric crop is usually 7-9 months. In India's major producing states, sowing is in July, and harvesting starts from October to February. In turmeric, March-April months are peak arrival times. Fresh turmeric arrival in Erode Regulated market begins from mid-March to June, so at that time the price will be lower by 8 to 10 percent than the usual price and the stored commodity will be available all year round.
More curcumin please
Since many of the applications of turmeric relate to medicine, cosmetics and dyeing, the focus is bound to be on improvement of the curcumin ingredient.  At present the variations in curcumin content in the turmeric produced in India are huge.  They will have to be upgraded and even standardised.
That is where the KVK laboratories will play a major part.  Increasingly farmers are beginning to get the curcumin content analysed and have begun to focus on cultivation practices that could help increase its share.
If handled well, and further popularised, this could be a crop that should see tremendous market upsurge in the coming years.
Comments can be posted to RNB@asiaconverge.com