http://www.dnaindia.com/business/report-delhi-mumbai-corridor-will-create-new-best-in-class-cities-1510755
DMIC will change the way India thinks about cities
RN Bhaskar – Feb 20, 2011, 11:26 PM IST
I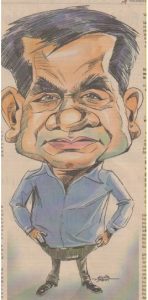 t could be the most challenging job any executive could have taken up in recent times. As CEO and managing director of the Delhi Mumbai Industrial Corridor Development Corporation (DMICDC), Amitabh Kant heads a project that could transform India altogether.
It is daunting in its vision, mind boggling in the amount of money that would be required to see this project through.
The project involves developing industrial areas on either side of the Dedicated Freight Corridor (DFC) which is meant to travel from Rewari in Haryana through Delhi, Rajasthan, Madhya Pradesh and Gujarat to end in Mumbai. The Delhi Mumbai Industrial Corridor (DMIC) could involve a fund outlay of not less than $120 billion, and could soar even beyond.
It is being developed by the Government of India in partnership with the Government of Japan as a global manufacturing and investment destination supported by world class infrastructure and enabling policy framework.
Kant is a member of the Indian Administrative Service (Kerala Cadre: 1980 batch). He is also the author of Branding India — An Incredible Story and has been the key driver of the "Incredible India" and "God's Own Country" campaigns that positioned and branded India and Kerala as leading tourism destinations.
He was then joint secretary, ministry of tourism, Government of India. He had also served as secretary, tourism, Government of Kerala, managing director, Kerala State Industrial Development Corporation, district collector, Kozhikode and managing director, Matsyafed.
Kant was also the National Project Director of the Rural Tourism Project of UNDP which made a paradigm shift in spreading tourism to Indian villages which had core-competency in handicrafts, handloom and culture.
R N Bhaskar of DNA met him at his Delhi office and Kant spoke about the underlying philosophy behind this ambitious project.
How do you view the DMIC project which you are in charge of?
The basic objective of the DMIC is to drive manufacturing. This is because only then can India hope to keep growing at 9-10% year-on-year. That is the only way India can hope to wipe out poverty. If this growth rate slows down, poverty alleviation will become that much more difficult.
Are there any models that you have been looking at?
Historically, this has happened in Japan, Korea, Singapore and China. They, too, focused on manufacturing and pulled their respective economies out of backwardness to become some of the most vibrant economies in the world.
This is because manufacturing creates jobs. And manufacturing alone can help India triple employment and double exports over a period of time.
But hasn't India's service sector been the prime mover of its economic growth during the past 15 years?
True, India's growth has been driven by the service sector so far, but this sector is not as great a creator of jobs as the manufacturing sector is. Today, agriculture has 45% of India's employment, which grows at just 2-3%. Nowhere in the world has agriculture grown at 10% year-on-year for a very long period of time.
India has to get into value-added manufacturing. Moreover, disguised employment must shift from agriculture to manufacturing. And in doing so, we have to change India's work culture as well. To succeed, the industrial units in the DMIC area will have to be those which benchmark their production to the world's best. Nothing must be second rate. And to do that, this quest for excellence must begin with the very planning of the DMIC.
Is that why you have been looking at the best master-planners for the cities proposed in the DMIC region?
True. And the list is impressive. We have Scott Williams looking at the perspective plan for the overall DMIC corridor. Then we have two consortia led by Halcrow. One is focused on the Ahmedabad-Dholera Investment Region in Gujarat, and the other on the Dadri-Noida-Gaziabad region in UP.
We have another consortium led by LEA Associates which is looking at the Pithampur-Dhar-Mhow investment region in MP. The Jurong consortium is looking at the Manesar-Bawal region in Haryana. Two other consortia, led by AECOM, are looking at both the Igatpuri-Nashik-Sinnar node and the Dighi Port industrial area.
Finally, we have the consortia led by Kulper Compagnons working on the Khuskera-Bhiwadi-Neemrana region in Rajasthan.
Each of these consortia are in turn using the skills of many other consultants who can ensure that the master plan produced is extremely comprehensive, and benchmark to the best in the world.
What are the processes involved?
Look at all the countries that developed at a rapid pace, be it Singapore, Korea or China. They all created well-planned large manufacturing cities.They built them so that the largest and the best manufacturers from around the world could congregate there.
And they create large-scale employment. For instance, in China, there is a factory which has almost 750,000 workers in one place.
You cannot get workers to come to a place and work there for a reasonably long period of time, unless they can come with their families.
Young managers have young wives, and they will have children. Children need schools. Then you need hospitals, cinema houses and other social interaction points. In other words, you need to look at manufacturing from the viewpoint of people who can work there, live there and play there.
This means identifying all such areas before a city can be built. To ensure that you do not waste fuel or time and you have clean air to breathe, you need to ensure that no place of work or entertainment is more than 10 minutes away from a highly-efficient commute system — be it rapid bus transport system or metro rail.
Unlike older cities, that had the luxury of being sprawled out because they had access to plenty of cheap oil or coal — which in turn could allow the use of private vehicles like cars — all new cities are, and have to be, built more compactly. This saves on commute time, it allows for more efficient and comfortable public transport systems, short distances for sewerage systems to be laid out, and brings all types of places and people close to each other.
They help reduce CO2 emissions which is something older cities did not bother about. And by planning the city carefully, you also ensure that you have enough open spaces for recreation.
Let me give you one example. Both Barcelona and Atlanta were built at around the same time. But because of the way both were designed, Atlanta today accounts for 12 times more CO2 emissions than Barcelona. Atlanta is more sprawled out, and has many more vehicles plying the roads. In Barcelona, on the other hand, the city is more compact and better planned.Almost 60% of the people cycle or walk to get to anywhere. And if Atlanta were to become as environment-friendly as Barcelona, it will have to create 2,486 new metro stations. That is just not feasible. You just cannot re-design a city. That is why master-planning is critically significant.
But won't this affect the very design of cities as we have known them?
True. This is how the concept of manufacturing has converged with the concept of urbanisation. That is why the new cities will have to climb vertically, with FSI, (floor space index) or FAR (floor area ratio) at not less than 4. Buildings should be as close to the workplace as possible. And if the workplace is not very close, the building must be close to a public commute hub. A similar logic holds true for offices as well.
And since you want to have compact cities, connectivity with other cities and opportunities has to be excellent. That is why no city can take off without transport connectivity. In fact, that is true of manufacturing as well.
In India the challenge will be to connect highways, railways and ports to these new cities. Since it is not easy to move a port, or a highway to a city, most cities grow around transport hubs. The dedicated freight corridor (DFC) enables the effective creation of such transport hubs. It is next to a dedicated freight corridor, and the nodal points identified by us, already have excellent connectivity. That is why I always say that DMIC is all about realising India's urbanisation process.
In many ways India is a late starter in terms of new urbanisation. This was because India's policy-makers were obsessed with rural development. They believed that it would be possible to create enough jobs in rural areas. To my mind this is not possible. The moment you create enough jobs, you turn a rural area into an urban area. And if this urban area is not planned right from its initial stages, you will have a highly unplanned — and even an unconnected — city.
In fact, if you don't plan big cities well in advance, people will move to existing cities which will expand in an unplanned way, leading to a proliferation of slums. You need magnet cities that can take the influx of people looking for jobs. You need to wean them away to the new cities, so that the temptation of going to old cities will diminish.
If you don't have planned growth, you will have unplanned growth. And that means more slums. It will mean more contrasts between affluence and poverty. It is something that should be avoided.
India should have begun doing this many years ago.
But if India is a late starter, it has one big advantage. It can use new technology to leapfrog over other countries. In today's world, it is possible to use digital technology and use it with physical infrastructure. It is possible to use instrumentation and interconnection. You can converge them horizontally.
And since one has technology, the time taken to build a city will also have to be crunched. There will have to be less wet processes — like the use of mortar for laying bricks for walls. Instead you will have more and more use of steel and glass. This will allow structures to come up speedily and look more majestic as well. And you will have to stop looking at power, water, transportation and sewage management separately. With technology and foresight, you can create a central command room to manage all.
This would mean excellent management for managing the cities, isn't it?
True. But then if you look at any new city in the world — Shanghai, Seoul, Singapore — which is both a city and a country — even Tokyo or Osaka, you will find them governed by very powerful CEOs or mayors. You need to make one person responsible for the maintenance and growth of the city, and see that its planning does not go awry, and its growth does not falter.
Will all these be easy?
We have two challenges before us.
The first is to ensure that these cities are well financed. Earlier, all the cities — whether in the US or in China — were entirely state-funded. The challenge will be to get these funded as public private partnerships (PPPs), with part of the funding coming from the private sector.
In this, the government has a major role. It needs to clear the financial structuring of the city. These new cities cost money. The first seven cities that we plan help develop (see the box) will cost anywhere between `35,000 crore and as much as `75,000 crore — which is what Dholera, the largest development plan among all the cities, is likely to cost.And mind you, these are present day costings.
To get these cities off the ground, the government has to create good quality trunk infrastructure. This includes drainage, sewerage, roads and other non-commercial parts. All these must be in accordance with the master plans for which we have hired the best of the consultants. Once this is done, it allows you to structure, balance and co-operate on PPP. It allows you, in turn, to monetise the land that has been allocated for the city, and the funds from which could then fund other development.
The second challenge is to get India to create a business model of urbanisation. These cities must be able to constantly generate revenues and put them back to finance further growth and also meet maintenance and administrative costs. What we at DMICDC are trying to do is to create this model so that it can then be replicated in other parts of the country.
In other words, government must trigger growth. This growth, and the increased commercial value of land and facilities, must lead to PPPs.
The challenge is to find out the lowest minimum money that DMICDC will need from the government to trigger growth. The challenge is to get long term debt, because cities that are being set up will not generate returns for at least 10-15 years. After that they generate enough money to not only repay earlier loans, but also create enough funds to finance many more cities.
The challenge is that of governance as well — of having strong CEO- administrators for the cities. They could be strong mayors.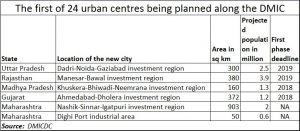 The biggest city you plan work on is Dholera. Could you elaborate on that?
If all goes according to what we and thegovernment of Gujarat have planned, Dholera could be India's biggest industrial and residential hub. In fact, it could be the world's largest as well.
Consider the following. Dholera accounts for almost 50,000 hectares compared to most other new cities in India that account for just one-third its size. In fact, the state government of Gujarat has been the most proactive among the six states that the DMIC covers.
It has already acquired some 27,000 hectares of land, and work is under way for acquiring the rest. Site surveys have already begun, and the Dholera-Ahmedabad 16-18 lane highway is now being planned. We expect this area to become one of the biggest beneficiaries of the plan that DMIC has. We believe that this city will be humming in around five years.
So how far have you reached with other states?
We are currently working in partnership with state governments. We are dealing with land-owners, but it is a challenging job. We are trying to create one or two demonstration models which can be replicated in other places.
That, to my mind, is the basic difference between India and China. In China it is easy to get in and achieve something big. But doing this may not be sustainable in the long run. That is why we would like to first create a sustainable model which triggers competition among states to create similar cities.
Comments can be posted to RNB@asiaconverge.com