http://www.freepressjournal.in/mumbai/imc-forum-unique-fpj-panel-discussion-on-tuesday/843373
Mumbai's Infrastructure: What is needed?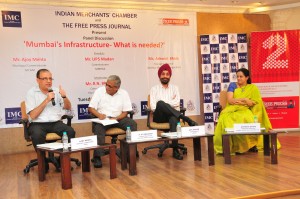 To get a copy of the Mumbai Infrastructure policy booklet, please click here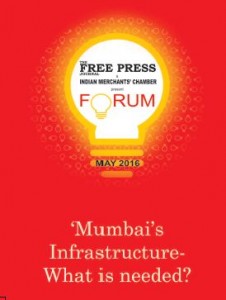 Mumbai's aura as the commercial capital of India is in
danger of wearing thin because the infrastructure
growth in the past couple of decades has not kept
pace with demand arising from the population.
The city has expanded geographically and is now
recognised more as the Mumbai Metropolitan Region,
but a good part of the work commute remains north-south.Projects announced by the authorities get
delayed for a plethora of reasons, and as a result often
fail to achieve their desired impact on the life and
work efficiency of the populace.What do the
authorities have in their respective hats which they
can pull out?To discuss this, the FPJ-IMC Forum organized a panel
discussion with experts at the Indian Merchants
Chamber,Mumbai. The panel comprised
Mrs.Ashwini
Bhide
, IAS,Managing Director, Mumbai Metro Rail
Corporation;
Ajoy Mehta
, IAS,Municipal Commissioner,
MCGM; and
U.P.S.Madan
, IAS, Commissioner, MMRDA.
The event was moderated by R.N.Bhaskar of FPJ with
editorial support from Pankaj Joshi.
The welcome address was given by Dilip Piramal,
president, IMC, and the Vote of thanks by the President-
Elect Deepak Premnarayen.
Comments can be posted to RNB@asiaconverge.com