http://www.freepressjournal.in/analysis/rn-bhaskar-uday-and-the-politics-of-appeasement-and-largesse/1047188
UDAY is doomed to fail, unless subsidies can first be controlled

— By RN Bhaskar | Apr 06, 2017 09:11 am
In November 2015, the Union government launched the Ujwal DISCOM Assurance Yojana (UDAY). It was a program aimed at financial turnaround and revival of electricity distribution companies in India. The idea was to rework the Rs.4.3 trillion (Rs.4.3 lkakh crore) debt of power distribution companies (DISCOM).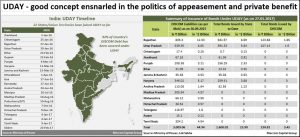 The intent was good. But in a political environment where freebies get promoted (free power, loan waivers, regularization of land encroachment become political manifestoes even with the ruling BJP in Uttar Pradesh — http://www.asiaconverge.com/2017/03/farmer-suicides-and-increasing-agricultural-incomes-for-some/), fiscal discipline may not materialise.  Maybe, it will require judicial intervention once again. True, this will provoke shrill cries of judicial overreach by legislators.  But when legislators cannot be financially prudent or responsible, the intervention of the courts is the only way out.
UDAY had four objectives:
improving operational efficiencies of DISCOMs,
reducing the cost of power,
reducing interest costs of DISCOMs, and
enforcing financial discipline on DISCOMs through the alignment with state finances.
By becoming UDAY signatories, state governments were to take over 75 percent of their respective DISCOM debt and pay back lenders through the sale of bonds. DISCOMs are supposed to issue bonds for the remaining 25 percent of their debt (see chart).
Twenty-two states joined the UDAY program (see chart). But none of the DISCOMs have yet shown marked improvement.
As Mercom, an energy consultancy group, points out, UDAYs "success hinges upon the participating state's willingness and ability to adhere to key operational milestones, reducing overall costs of power by sourcing power through an optimal mix of generation sources and building adequate intrastate transmission capacity, improving sustainability of DISCOMs by moving to cost-reflective tariff regime (quarterly and monthly automatic fuel adjustment), supporting DISCOMs through timely payment of subsidies, and proactive resolution of other critical issues such as lowering cross subsidization in power tariffs to boost demand and accurate determination of aggregate technical & commercial (AT&C) losses."
True, some of these parameters can be, and have been, addressed through effective implementation of technology and effective management. But the biggest hurdle remains political will to reduce subsidised power given to targeted groups including farmers.  The difference between commercial and subsidised tariff is at times as high as 800%.  That, in turn, leads to power theft on the one hand, and mis-declaration which in turn helps disguise theft.
A good example is the way Maharashtra ensures that theft is disguised as pump-set power consumption, which in turn gets classified as agricultural consumption attracting subsidised tariffs. Thus, Maharashtra has one of the largest number of pump-sets per acre (http://www.asiaconverge.com/2016/05/how-will-india-fund-its-solar-power-plans/), even though agriculture is claimed to be a loss-making enterprise. The greater the difference between subsidised and non-subsidised power, the greater is the revenue gap.  The revenue gap is the difference between ACS (Average Cost of power) minus ARR (average revenuer realization).
As a result, the achievements of UDAY are meagre.  The few recorded achievements arr:
Rajasthan and Madhya Pradesh are the only states that have reduced the gap between ARR and ACS.
Among DISCOMs from India's northern states Haryana's Dakshin Haryana Bijli Vitran Nigam (DHBVNL) made a profit of Rs.790 million in the first half of FY 2017, against a loss of Rs.4.72 billion in FY 2015-16.
In total, 15 UDAY signatories have filed a tariff petition for 2016-17.
Rajasthan, Bihar and Punjab have reduced their average cost of power – Rajasthan by 12.83 %, Bihar by 12.25 % and Punjab by 7.83 %.
As of January 27, 2017, bonds worth Rs.1,830.84 billion (Rs.183,084 crore) have been issued by the participating states at reduced rates of interest.
The way out
Considering the temptation on the part of state legislators to dispense favours and allow power theft, financial discipline is not likely to take root quickly, notwithstanding UDAY.
One way out would be to invite private investment in off-grid power clusters-based power generation and distribution facilities based largely on solar and methane (http://www.asiaconverge.com/2016/07/solar-methane-better-days-ahead/). That will allow for several benefits:
It will reduce India's import bill of oil and petroleum.
It will harness India's strategic advantages of sunlight and its large population of humans and animals.
It will largely eliminate the incidence of power theft.
It can be satructured in such a way that free power can still be supplied (within limits) to a local community.
It decentralizes management and resource mobilisation.
But even doing this will require both political savvy and will.  And it will also require a good financial model.  But more on that later.
Comments can be posted to RNB@asiaconverge.com