http://www.freepressjournal.in/analysis/the-rbi-points-to-very-crucial-chinks-r-n-bhaskar/1354870
Economic growth and the RBI
— By RN Bhaskar | Sep 13, 2018
The latest annual report of the Reserve Bank of India (RBI) is quite candid about its assessment of demonetisation.  More cash has come back into the system than had been envisaged earlier.  The pace of increase in digital payments has slowed down.  And while the RBI does not mention it, the absurdity of having e-commerce and digital payments under the IT ministry and not under the finance ministry continues to baffle experts.  The absence of a regulator for e-commerce remains another unexplained lapse.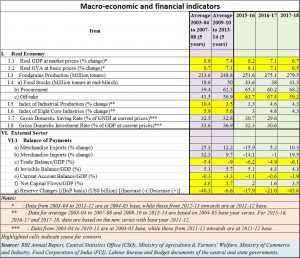 But go back to the RBI report. Watch the highlighted cells in the chart alongside [the author's doing].  Collectively, they seem to suggest that the rupee may continue its downward slide unless the government takes steps to improve productivity on the one hand, and reduce wasteful expenditure on the other.
Increase in agricultural production may not necessarily be a great achievement, if the produce cannot find a market.  Allowing the government to purchase the produce will only reduce offtake by the public. At the same time it will create scams by procurement agencies learning to pay first grade prices for second grain quality of crop (http://www.asiaconverge.com/2018/08/farming-politicians-pricing/).
Moreover, bumper production will invariably lead to distress pricing, which will causes farmer income growth to remain at depressed levels (http://www.freepressjournal.in/analysis/rural-incomes-worse-than-previously-imagined-r-n-bhaskar/1340980).
Worse is the fact that the government continues to pour good money over bad.  It has not shut down loss making public sector units as yet.  It has just allowed a Rs.4.5 lakh crore increase in wages and pensions for government staff – not the most productive of workers.  Expect this largesse to trigger similar demands by state government employees as well.
This is compounded by the government deciding to protect corrupt and venal bankers from investigation at a time when bank frauds are on the rise (http://www.freepressjournal.in/analysis/banker-scamster-and-hidden-hand-make-merry-r-n-bhaskar/1345574).  The disappearance of annexures from the Lok Sabha website — which thus helps conceal the actual figures of frauds — makes the situation messier.  Without public scrutiny, there can be little analysis, hence minimal scope for course correction.
True, the GDP numbers for the latest quarter seem to suggest green shoots.  But they were the result of a low base effect.  It remains to be seen if this trend can be sustained.
The RBI does talk about infrastructure activity, which could be a force multiplier for India in the take-off to the middle income group of countries. It gained pace in terms of projects under implementation. But as the annual report warns, new project announcements remained subdued across public and private sectors. One of the biggest infrastructure projects, the dedicated freight corridor (DFC) and the related Delhi Mumbai Industrial Corridor (DMIC) is not even being spoken of (http://www.asiaconverge.com/2011/02/dmic-delhi-mumbai-corridor-will-create-new-best-class-cities/).  The much admired concept of smart cities under the protection of Article 243-Q of the Indian Constitution, remains almost forgotten (http://www.asiaconverge.com/2014/12/planning-for-smart-cities/).
The one sector that appears to have done well is the road sector. The sustained growth in construction of national highways and the length of roads awarded was a silver lining, points out the RBI report.  A great deal of promise is also held out by coastal development and the ports sectors, provided India does not foolishly give away its cabotage advantages without first giving its own domestic ship building and coastal route containerization businesses the opportunity to grow (http://www.asiaconverge.com/2018/07/troubled-waters-owns-right-way-indias-coasts/).  It would be contrary to the concept of Make-in-India.
Ditto with retrograde measures like trying to impose a 25% safeguard duty on solar imports ostensibly to promote domestic manufacturing capabilities.  India needs to reduce its energy import bill and provide electricity to far flung villages at reasonable costs.  The best way to do this is by using rooftop solar in conjunction with decentralised cluster development.  Trying to stymie its growth is stupidity, especially since this sector can also be an employment multiplier (http://www.asiaconverge.com/2018/09/unemployment-in-india-and-the-solution/)
Eventually, as the RBI annual report states, "The investment climate represents a combination of factors that includes macroeconomic and political stability, physical infrastructure, availability of financial capital and human resources, and the institutional, policy, and regulatory architecture. A transparent, stable and predictable investment climate is essential for growth and requires "…proper contract enforcement and respect for property rights, embedded in sound macroeconomic policies and institutions, transparent and stable rules, and free and fair competition" (IFC, 2016)."[the last sentence has been italicized in the RBI report. Ed]
The country's failure in convincing the world that it can honour contracts and enforce them fairly, is likely to slow down investment flows into India.  That is something that this country cannot afford.  It needs the money.  It needs to grow rapidly if it has to keep poverty at bay.
Comments can be posted to RNB@asiaconverge.com