http://www.freepressjournal.in/analysis/rn-bhaskar-states-amazing-feat-of-de-risking-farmers/1073810
How did Maharashtra manage to de-risk farmers?

— By RN Bhaskar | May 25, 2017 07:27 am
Maharashtra is a rich state where its farmers are poor. And it isn't because they don't get loan waivers.  Farmers remain poor primarily because they've been exploited. Their poverty stems from the government's inability to de-risk them, and to infuse vision and wealth.
The BJP government in the state hopes to change all this. The rewards are economic, social and political. After all, as Maharashtra's Economic Survey 2015-16 reveals, the state's rural population enjoys a 54.8% share of people. A sustained focus on lifting the fortunes of this segment thus makes immense sense.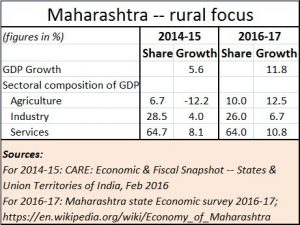 The benefits are already visible. State GDP growth (GSDP) has gone up by 11.8% in 2016-17 compared to 5.6% in 2014-15 (see chart). But more impressive is agricultural growth (from minus 12% to 12.5%) during this period. In fact agriculture enjoyed the highest growth rate among the three sectors during 2015-16.
True, good rains helped.  But equally important are a few other measures.  First, look at how the state began following the template laid down by Prime Minister Modi when he was chief minister of Gujarat.  Chief minister, Devendra Fadnavis, like Modi, focused on building ponds and check dams to ensure there is water for villages all around the year.  He then abolished APMCs, giving farmers direct access to markets.
On 17 October, 2016, Maharashtra entered into an agreement with NDDB (National Dairy Development Board) which is mandated to promote milk cooperatives across India.  Fadnavis was obviously aware of how Modi used milk as a key weapon in his arsenal to win votes in Uttar Pradesh. He ensured that the state's farmers got a higher price for their milk (http://www.asiaconverge.com/2017/01/uttar-pradesh-elections-budget-2017-and-milk-leather/  and http://www.asiaconverge.com/2017/01/budget-2017-uttar-pradesh-elections-and-agriculture/). The state's minister for animal husbandry, dairy and fisheries, Mahadev Jankar, was quick to realise what it would mean for farmers in Maharashtra (http://www.asiaconverge.com/2017/05/maharashtra-moves-on-milk/).
Over the past year, with the help of NDDB, the state has gone about building collection centres in Vidarbha and Marathawada.  The opportunity was evident to anyone who cared to see.  Maharashtra's cooperatives offered farmers just around Rs.18 a litre of milk, compared to Rs.28-31 offered by Gujarat's cooperatives.  Since the entire milk collection and distribution network was owned by these cooperatives (as was the APMC), it was imperative to set up a parallel network.  Instead of Rs.18, Jankar began offering farmers Rs.26 a litre for cow's milk and Rs.33 for buffaloes' milk.
The result was electrifying.  By last fortnight, as against the average collection by the state of just 90,000 litres a day some six months ago, current daily collection has climbed to 11 lakh litres.  Jankar told FPJ  (http://www.asiaconverge.com/2017/05/mahadev-jankar-wants-to-make-history/) that he has already issued notices to all cooperatives in Maharashtra that since they benefit from state grants and incentives, they should not sell milk outside the state to Gujarat or Karnataka. The consequence of non-compliance could mean de-registration of such cooperatives.  Jankar plans to boost daily milk collection to 2 crore litres (in a year's time), though his target is 3 crore.  He also hopes to make Maharashtra India's largest milk producer/ "Why not," he says. "If the farmer gets better prices, he will buy more cattle, and thus produce more milk.  I will see that the farmer gets even higher prices." But won't that mean higher prices for consumers? Not really.  He hopes to sell premium milk and milk products, and use the profits to pay the farmers more.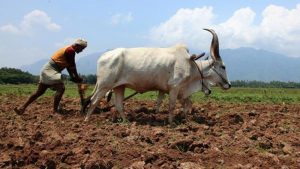 Overnight, the Fadnavis government has shown that farmers don't need to hold out a begging bowl asking for loan waivers. Instead, the government has begun talking about dignity and prosperity for farmers. Not surprisingly, the cooperatives (most are managed by leaders close to the Congress and the Nationalist Congress Party (NCP) have lost a very lucrative source of making money.
Jankar wants to go a step further.  He wants to give rural communities other ways of earning money.  The idea is to de-risk the farmer, he says.  So if the crops fail, he still makes money from milk.  If that does not work out well enough, there is poultry and pig and goat rearing. The state has already rolled out schemes which offer as a subsidy almost upto 75% of the capital cost of setting up a poultry.  Jankar says that the state currently consumes 3 crore eggs daily even though it produces just around 75 lakhs. The balance eggs are sourced from Andhra Pradesh and Karnataka. Jankar wants to make the state self sufficient in eggs as well.
At the same time, he has begun creating schemes which would see the rearing of pigs and goats a lot more profitable than it is.  He has one factor favouring him. Unlike Uttar Pradesh, Maharashtra has not moved against abbatoirs.  Uttar Pradesh runs the risk of making the rearing of all types of animals risky – not just cattle.
Finally, Maharashtra has also begun dovetailing with fisheries its Jalyukt Shivar (http://mrsac.maharashtra.gov.in/jalyukt/), the scheme launched to make Maharashtra a drought-free state by 2019. The project involves deepening and widening of streams, construction of cement and earthen stop dams, work on nullahs and digging of farm ponds. The project aims to make 5000 villages free of water scarcity every year. Jankar wants to populate these ponds with fish, and has already begun working on fish farm centres with the main centre at Khopoli where Tata Power already has the country's largest fish hatchery for the Mahaseer breed (which almost went extinct some time ago).
As Jankar puts it, "We want Maharashtra's farmers to become prosperous, and to begin exporting farm and animal produce instead of importing them.  A prosperous farmer means a stronger state. There is no need to demean people by resorting to loan waivers."
During times of a downward spiral of populism everywhere, these are comforting words indeed!
Comments can be posted to RNB@asiaconverge.com