http://www.moneycontrol.com/news/business/economy/india-begins-its-cruise-but-it-has-to-navigate-rocks-2374311.html
R.N.Bhaskar – Aug 31, 2017 05:54 PM IST
Cruise tourism: a good start
RN Bhaskar
The task force set up by Gadkari has been able to resolve many of the vexatious issues. The government hopes that many of these issues could be addressed by November this year.
Earlier this month, Nitin Gadkari, Union Minister for Shipping, Ports and Roads, announced his plans for the dawn of cruise tourism in India. As a Mumbai Port Trust (MPT) presentation points out, the birth of this 'dawn' took almost two years in the making.(http://mumbaiport.gov.in/writereaddata/linkimages/6111212918.pdf)
In November 2015, a Task Force was set up by the government and co-chaired by both Rajive Kumar, secretary shipping and Rashmi Verma, secretary tourism. By June 2016, MPT began streamlining port facilities, removing 'outsting' charges, and giving berth-certainty to cruise ships. By June 2016, the cruise tourism task force released the first standard operating procedures (SOP) for all stakeholders.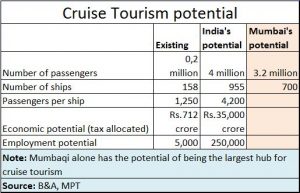 By October the same year, Bermello and Ajamil (B&A) was appointed as consultant to prepare a road map for India's cruise tourism, and home porting at MBT began from December 2016. B&A submitted its report in June 2017.  This report was circulated among people in charge of ports, tourism, customs, immigration, CISF (Central Industrial Security force, which mans all ports and airports) as well as other stakeholders. Once all were brought in sync with what was required to be done to make cruise shipping meaningful, Gadkari was ready to unfold his vision relating to the dawn of cruise tourism in the country.
As B&A has pointed out, the potential for cruises in India is enormous (see chart alongside). Coastal tourism alone has the potential to create 250,000 jobs and generate revenues of over Rs.35,000 crore for the government. And Mumbai could be its biggest beneficiary.
But this potential cannot be met only through good infrastructure and intent.  For decades, cruises have been discouraged, and many ports have not yet learnt the fine art of dealing with tourists. Plus there are headaches that confront cruise operators both in terms of infrastructure and taxation.  These three – customs & immigration, infrastructure and taxation account for almost 80% of the headaches that this industry faces.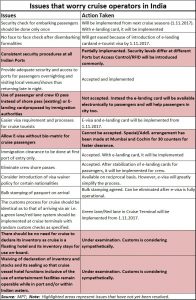 However, the task force set up by Gadkari has been able to resolve many of the vexatious issues – see chart. The government hopes that many of these issues could get addressed by November this year when the tourism season begins.  By then e-visas and landing cards for tourists and cruise ship crew members will be in place. Some other issues like  cabotage, and those relating to leisure boats and costal regulatory zone (CRZ)  are already being addressed (http://www.moneycontrol.com/news/business/economy/why-its-necessary-to-develop-business-and-transport-along-indias-coastline-2362359.html). There will still be areas of concern that will require amendment of laws.  And, finally, there are some issues that the government is unwilling to even consider.
Check the highlighted areas of the chart alongside, and the issues that remain to be addressed become evident.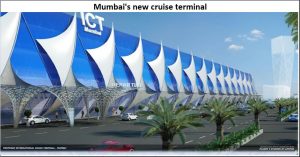 One of them relates to the need for the tourists to stand in queues before immigration officers at each port of calling before they are allowed to roam in the city.  Surely, there could be a better way.  International ports have special processes for cruise tourists which exempt them from this exasperating exercise.  Indian authorities have still to learn the fine art behind the oft quoted phrase "Atithi deva bhava" (the tourist is like a god).   The customs and immigration authorities have instead (conventionally) treated all tourists like potential violators of law.  Hopefully, this could witness a change by the end of this year.
Another problem is infrastructure – right from decent waiting areas, good baggage handling facilities, to building more berths for cruise boats so that they can come and berth whenever they are nearby, instead of being asked to wait for days till the berth becomes vacant.  The task force has tried to ensure that many of these problems will be addressed — at least at the Mumbai terminal — which is being spruced up for the coming tourist season.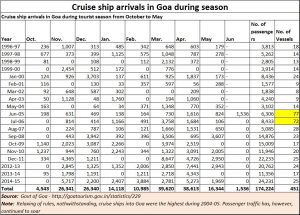 The other issue is taxation and port charges.  While the port charges issue is likely to be addressed easily, it remains to be seen if the taxation issue is resolved quickly.  For one, while airlines are required to pay only a 6% tax on economy class airline tickets, with such taxes going up to the maximum of 15% for Business and First Class tickets, all cruise passengers are required to pay the full tax of 15%. Moreover, while the imposition of GST is fine for passengers boarding from a domestic port, should it apply to services, food and entertainment for passengers who have boarded from an international port and travel through international waters except when they touch India's shores?  Ditto for provisions purchased overseas and used while travelling along India's coast. The government will have to do some quick amendment of laws relating to taxation for tourists.
But the biggest issue will be the myopic vision of most state governments which have often raised parochial issues – local languages, no beef, and laws relating to harassment of tourists.  Unless the tourist feels safe and wanted, any unpleasant experience is likely to go viral on networks and deter future tourists.
This is what could have happened to Goa's cruise tourism as well.  Goa is one of the few states which takes tourism seriously.  In fact, it is the only state that provides the latest information on tourist and ship arrivals for the past few years (see chart).  None of the other ports – including Mumbai – do this.  In fact, such numbers are not found both from the ministry's website or even from its latest annual report (http://tourism.gov.in/sites/default/files/annualreports/MoT%20Annual%20Report%202016-17_English.pdf). This data is missing even when one views the notes relating to the 130th meeting of the National Shipping Board held in October 2016 in Chennai (http://nsb.nic.in/upload/uploadfiles/files/FINAL130thMINUTES.pdf).  All matters relating to cruise tourism have been pushed to a separate meeting, for which details are not available.
Even though Goa has remained tourist friendly, a variety of factors have caused the arrival of cruise ships to Goa to decline from their peak in 2005 and 2007.  Some of it was on account of a hike in port charges effected by the then government.  Some relate to taxation, some to the hostile environment that greeted tourists.  This should not happen – whether it relates to cuisine (no ban on beef), or nightlife, or travel through the city. If tourism has to grow in India, the country must make tourists feel important and wanted. India is doing them no big favour by allowing them into this country.
These are the issues that Gadkari is trying to address in partnership with the ministry of Tourism (http://pib.nic.in/newsite/PrintRelease.aspx?relid=169752).  And the speed with which he has worked to push cruise tourism is nothing short of impressive.  What remains to be seen is how many ships dock in Mumbai during the current tourism season, and how many tourists take a liking to what India has to offer.
Let the voyages begin.
Comments can be posted to RNB@asiaconverge.com