http://www.freepressjournal.in/analysis/finally-cruise-tourism-has-dawned-on-india-r-n-bhaskar/1129172
The dawn of cruise tourism in India
— By RN Bhaskar | Aug 31, 2017 07:33 am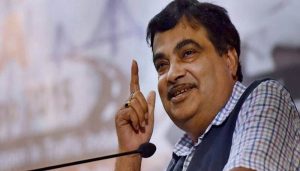 The work actually began two years before August 8, 2017, when Nitin Gadkari, Union Minister for shipping, ports and roads, unveiled his plans for cruise tourism.  He called it the dawn of cruise tourism in India.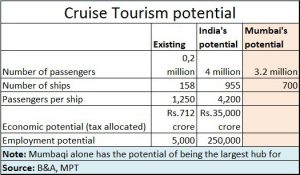 According to a Mumbai Port Trust (MPT) presentation (http://mumbaiport.gov.in/writereaddata/linkimages/6111212918.pdf) the work began in November 2015. A Task Force was set up by the government and co-chaired by both Rajive Kumar (see 30 minute video at https://youtu.be/_wTzixAwrt0), secretary shipping and Rashmi Verma, secretary tourism.
By June 2016, MPT began streamlining port facilities, removing 'ousting' charges, and giving berth-certainty to cruise ships. By June 2016, the cruise tourism task force released the first standard operating procedures (SOP) for all stakeholders.
By October the same year, Bermello and Ajamil (B&A) was appointed as consultant to prepare a road map for India's cruise tourism, and by December 2016, MPT began home porting for cruise vessels. B&A submitted its report in June 2017.  After getting the views of other stakeholders in this area of operations — this included people in charge of ports, tourism, customs, immigration, CISF (Central Industrial Security force, which mans all ports and airports) — Gadkari was ready to unfold his cruise tourism vision.
As B&A pointed out, the potential for cruises in India is enormous (see chart alongside). Coastal tourism alone has the potential to create 250,000 jobs and generate revenues of over Rs.35,000 crore for the government. And Mumbai could be its biggest beneficiary.
But to get there, the Gadkari will have to get his government to do several things.  They mostly relate to three areas– customs & immigration, infrastructure and taxation. In fact, the task force set up by Gadkari has been able to resolve many of the vexatious issues – see chart on the issues that worry cruise operators in India at http://www.asiaconverge.com/wp-content/uploads/2017/08/2017-08-27_India-cruise-anxieties.jpg.
Many of the issues that have been flagged are expected to get addressed by November this year when the tourism season begins.  By then e-visas and landing cards for tourists and cruise ship crew members will get introduced, which should mitigate some of the woes of cruise ship passengers and crew. Other issues like  cabotage, and those relating to leisure boats and costal regulatory zone (CRZ)  are already being addressed (http://www.asiaconverge.com/2017/08/necessary-develop-business-transport-along-indias-coastline/) Some issues will require some tweaking of existing laws.
But, the government is unwilling to accept mere identity cards or dispense with biometric tests at ports where cruise ships land. This is unfortunate because tourists do not like the idea of having to stand in queues before immigration and customs officers at each Indian port along the way. International ports have special processes for cruise tourists which exempt them from this exasperating exercise.  Clearly, Indian authorities have still to learn the fine art behind the oft quoted phrase "Atithi deva bhava" (the tourist is like a god).
Another problem is infrastructure – right from decent waiting areas, good baggage handling facilities, to building more berths for cruise boats so that they can come and berth whenever they are nearby, instead of being asked to wait for days till the berth becomes vacant.  Mumbai terminal is already being spruced up appropriately for the coming tourist season.
The other issue is taxation and port charges.  While the port charges issue is likely to be addressed easily, it remains to be seen if the taxation issue is resolved quickly.  The industry does not want to pay a tax that is higher than what the aviation industry pays on its tickets. Then there are major issues relating to GST as well.
But the biggest bugbear for tourists will be the parochial agendas many state governments adopt.  Night life, casinos, cuisine and language are some issues that could annoy tourists tremendously. Tourists do not like being targeted for their eating preferences (beef consumption is a sore point with them). Finally, there is also the issue of security and comfort. If tourism has to grow in India, the country must make tourists feel important, safe and wanted. India is doing them no big favour by allowing them into this country.
The absence of a quick dispute resolution mechanism for tourists is another lacuna.  In many countries, tourists can complain to an ombudsman whose job is to ensure that their interest are protected and even resolved within a couple of days.  India has to travel a long way to get there.
In fact, this is what must have happened to Goa. This state once had a vibrant cruise tourism industry.  By 2005 the state saw 77 cruise vessels dock there. But the numbers tapered since then.  Last year only 25 ships docked there (Govt of Goa – http://goatourism.gov.in/statistics/229) .  But the good news is that the number of tourists has not declined. In 2005 there were 6,306 tourist arrivals through the cruise route. Last year, there were 24, 231 tourists.  It is possible that fewer, but larger, ships which could manage India's bureaucracy docked there. Comparative numbers for other states, and even the country, cannot be found.  This is because no other state provides comprehensive numbers; not even the ministry's website or its annual report (http://tourism.gov.in/sites/default/files/annualreports/MoT%20Annual%20Report%202016-17_English.pdf).
Gadkari hopes to address all these irritants. The pace he has set is nothing short of breathtaking and impressive. His focus on making Mumbai a cruise hub could actually be a good idea.  Development of a new cruise terminal on the land owned by MPT has already begun. One hopes that ships and tourists take a liking to Mumbai and to India.
If that happens, it will be smooth sailing for Gadkari and his team.
Comments can be posted to RNB@asiaconverge.com