https://www.moneycontrol.com/news/business/between-smiles-and-sorrows-world-bank-forecasts-india-gdp-rise-but-raises-unemployment-concerns-2558785.html
World Bank's fears and expectations about India
The report says that "40 emerging market and developing economies are projected to grow more slowly in per capita terms than advanced economies, failing to narrow income gaps vis-à-vis the group of more prosperous countries".
RN Bhaskar — Apr 27, 2018
The latest World Economic Outlook (WEO), April 2018 (http://www.imf.org/en/Publications/WEO/Issues/2018/03/20/~/media/Files/Publications/WEO/2018/April/text.ashx?la=en)  holds both cheer and alarm for India.
The cheer comes from the WEO's outlook for a modest rise in India's GDP. What the WEO does not mention is that much of this  growth could come from merchant discounts for epayments, as these columns had pointed out earlier (http://www.moneycontrol.com/news/business/economy/beware-the-merchant-charge-that-could-boost-gdp-spur-inflation-2459237.html). Still, the good part is that this growth will be undeterred by  "China's gradual slowdown and emerging Europe's return to its lower-trend growth rate."
The second cheer could come from the expected cyclical rebound in global trade, which should help India's export industry.But the global growth will be muted to about 3.7 percent over the medium term. That means India will have to work hard to improve its offerings to the world.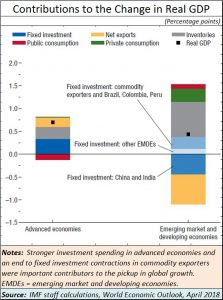 Warning signs
But there are warning signs as well.
The report says that "40 emerging market and developing economies are projected to grow more slowly in per capita terms than advanced economies, failing to narrow income gaps vis-à-vis the group of more prosperous countries". Given the high aspirations  that most Indians have (look at the phenomenal increase in consumer credit over the past couple of years), that could  be troublesome.
Then there are areas like  "population growth, age distribution, and other structural employment trends," which the the WEO feels are critical for "understanding growth, investment, and productivity." These are places where India could slip up badly.
There is the problem of the  manufacturing employment declining globally, more so in advanced economies. The WEO says that poor countries may be trapped far from the global income frontier if they never pass through a developmental stage of substantial manufacturing employment.
True, as the WEO puts it, "services can offer considerable scope for productivity gain". But that again requires political will and focus.
Finally, "Growth in China and India last year was supported by resurgent net exports and strong private consumption, respectively, while investment growth slowed," added the WEO. The slowdown in gross capital formation (see chart) is quite well documented by now (http://www.moneycontrol.com/news/business/comment-from-jobless-growth-to-wary-foreign-investors-the-dark-clouds-on-the-indian-economy-are-here-to-stay-2515845.html). This could be worsened by two factors. First, the ongoing NPA crisis afflicting banks. Second, the government's unwillingness to haul up big defaulters like the promoters of Videocon and Essar (the Directorate of Revenue Intelligence put out a 384 page dossier No.DRI/MZU/CI-11/2013-14 of 11 March 2015 pointing to huge diversion of funds by this group). Instead its decision to go after relatively smaller fries like Vijay Mallya and Nirav Modi could worsen the investment climate.
Of course, there are ways to mitigate these dangers. But that requires political will. Currently, all the energies of the government are focussed on the forthcoming elections, and on firefighting the scams that threaten to blow up in its face.
But here is one strategy that could help the government in the short run, both politically and economically.
And this goes back to a lesson that India could learn from Iran.
The Iran strategy
When the Islamic Revolution took place in 1979, it was a result of three factors. First, public disenchantment with the way the Shah of Iran was kowtowing to the West. Second, the Shah made the mistake of signing what is known as the "capitulation clause". This was a clause (http://www.asiaconverge.com/2015/11/housing-lessons-from-iran/).forced on him by the US that no American citizen could be tried in Iran for any crime even if it were committed on Iranian soil. That caused public resentment to boil over and overthrow the Shah and keep around 52 US citizens imprisoned for 444 days.
But the third reason was quite important, and one which Ayatollah Khomeini knew was a doubled edged sword. He was aware that Iran had a young population, with little education and a very high rate of unemployment. That combination would always be a potent explosive mixture which could erupt in flames at any time. It is what economists sometimes wryly call a demographic dividend gone awry. India is very close to that kind of situation. It has a terrible school education system, high employment and a very young population.
So Khomeini announced a plan which took around two decades to finally get implemented. It was a universal housing policy.
Khomeini knew that US sanctions would make foreign exchange scarce. So he had to create jobs with domestic resources. Housing used domestic cement, steel and labour. It created employment, and promised to satisfy a key aspiration of people. And it could prevent slums.
Presidents Mahmoud Ahmadinejad and Hassan Rouhani worked to introduce a policy named a "Future of Youth". Under this scheme, the government would contribute 1 million Toman (roughly equal to US$1,000 then) to the account of every child that is born. Thereafter, the government would contribute another 10,000 Toman for every 20,000 Toman deposited by the parent into the child's account. The first 'gift' helped create a corpus for even the poorest of children. The second exhorted even the poor to save money for their children. At the time it was announced, it did not cost any money to the government. It was a mere book entry. But the principle was heartening, and the dividends immense.
This money could not be touched, withdrawn or mortgaged till the child was 18. At that stage, the boy and girl (both 18 years old) would have a tidy sum between themselves and could use it to purchase a dwelling, or even start a business.
To eradicate slums Ahmadinejad announced the "Meherbani" housing scheme. The government gave lands on the outskirts of each city free-of-cost to developers with suitable caveats on the size of the dwellings and the prices at which they ought to be sold. All 'affordable' houses were to offer at least 700 sq ft of living space. Such houses could be as large as 1,000 sq ft in area, depending on whether the couple could put up the additional cash required to purchase a bigger house.
Rouhani made these schemes a success. Between 2007 and 2013, almost 4.4 million homes were taken up for construction, of which 1.5 million homes have already been delivered and the rest are expected to be delivered in two years' time.
What India could do
India could do this, and endear itself to the masses. It could also kickstart an economic cycle that could trigger immense growth. Using services (construction), it would galvanise capital formation in industries like cement and steel, and then into almost every consumer product meant for new homes.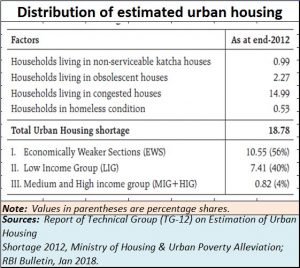 But to do that, the government would first have to have a zero tolerance policy for slums. Given that the government has used slums as a vote bank with disastrous economic and social consequences (more on that later), this will definitely require a push from the top. Will Prime minister Modi be willing?
The second is to earmark land free of cost for developers. The government could still own land, and give it on lease to developers for around 15 years. The lease could be renewed for cooperative housing societies after the houses are built. Today, such a scheme exists on paper, but Hudco, MHADA and other state bodies have actually created a huge black market out of it. When only 1,000-50,000 houses are created annually in the face of a demand for over 19 million (see table which is based on 2012 data), you create a lottery system. The demand could be 25% higher by 2021. And that eventually results in the mafiua stepping in and a blackmarket emerging. Thus the government, instead of cleaning up the economic scene actual;ly creates black markets and slums.
If the government can handle these two policies, the rest is a cakewalk. All land within 50 km of urban areas could be taken by the government, and given to developers on a competitive bid with strict conditions. Three of the conditions would be crucial. First, that the flats must meet the stringent requirement of a builders code (yet to be formalized). Second, the time line by which all flats would be completed (with stiff bank guarantees to seal this pledge). Third, that the price per flat would not exceed Rs.2,500 a square foot (bare construction costs barely Rs.1,000).
But does the government have the political will? That is the big question.
Comments can be posted to RNB@asiaconverge.com