http://www.freepressjournal.in/analysis/india-uses-aiib-to-diversify-its-funding-sources-r-n-bhaskar/1305730
India finds immense relevance in AIIB
— By

 | Jun 28, 2018
India has already begun diversifying its funding sources by looking for more financial support from the three year old Asia Infrastructure Investment Bank (AIIB), headquartered in Beijing.  Hitherto, it had sought financial aid from bodies like Japan's ODA, the Asian Development Bank (ADB) and the World Bank and the IFC besides other commercial bands and funds. .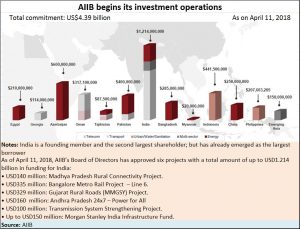 Three years ago, India decided to become one of the 57 founding member countries of the AIIB.  India took up an 8.7% equity stake in the bank (as against China's 31%). Gradually, the list of country-members swelled to 86. Now with Lebanon being included as a member last week, AIIB has 87 country-members.
One of the principal factors that propelled China and India to set up this bank was to create another lending body that would cater to the interests of Asian countries (though the bank does lend to non-Asian countries).  In many ways it has been fashioning itself along the lines of the World Bank where the US has a 26% equity stake in the capital, but lending by the bank is quite independent of that country.  However, unlike the WB and the IMF where loans are advanced only to countries which are members of the IMF, the AIIB is willing to lend to anyone – member or otherwise.
As President Jin Liqun, AIIB, emphasises, "Our loans are based on three key imperatives – that the projects for which funds are sought are financially sustainable, that they pay heed to environmental protection and that they find support from local people as well." He cites the example of an investment that AIIB has made in Gujarat: "A USD 329-million loan will support the improvement of rural roads for 1,060 villages. Connectivity is essential for accessing health and education and for participating in the market economy. These roads will benefit eight million people, of whom one-sixth are below the poverty line."
India has already got the AIIB to fund six projects (see table) aggregating 1.2 billion. But its requirement for funds is immense. It has already proposed to the AIIB to help finance several other projects.  Most of the proposals relate to Andhra Pradesh:
Andhra Pradesh Rural Roads project
Andhra Pradesh Urban Water Supply & Septage Management Project
Amaravati Sustainable Capital City Development Project.
Proposals from other states include
Mumbai Metro Line 4 Project
West Bengal Major Irrigation & Flood Management Project
A very interesting investment from AIIB relates to the National Investment and Infrastructure Fund (NIIF). This will be a fund of funds which will in turn spawn other investment and lending institutions.  NIIF will have a capital of $100 million – which got approved on 24 June 2018 — to be enhanced by another $100 million shortly.  According to its chief executive, Sujoy Bose, plans launching a $2 billion long-term fund to finance various mega projects. This will be in addition to two operational funds – the NIIF master fund that invests directly into companies, and a fund of funds which invests directly in funds managed by third parties.
And the need is not that of India alone.  As President Jin points out, between now and 2030, Asia's investment in infrastructure must rise to USD2 trillion a year, or roughly triple what it has been in the past.
Some other projects under review are transportation (urban (metro) and rural (roads); Energy where the focus will be on power grid improvements, transmission improvements (low, medium and high voltage) and renewable energy (sovereign and non-sovereign); water and waste management, semi-urban and urban.
India's funding requirements are large, and the absence of private investors has made its dependence on multi-lateral financing bodies like the AIIB all the more crucial.  Already, it faces a problem with the ADB which decided in April this year that it would stop financing its projects in Mumbai unless it was allowed to choose the seat of arbitration as Singapore.  The government wanted it to accept the Arbitration Centre in Mumbai instead.
AIIB sidesteps any question on the venue for its international arbitration and dispute resolution. It merely states that normally, it prefers arbitration to be settled in The Hague, Hong Kong, Singapore, or sometimes any other city acceptable by mutual consent.
The projects that the ADB is financing are the  two Mumbai metro rail routes —- the 18.5-km Dahisar-D N Nagar Metro 2A line and the 16-km Dahisar (E)-Andheri (E) Metro 7 line. It has agreed to bear up to 40 per cent of the project cost, totalling Rs 12,618 crore cumulatively.  The AIIB is being asked to finance the Metro line No 4.
Comments can be posted to RNB@asiaconverge.com