http://www.freepressjournal.in/analysis/tokenism-will-not-make-mumbai-smart-r-n-bhaskar/1296116
Smart cities – more tokenism, less integrity in Mumbai
RN Bhaskar —  | Jun 14, 2018
The full report can be downloaded from 2018-06_McKinsey_Smart Cities executive summary
McKinsey Global Institute has just come out with its paper on Smart Cities: Digital Solutions for a more liveable future (https://www.mckinsey.com/~/media/mckinsey/industries/capital%20projects%20and%20infrastructure/our%20insights/smart%20cities%20digital%20solutions%20for%20a%20more%20livable%20future/mgi-smart-cities-full-report.ashx). It explains how "after a decade of experimentation, smart cities are entering a new phase. Although they are only one part of the full tool kit for making a city great, digital solutions are the most powerful and cost-effective additions to that tool kit in many years."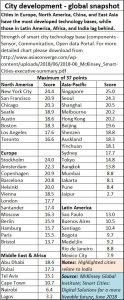 The reports points out how its "snapshot of deployment in 50 cities around the world shows that wealthier urban areas are generally transforming faster, although many have low public awareness and usage of the applications they have implemented."
By that logic Mumbai – which has a budget that dwarfs that of many states in India — ought to have been a high scorer. But look closer, and you discover that Mumbai ranks below cities like Cape Town and Bangkok, though above Pune and Jaipur.
Mumbai has invested in digital infrastructure.  Its problem is not of funds, or planning. Some of the objectives that smart cities are supposed to fulfil (http://www.asiaconverge.com/wp-content/uploads/2018/06/2018-06-14_FPJ-smart-cities.jpg) can easily be achieved in Mumbai   The problem is bad governance, terrible policies and above all a willingness to allow the corrupt to get away even after they have been identified and charged.
Take just two examples which underscore poor governance.  The list could be much longer, but these should suffice.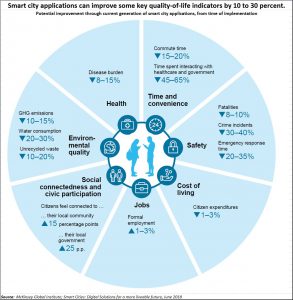 Smart cities should offer ease of transportation and proximity to places of work. They should empower neighbourhoods to take care of their surroundings.
Unfortunately, the biggest beneficiaries of being located next to their workplaces have been slum dwellers and illegal squatters, not the tax-paying public. Even the demographics are changed so that the original residents are marginalised, hence powerless to take care of their neighbourhoods.
That is perhaps one of the biggest failures of governance and policy-making, because it sends out a message to people that if you have the tenacity and willingness to illegally squat on government land for ten years or so, under the patronage of a political leader, you will be rewarded with free houses, in prime localities of the city.
Ddata from the Census confirms that slum development is a great way to win elections (http://www.asiaconverge.com/2018/05/citizenship-votebank-northeast-and-work-permits/). The squatters are given protection provided they vote for their patron protectors. That is why, even after they have been rewarded with free housing in prime areas, there are moves to exempt them from paying property tax in perpetuity. A cursory look at the modus operandi suggests that such moves ought to be challenged in courts as being iniquitous. They tinker with demographics and thus rig electoral outcomes. They marginalise tax-paying people who actually helped build the city.
Take example two.  The government has done the right thing by encouraging information through websites and payments through e-commerce.  The idea is simple.  The less the interface between greasy fingered public officials and citizenry, the less inconvenience common folk face.  But watch the portals of two key departments – the Municipal Corporation of Greater Mumbai (MCGM) and the police department. Payment portals do not work well.  Complaint registrations too fail to function. That puts the greasy fingered officials back in the picture, and they are now capable of inconveniencing the public once again. Repeated attempts by senior officials to clean up the system have failed to deter mischief makers, because their political bosses will not allow such miscreants to be dismissed.  Maybe, sooner or later, the courts will have to step in once again, because legislators have abdicated their responsibility.
In all cases, the errant employee is seldom dismissed.  He is suspended, yes.  But often only till public memory fades away.  He is then reinstated on humanitarian grounds, because he has an ailing parent or a family to support.
Smart cities are not built this way. Technology alone cannot improve the city. Good cities are built along processes which if violated invite severe penalties — suspension, dismissal and at times even prison terms.
That is what the MCGM had to finally do when, in spite of some guilty road contractors being blacklisted, some official tried to clear the errant contractors for taking up smaller projects which were quite lucrative. The employee was sent on leave, but has yet to be dismissed or imprisoned. Legislators forget that allowing errant contractors to gain illegal access to tax-payers' money is abetting theft.  That calls for a term in prison, nothing less.
Unfortunately, that is what policymakers do not want to do.  And that is why Mumbai rankings among smart cities will remain pathetic.
Comments can be posted to RNB@asiaconverge.com