http://www.freepressjournal.in/business/we-were-first-in-country-to-come-out-with-cyber-cover-for-individuals-bagic-md-and-ceo-tarun-singhel/1320688
We were first in country to come out with cyber cover for individuals: BAGIC MD and CEO Tapan Singhel
— By  | Jul 24, 2018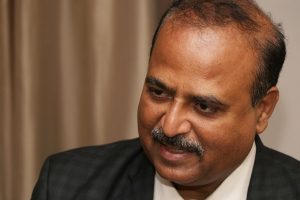 Tapan Singhel, Managing Director and CEO, Bajaj Allianz General Insurance Company (BAGIC), is an unusual person to head an insurance company. He is both unassuming and effervescent. Under his stewardship, BAGIC has emerged as a consistent profit-making company. He spoke to Free Press Journal's S Narayanan and RN Bhaskar on the way forward for BAGIC and the general insurance industry.
Edited excerpts:
What is your market share today?
We held a market share of around 7 per cent in FY17-18. In terms of net profit, I think we should be about 35 per cent. We have been the only company making underwriting profits for a long time. Some companies come and go, but we have been making underwriting profits consistently.
Why it is critical to make underwriting profit?
If you make underwriting profit, and returns from investments is a bonus on top of it, then you would be settling claims because you have no pressure to cut corners. But if you are making losses, you will cut corners in paying claims. We always price it rightly for the customer and ensure that we deliver service to them. We do not mess around with fundamentals or get overly greedy. That is how we have close to 250 million customers; and we also have over 200 banks as our partners.
Tell us about product innovations like cyber covers, home insurance, mobiles, etc.
We were the first in the country to come out with cyber cover for individuals. This is a full cyber cover and the premium is less than Rs 7 for a cover of Rs 1 lakh for one year. Let us look at home insurance. You may have bought a flat on the 19th floor for Rs 10 crore, but have a home insurance of only Rs 1 crore, because only construction cost is covered under home insurance. So we came out with a simple product that covers an agreed value of Rs 10 crore.
In the case of cover for mobiles. These have heavy depreciation. Here again, we came out with a simple product that provides a new phone for the old one. Our product innovations are customer-centric. We find solutions for customer problems on a real-time basis. We always challenge existing products – are they relevant today?
Tell us about paying claims and how it works in the country.
Insurance industry has a combined ratio of 115 per cent today. This means that sum of claims, commission and expenses is 115 and premium earned is 100. But any common person on the street will say that insurance companies do not pay claims. When the fact is that we (insurance companies) are dying to death paying claims.
Let us understand why such a perception is prevalent. Insurance works on the principle of pooling money from many and paying the unfortunate few. This means that the onus is on the industry to ensure that the ones that get paid are not fraudsters, are not claiming beyond the contract and companies are not over charging. It is public money, so you have to be careful. That is where the conflict lies. In the process to eliminate fraudsters first, you are asked a variety of questions. You start feeling that the industry does not want to pay claims.
And then, I thought, that as an industry leader, if we have to change this perception we should pay claims. So we (BAGIC) started to pay claims on the spot where possible. We have technology and tools like AI (artificial intelligence), ML (machine learning), mobiles, photographs, etc., that my predecessors did not have 700 years ago, I will be stupid if I cannot put these to good use.
Is disintermediation the way forward?
Gurus (experts) say businesses with intermediaries will not survive. My bet is a bit different. Tell me of one person who bought insurance on his own. But if I talked to you for the next 10 minutes, I promise you will buy. And then I ask you a question. Why did you not buy earlier? The only answer will be nobody told me about it. Till the time you give this answer, insurance can never be disintermediated. We will be a distributor-based company. We will be the best claim paying company in India. We will innovate on claims and services to an extent that you will say, wow.
Do youngsters opt for health insurance?
Lot of people feel that youngsters do not want to buy health insurance. And my challenge is, people who are buying Fitbit, look at their age profile, they are youngsters. These guys are not looking at health insurance, but are so focused on their health. So our industry's mind set has to change, to provide wellness more and reimbursement less.
Why is it difficult to have a life-long health cover?
You should have a product where you pay when you have the paying capacity and get covered even when paying capacity decreases, say when you are retired. Problem is actuaries can't predict how the cost of treatment would move in the long term. Second, rapid changes in medical technology are also unpredictable. Lots of companies across the world have tried to get this right. We are finding it to be very, very difficult to get it right from a very long-term perspective. For three or five years it is still fine, not beyond that.
Can you explain about crop insurance?
To understand crop insurance business, look at a 10-year period. You never understand crop insurance in a quarter. Because if monsoon is good, the loss ratio would be below 100. And if it is bad, then it is more. It was about 184 per cent about three to four years back. I have also had loss ratios of 80-70 per cent also. So overall I would be still around 100 or over 100. I think that would be the case with most people.
What would your advice be to new insurance companies?
Keep your head cool. This is not a one or two year business. The biggest insurance companies in the world would not be less than 100 years old. Be obsessed about your customer and about paying claims. Ensure that the claim ratio is in a reasonable position and price it right. You will get there. Our penetration level is just 0.8, we should move to at least 2.4. There is no need to fight on the small cake, the pie is exploding. Our top line was Rs 10,000 crore in 2001; and now its Rs 1.50 lakh crore. All this was possible in 18 years.
Do you see competition from insure-techs?
I think this again is a big hype of disruption that I hear. Existing companies are more powerful disrupters than these disrupters themselves. The idea is when somebody does well, it can be anybody— be it existing companies or new age companies, the customer benefits. In a service industry, any innovation gets copied in the next five-six months anyway.
How you see digitisation?
These are tools for me. I use it to enhance customer experience and find solutions for customer's worries. Tools like AI, ML, blockchain and more. The purpose is to use it to make a difference to industry and people's life. Saying that digitisation is the only thing to survive is the wrong way to look at it. We adopted most of these tools very early.
What is BAGIC's focus area?
We are looking at personal lines of insurance. More than 99 per cent of people who can afford home insurance and about 85 per cent who can afford health insurance do not have one. It makes a massive difference to a person's life when things go wrong. To know that, go to hospitals, you will find people, who did not have a health insurance and had to sell their jewellery, take loans to fund a health emergency. Their 20-30 years of hard labour just goes off. Something goes wrong with home, one or two generations of hard work is blown off.
What are the challenges the customers face?
The customer should love to buy insurance. That is the only challenge. It is an amazing product. Honestly, it takes care of your needs when things go wrong, at a price which you do not even bother about. Why should you not buy it? I think that is the only one challenge the industry is facing, rest is fine.
Comments can be posted to RNB@asiaconverge.com