https://www.moneycontrol.com/news/business/opinion-ayushman-bharat-is-a-great-concept-but-where-are-the-doctors-2851461.html
Ayushman Bharat overlooks the criticality of doctors
The government's intentions deserve praise and support, but before announcing a health insurance, we need good doctors and infrastructure. The AB-NHPM places the cart before the horse.
RN Bhaskar — Aug 16, 2018
On India's 72nd Independence Day celebrations, Prime Minister Narendra Modi announced the launch of the Pradhan Mantri Jan Arogya Abhiyaan, also known as the Ayushman Bharat-National Health Protection Mission (AB-NHPM), on September 25.
The government-sponsored health insurance scheme will provide free coverage of up to Rs 5 lakh per family per year at any government or empanelled private hospital. The premium that will be charged is not yet known, nor whether it will be operated by the government or designated insurance companies. The Centre will foot 60 percent of the expense and the remaining by the respective state governments. It is not yet clear whether non-NDA states will adopt the scheme.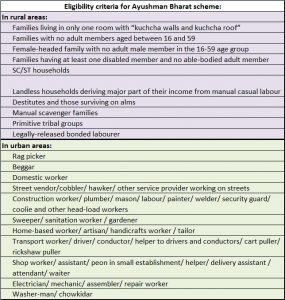 The scheme, however, is meant only for poor and economically-deprived people.
With barely 24 percent of the population having a medical cover of any kind and almost 67 percent of the medical cost for an individual being out-of-pocket expenses, India sorely needs a scheme like the AB-NHPM. Given this, all it takes is a serious ailment to bankrupt a middle-class family.
Thus, the government's intentions deserve praise and support, but the scheme could eventually involve a financial outlay which will get frittered away and not benefit the poor.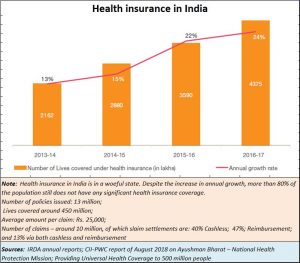 This is because any medicare service begins with having good doctors, which is followed by good hospitals, and supporting infrastructure. Medical insurance kicks in only after this is in place. The AB-NHPM places the cart before the horse.
Chart 3 shows that neighbouring countries, including Pakistan, appear to be doing a better job in data compilation and communication than India. Even available data shows how India has fewer doctors per capita than most of its neighbours.
The lack of doctors is a result of a shortage of seats at medical colleges — and this has resulted in capitation fees soaring to even Rs 3 crore for some courses. During the past decade, government colleges began reducing the number of postgraduate seats, leaving the private sector to increase capitation and tuition fees, even when facilities provided were not up to the mark.

Horrifyingly, the government decided to address this shortage by offering a hare-brained scheme of allowing Homeopathy and Ayurveda doctors the chance to qualify as full-fledged Allopathy doctors by completing a short bridge course.
To fix this shortage of doctors, it should be examined why medical education is so costly in India when in neighbouring China it can be done at a fraction of the cost (http://asiaconverge.com/2016/04/higher-education-sinks-lower-in-india0compared-to-china/).
If the government is serious about medicare, it must begin with the doctors. Medical education must be de-licensed. Laws must be amended so that the government can take away medical colleges from inept administrations who do not score well on output norms (which must be carried out twice every year).
Such colleges must be handed over to management who have done a better job on the output scores. Also, heavy penalties must be levied on errant management. Only when these measures are in place can medicare become meaningful. Similar measures can be taken for nursing courses as well.
There are other related roadblocks as well. For instance, the Medical Technology Association of India (MTaI), which represents leading research-based medical technology companies with significant investments in India, has pointed out key areas that require urgent attention for the AB-NHPM to succeed.
First, the healthcare sector stands on four pillars — healthcare providers (hospitals), pharmaceutical companies, medical technology (MedTech) participants and health insurance. Governments have ignored the pharma and MedTech sectors.
Second, a regulator for the sector is important, because only when there is a seamless amalgamation of all players in the healthcare value chain will AB-NHPM succeed.
Third, rates for each healthcare process should be decided to keep the long-term sustainability of all stakeholders. Today, this is done on an ad-hoc basis, almost capriciously, by different state governments.
Fourth, there is a need for standards to be prescribed. There are no uniform standards for pathology or the quality of medical devices used.
Fifth, for the AB-NHPM to succeed, the government must create 150,000 wellness centres providing medicare. This will require a massive skill development.
Modi must be lauded for announcing the scheme. It is aspirational and needs to be implemented — but, arranging for funds for medical insurance packages without ensuring a good number of medical graduates qualifying each year is definitely not the right way forward.
Comments can be posted to RNB@asiaconverge.com