https://www.moneycontrol.com/news/business/economy/opinion-these-3-measures-can-stop-india-from-becoming-a-failed-state-2911191.html
When illegals begin to overwhelm the legal, a country becomes a failed state
The rot in the system needs to be checked, failing which the law-abiding, tax-paying citizen will be let down and marginalised
RN Bhaskar — 4 Sept, 2018
Last week, the Supreme Court of India took cognizance of preliminary content presented by the National Commission for the Protection of Child Rights (NCPCR). The contents related to a  social audit of child shelters. They showed that out of a total of 2,874 children's homes surveyed, only 54 institutions could be given positive reviews.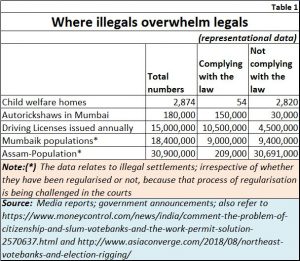 In  other words, barely 2% of the child shelters surveyed complied with the law.  This might represent the worst case of non-compliance, even though the numbers of non-compliance are large in almost every sphere of governance (see table 1). The data presented here is only indicative, and not exhaustive.  But it shows how alarmingly large the numbers of non-compliance have become.
After all, a good government is one where respect for law is in ample evidence.  These laws must by themselves be reasonable as well, and not capricious or promoting iniquity. A failed state is one where non-compliance with laws threatens to overwhelm and make legal processes unnecessary.
If the child shelter case is to be taken as an example, India is rapidly hurtling to becoming a failed state. It must be noted, however, that this state of affairs has taken place because seven decades of successive governments have either colluded with — or turned a blind eye to — infractions.
Non-compliance with laws could be on account of several factors.  One could be the desire to gain illegal benefits – such as the number of people not registering with the tax authorities.  But there are many cases the non-compliance arises because the way laws have been structured. They make compliance quite difficult and even onerous.  That in turn becomes an excuse for greasy officials to demand bribes to permit such non-compliance. At the unofficial level, each case of non-compliance is generally known to officials.  But nothing is done because the official is usually paid off when payment is demanded.
Take for instance the registration with the Shops & Establishments (S&E) Act.  Many of its laws are onerous.  Even if a firm has less than 20 people, it must comply with lime-washed (not oil painted or tiled) walls.  It must maintain registers of various kinds.  Even the smallest of organisations must provide a resting room for women (difficult in cities like Mumbai where real estate prices can be crippling).  So what do many firms do?  They prefer not to register under the S&E Act.  Every hawker works without such a registration. Irrespective of the level of compliance S&E inspectors invariably demand bribes, and are paid, because the alternative will be a visit to the small causes court.
This is where bribes become euphemisms for extortion.  The bribes paid are protection money.  And that is where the July 23 amendments to the Prevention of Corruption Act actually make it  a Promotion of Corruption Act (https://www.moneycontrol.com/news/india/opinion-why-corrupt-politicians-and-bureaucrats-can-now-breathe-easy-2822671.html).
There are times when the illegal is abetted by politicians themselves – who incidentally are usually law makers too.  For instance, they try to regularise and even protect slum dwellers.  Placing large numbers of chosen people into a constituency creates a vote bank which marginalises the votes of existing populations.  That is how democracy is rendered meaningless. It is akin to stuffing ballot papers into a box.
That is what has happened in urban centres (Mumbai, for instance, has 50% of its population as slum dwellers) and the Northeast (https://www.moneycontrol.com/news/india/comment-the-problem-of-citizenship-and-slum-votebanks-and-the-work-permit-solution-2570637.html).  Such moves marginalise tax paying and law abiding populations. The Supreme Court has therefore chosen to focus on the National Citizenship Register (NCR) to stem this rot (http://www.asiaconverge.com/2018/08/northeast-votebanks-and-election-rigging/).
The temptation of graft and the collapse of supervision together cause even the number of illegal driving licences to soar beyond the 30% mark, as pointed out by Union minister Nitin Gadkari at a Nagpur meeting in May last year. Considering that 997 RTO offices in India issue 1.5 crore licences each year, one can imagine the annual loss of official revenue to the state  and the increase in illicit money with state-employed extortionists on the other. Curiously, the government website (https://data.gov.in/catalog/stateut-wise-number-valid-drivers-licences-issued) which is supposed to give actual data of official licences issued does not appear to be working.  Several attempts to download data failed. This is another example of the collapse of governance.
So what is the solution? There are three measures needed to prevent India from becoming a failed state.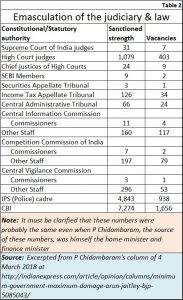 The first is to ensure that the law and judiciary machinery is robust.  This is possible only by first filling existing vacancies (almost 30% of the posts are vacant at each level – see table 2).  This requires providing supporting infrastructure for judiciary as well, and includes staff and suitable premises.
Second, legislators need to be reined in when they seek to pass laws that regularise the illegal.  A good example is the protection from investigation granted to government servants, politicians and even bankers (http://www.asiaconverge.com/2018/08/banker-scams-ter-and-visible-hand-make-merry/).  Another good example is the way the government has amended the Foreign Contributions Regulations Act (FCRA) in March 2018.  If that is not done, the courts should take suo moto notice of such laws and appoint an amicus curiae to weed out laws that support the growth of corruption.  It must also take speedy action against legislators who think they are above the law.  A sad instance in this context is the manner in which neither the police, nor the courts have moved against a legislator who chose to slap an airline official in the presence of witnesses, to break his spectacles and then to brag about it.  An apology cannot substitute prosecution for a cognizable offence. Likewise, the courts must move in and expeditiously prosecute officials who abuse laws.  A good case is point is the role of agencies like the S&E and the FSSAI (http://www.asiaconverge.com/2015/06/fssai-bans-and-corruption/).
A third need is for courts themselves to keep in check unruly members among the judicial fraternity.  A good example is the recent demand by a judge to ensure that there are separate queues for VIPs and judges.  Judges must ensure that all are equal before the law. You cannot have the judiciary batting for exclusivity and privilege over common taxpayers who eventually pay for the judges..  They too have rights to be treated as equals.
Without the three, India will continue to drift downwards. That will be a sad day for law abiding citizens in the country.
Comments can be posted to RNB@asiaconverge.com