http://www.freepressjournal.in/business/we-want-to-grow-fast-and-right-abhicl-chief-executive-officer-mayank-bathwal/1355086
We want to move from pure health financing to health risk management says Mayank Bathwal, ceo, ABHICL
— By S Narayanan and R N Bhaskar | Sep 13, 2018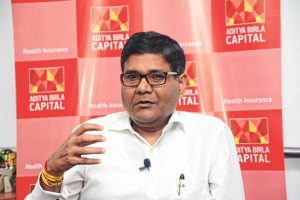 Aditya Birla Health Insurance Company (ABHICL), the sixth standalone health insurance company in India, began its journey in October 2016. In its first full year of operations (FY2017-18), it collected a record premium of close to Rs 250 crore and covered more than 1 million customers. ABHICL's Chief Executive Officer, Mayank Bathwal, tells Free Press Journal's S Narayanan and R N Bhaskar, how his company views the health insurance landscape and how it plans to usher in differentiated offerings that could alter the landscape.
Edited excerpts:
Why a standalone health insurance company?
We believe health insurance presents an exciting proposition; today, total healthcare cost in the country is about Rs 6 lakh crore per annum, whereas, health insurance premium is about Rs 45,000 crore per annum. No wonder out of pocket expenses are about 80-85 per cent of the healthcare costs. So many families are getting into high financial distress because of healthcare. This is a large untapped opportunity.
We feel we can create a big differentiator. To do that — that is to create a successful health insurance organisation — you need focus.
When you run a multi-line business, your focus will get distributed. In fact, some of the existing multi-line general insurance players now want to create separate standalone health insurance companies!
How are your offerings different from those available?
We, as an industry, have been playing the role of passive health financing. We wait for an event to happen and then pay for it. This has led to business challenges such as profitability, managing claims, etc. We want to move from pure health financing to health risk management. Health financing will remain an important part of our proposition, of course.
Let me take an example. You bought our policy and paid a premium of Rs 10,000. At this stage, we would want you to do a small health check-up so that you know your health status. We will reward you for health behaviours that you demonstrate. For leading an active life, for at least 13 days in a month (we have ways to measure that, including an app for the phone), you could get back 30 per cent of the premium! The effective premium you paid can actually become Rs 7,000.
You can use the accumulated money anytime, during the year or at the end of the year. You may use it to pay for health expense bill or even pay renewal premium. This money is yours. We call this incentivising wellness, incentivising healthy living.
Suppose you have — or get — lifestyle chronic conditions, we have started with four of the most prominent – asthma, blood pressure, cholesterol, diabetes. Under our flagship product, we will immediately kickoff what we call chronic care management program for you. This gives you two benefits – one, a health coach is appointed, who will guide and assist you and two, kick-off OPD expense benefits for you.
You also get the support of a care manager in case you get hospitalised. We are with our customers throughout their journey.
These innovations are also about potentially expanding the market. We do this by covering additional range of healthcare costs, which were not covered earlier. Also, we bring newer people into the fold, those who were not keen – a younger and healthier crowd – or have conditions. Some versions of our products start covering hospitalisation cost from day one. No waiting period.
We will keep bringing in new offerings. We have started with these four conditions. We will keep adding more conditions.
So it's a journey. We are really happy with the way it is moving. This is what I call innovation.
How will these innovations translate to better business numbers?
My belief is that we can bring down the claims ratio over a period of time – by at least 5-10 per cent relative to industry averages for efficient players. These are players who are comparable to us in terms of how they manage claims. We can definitely bring in a delta of 4, 6, 8, even closer to 10 per cent because you will attract healthier people into your pool and you will keep your customers healthier.
What is your take on Ayushman Bharat scheme?
Firstly, we must complement the government for thinking so big. This is a scheme for covering 500 million Indian citizens. It's the largest healthcare scheme in the world.
We see challenges too. Everything may not necessarily work exactly as you want in the beginning. But then we will keep finding our way. There is no reason not to be positive.
What are the hurdles the industry faces?
Firstly, as an industry, we have to gain scale to be heard. Be it with the regulator, the government or with hospital ecosystem.
We, as a country, provide technology to the world. We should also provide technology to our own healthcare ecosystem so that we have our health data in electronic form. Of course, there are privacy rules, because of the sensitive nature of this information. And then there are standard treatment protocols. Because only then you will be able to move towards the global trend of outcome-based intervention rather than fee based. The wider ecosystem should be measured in terms of its impact – whether you have been able to get the person into better health situation.
When do you plan to breakeven?
Traditionally, it has taken about 6-7 years to breakeven. If we can continue to execute our plans correctly, we may do it a year or two earlier. But, that is a little far away. What matters to us is how we make sure that we continue on our journey to acquire more customers. Work with them to focus on their health behaviours. We would make money and could then put that back into business to give even better products and services. Ultimately, we are running a business, which can help create a large positive social impact.
Which are your primary channels of distribution?
Bancassurance and agency.
Bancassurance's contribution is in excess of 50 per cent today. Open architecture in bancassurance has allowed us to tie up with multiple banks. We are already working with seven banks: HDFC Bank, DCB, Deutsche Bank, RBL, AU Small Finance Bank, Aditya Birla Payments Bank, Karur Vysya Bank, and we have just announced our relationship with Shamrao Vithal Co-operative Bank; so it is actually eight. I am sure we will keep adding more. We will keep expanding our agency channel as well.
What has been your learning in your two years of existence?
We have course corrected in terms of how we engage with customers, how we position our products. Overall, it has turned out to be better than what we expected.
One area of positive surprise has been bancassurance, and the way it has opened up our distribution capacity. We had not expected this to happen at such a fast pace.
Another happy outcome is the way market has responded to our offerings. Our stakeholders tell us that it's refreshing, different. We are happy to have reached where we are in this short period of time.
What are the challenges you anticipate going forward?
One of the big challenges in this industry is to be vigilant and agile about potential frauds, waste and abuse. There are pockets which are prone to frauds. Our risk management is particularly alert about this; we don't want to burn money in the wrong areas. Also, we do not want to scale up at the cost of our customer experience. While we grow fast, we want to grow right. Growth can get stunted if accompanied by bad customer experience. It has to be in a way that is sustainable.
Comments can be posted to RNB@asiaconverge.com