https://www.moneycontrol.com/news/business/economy/opinion-india-consolidates-its-position-in-outsourcing-business-3237771.html
India is the world's #1 in the outsourcing business
In order to ensure that US immigration rules do not blunt the growth of this industry, it has already begun seeking new markets in Continental Europe, Japan, China and Africa.
RN Bhaskar — Nov 30, 2018
The past few months have seen the country confronted with a series of bad news– poor credit, rising non performing assets (NPAs of NBFCs, loan writeoff offers from political parties to woo farmer votes, farmer deaths, farm distress. . . The list is long.  But all of a sudden there is information that at least one sector is doing swimmingly well, the business outsourcing export sector.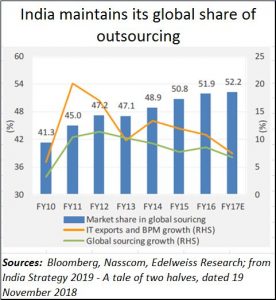 One would have thought that this sector would be in a funk.  The US has been threatening to reduce the number of visas for software professionals.  There is talk about family members not becoming eligible for dependency-visas; then there is talk about reducing the dependence of the US on software exports from India.  All that might be true.  But equally true is the fact that India has managed to maintain its share of the global global sourcing export markets (see chart).
In one of its latest reports titled India Strategy 2019 – A tale of two halves, dated 19 November 2018, Edelweiss underscores how India has managed to do well on this front. At 52%, (see chart) India is the world's largest player in this sector. The rate of growth has been slowing down.  That could be a cause for concern. But there is growth left in the markets.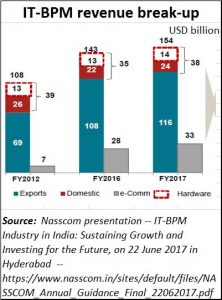 This confidence buttressed by an earlier  Nasscom presentation —  IT-BPM Industry in India: Sustaining Growth and Investing for the Future, on 22 June 2017 in  Hyderabad. Nasscom puts India's BPO exports at $116 billion (see chart).  Moreover, as Nasscom was quick to point out, its significance to India can be better appreciated if one realises that these revenues were equivalent to almost 20% of this country's forex reserves (government of India estimates) as of 27 January 2017.  They also represent almost 7% of total FDI inflows
Determined to keep its lead in this sector, Nasscom hopes to re-skill anywhere between 1.5-2 million of its workforce over the next 4-5 years.
For Nasscom, the growth drivers are quite obvious. It is aware that the industry added of $11 billion in revenues during the latest year.  That was a growth of 8.5% in constant currency and 7.6% in reported currency. It is aware that digital has now become mainstream, and is today the key differentiator for the industry.
That is why the industry has been focussing on the skills that will be needed for this transition from conventional solutions to digital offerings.  It is also gearing itself up for the new and emerging business models that the industry wants to embrace.
In order to ensure that the US immigration rules do not blunt the   growth of this industry, it has already begun seeking new markets in Continental Europe, Japan, China and Africa.  It has also accelerated the process of acquisitions and partnerships to enhance its digital capabilities, domain and consulting skills.
But there are headwinds. There is the issue of currency volatility which led to a difference of 1-3% between constant currency and reported currency growth. Then there is the longer gestation period factor, for enhanced R&D investments for products and platforms which also impacts margins.
But analysts at Edelweiss are bullish.  They believe that things could not have been better for this sector, and that these could be the best phases in the past decade. Its analysts are reassured by the manner in which the Indian industry has been able to adapt its businesses to the changing market landscape. That in turn has allowed it to cope quite well with the tough conditions and keep earnings and business performance modest.
These analysts maintain that the US landscape is 'the best in a decade' with rise in spends and pricing. The shift towards digital is invigorating the broader IT services landscape. Indian IT companies have been able to get their digital offerings off the ground, yet have enough headroom to sustain high growth rates for a fairly long time. That say the Edelweiss analysts, adds to the potential.
At the same time, Indian companies are becoming both finance and market savvy.  They have begun to engage in better capital management (finally beginning to use cash surpluses to buy back) says Edelweiss. This will add to earnings, providing the missing fillip to IT companies' return ratios.
India's Economic Survey of 2017-18 is also optimistic about this sector. It looks to a related area – remittances —  and notes with satisfaction the way "Private transfer receipts, mainly representing remittances by Indians employed overseas, increased by 10 per cent in H1 of 2017-18 over the corresponding period of the previous year.. . . . . Remittances have shown signs of revival in the first half of current year and can be expected to pick up, particularly if oil prices maintain their rising trend witnessed in the current year."|
But remittances is a different story, and has its own challenges.  Maybe we shall dwell on this later.
Comments can be posted to RNB@asiaconverge.com