https://www.moneycontrol.com/news/business/companies/investors-who-have-worked-with-ashoka-buildcon-are-very-happy-satish-parakh-2-3114801.html
Satish Parakh believes that Ashoka Buildcon has a great future
Ashoka Buildcon has survived the financial turbulence of the past four years, and has continued to thrive. Recently, it announced a bonus issue which thrilled shareholders.
November 1, 2018
Five years ago, Ashoka Buildcon was seldom talked about, even though it could have figured among the top ten road construction companies in India.  Today, most of the ten have disappeared from the markets, with their shareprices shriveling up. Debt and market liquidity constraints have hurt them badly.  Ashoka Buildcon has survived the financial turbulence of the past four years, and has continued to thrive. Recently, it even announced a bonus issue which thrilled the company's shareholders.
To understand why the company has continued to register an impressive pace of growth, RN Bhaskar of Moneycontrol decided to meet Satish Parakh, managing director of Ashoka Buildcon, and ask him about the things that have made this company thrive.  A detailed interview can be seen at (https://www.youtube.com/watch?v=e8mw4yjHSM0&feature=youtu.be  and https://www.moneycontrol.com/news/business/companies/investors-who-have-worked-with-ashoka-buildcon-are-very-happy-satish-parakh-2-3114801.html where he talks about this company's performance and his expectations for the future.
Given below are edited excerpts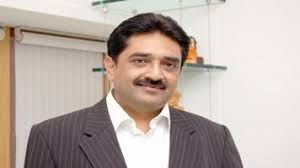 What is the key factor aiding your growth?
During the last five years, particularly after 2014 when the new government took over, there has been a change in the way the government looks at the highways sector. The ministry has been aggressive in understanding our problems and is trying to find out innovative solutions.  Each and every problem that the industry is facing is being addressed. That has given us the confidence to scale up. Whether it is mining, or land acquisition or facing local situations for various permissions – each has been looked into.  While national highway projects are awarded by the centre, we have to work with state governments. So when there is a coordinated effort by the centre to handhold us in our discussions with the states,  it really makes a lot of difference.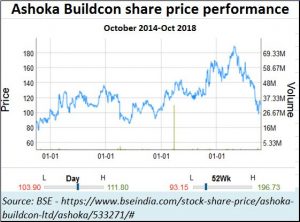 That is when a persuasive minister can be a great asset, right?
Exactly.  Many a times, the minister himself goes and meets the chief minister of the state concerned.  He explains to the officials why the state needs development, and why they must come forward and help.  And it is not only with state governments.  The ministry also works along with us in approaching financial institutions as well.  All this is making a big difference to the industry.
We are a cautious player. So even when this assistance came from the ministry, we did not become unnecessarily aggressive.  We try to be realistic. We are a company which studies, does its homework and then bids. That is why we have been steadily growing. We have been controlling our debt.  And our bottom-line is always protected.  If you see our CAGR it is over 20% in the last five years. If you look at our order-book, it has been more than 4x. We think we will maintain this order-book and this will allow us to scale up.  This means that if we are looking at the next four to five years, we should be having a CAGR of more than 30-35%.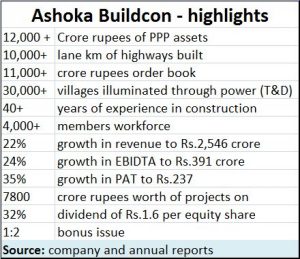 Where would you place yourself in the road sector? Among the top five?
You need to understand what we do.  If you look at the road sector, our costs are the minimum because first time itself we do the right things.  We are conscious about speed, quality and safety. Safety is one aspect which is highly neglected in this sector.  We are trying to make a change in this approach.
On the highways front, we are among the top five.  If you look at investments, from the investors' point of view we are definitely among the top five.  If you talk about safety, yes definitely, we are among the top five. The same with quality.
Which model do you like for constructing roadways – the EPC or the annuity?
What I like the most is the hybrid annuity model or HAM. Highway annuity is a win-win for both. For players like us, and for the state which can invest only 40% and still get 100% of the work done.  And the balance 60% they pay us over 15 years in instalments. Six-monthly semi-annuity model over 30 instalments. I call it hybrid because only 40% is paid by government and the remaining in instalments.  We also do not take the risk of toll-collection which the government takes up. PPP was high risk. Pure BOT (build operate and transfer) was riskier.  Hybrid is the best, at least for players like us. EPC is also a good model. All the cash is paid to us.  But in EPC we seer a lot of aggression. A lot of players get qualified; even smaller players get qualified. And then getting all the projects done, all the clearances in time, can be extremely challenging.
Wouldn't giving development rights to the road developer be a better model.  The road construction costs can be adjusted against incomes from hotels, malls, eateries, fun parks etc.  The state benefits, the road developer gets more than one line of income, and the citizen pays lower tolls.  You also generate employment.
Yes, these models can work in the states, But not on national highways.  This is because the land belongs to the state.  Land acquisition for road construction itself is itself a very tedious and costly affair.  Hence land for development can be challenging.  But this is the model that is being adopted for the Samruddhi Expressway because it is a state project. It requires skills of realty developers. The timelines involved can be handled only by state governments.
What would you focus on – national highways or state roadways?
80% of our projects would be national highways. 20% would be state roadways.  Earlier we had 50:50. But over the years, we have become 80% national highways and 20% state. Moreover, national highways offer us larger sized projects. A project of over Rs.2,000 crore would be a good sized project.
How do you view investor enchantment in your company?
We have been a consistently performing company. Investots like us because we are a stable player.  But market conditions can make investors move from A company to B company. But long term investment companies are happy with us. Take IDFC PE funds. They made good money and exited.  Then we have SBI Money Funds with Rs.800 crore of investments. They are sitting with us for five years.
Investors who have worked with us are very happy.  They are not disappointed.
Comments can be posted to RNB@asiaconverge.com