https://www.freepressjournal.in/editorspick/storm-clouds-gather-on-indias-economic-front/1418661
India's economic front could face terribly turbulent times
RN Bhaskar — 20 December 2018
It is not often that one gets decent data on India's economic performance.  Even annexures to replies to Lok Sabha statements are not available any more.  Hence when one comes across a document (http://eaindustry.nic.in/key_economic_indicators/Key_Economic_Indicators.pdf) updated as of 4 December 2018, from the office of the chief economic advisor (CEA), you almost let out a whoop of joy.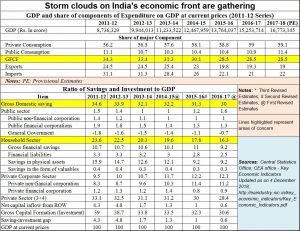 The datasheets provide some interesting information, but this author has excerpted just a few bits to underscore the emergence of storm clouds on India's economic horizon.
It is worth studying the numbers highlighted in the chart alongside.  They provide you a snapshot of what is happening in India, and can be used for predicting what could happen in the coming months,
First watch the falling GFCF (gross fixed capital formation) numbers. This number represents the country's investment in productive manufacturing capacities.  The numbers have been slipping.  And although the last two quarters appear to suggest that GFCF has begun climbing again, it is far too early to be certain.
Watch how private consumption is increasing.  This is in sharp contrast to what India used to be – a country that saved money.  And that is why the next set of highlighted numbers begin to deepen the furrows on the brow. The savings rate has kept declining year after year.  If there is less money saved, there is less money left for investment (unless foreign capital comes in) which in turn means that there is less scope for creating fresh employment.
The biggest negative for the government will always be the inability to create additional jobs. What is worse are shortsighted but politically expedient moves which actually destroyed jobs.  The fanning of sentiments against cattle slaughter put the jobs of butchers, tanners and cobblers in jeopardy. As a result, both backward classes and the Muslims have cause to feel resentful (http://www.asiaconverge.com/2018/05/cattle-slaughter-ban-missteps-may-factor-bjps-electoral-woes/).  That could also have contributed to the loss of votes in the recent state elections.
But it is possible that nobody will pay heed to the storm clouds that are gathering.  This is because the government will most likely open its purse strings to grant loan waivers, make credit available easily and to offer sops to its biggest vote banks. The party may have just begun. Yet, like it happens every time after a general election, the government's coffers will go dry, and there will be little money left after the elections are over (http://www.asiaconverge.com/2018/12/economic-slowdown-inevitable-after-general-elections/).  This is what happened after the last general elections and the one before that as well. This could happen again.
Except that this time, thanks to the loan waivers, banks will not lend to those farmers who did not repay.  They will now be tainted. They have learnt how not to repay.  They cannot be trusted with loans.  Moreover, the combined effect of loan waivers and the corporate NPAs will throw most nationalised banks into a huddle.
Expect farmers to have no option but to borrow from more expensive moneylenders and NBFCs (who will put up stiff conditions for collateral and third party guarantees). Farm and unemployment distress will worsen.
Unless some things are changed.
First, the government will have to open all stops to woo foreign capital so that more jobs can be created (http://www.asiaconverge.com/2016/11/where-will-the-jobs-come-from/).  One of the things foreign investors want is the guarantee of speedy redressal and access to arbitration with a seat outside India (http://www.asiaconverge.com/2018/12/tapping-private-investment-and-equity-inflows/).  This time, the government may be left with no option but to submit.
Second, it must allow corporates to enter into more contract farming arrangement with farmers to ease them from distress sales.  It must use corporates to then create warehouses under the Warehouses Development Regulation Act (WDRA) and link them to commodity markets (http://www.asiaconverge.com/2017/08/is-wdra-a-functioning-organisation/).  And it must replicate the Kurien model for fruit and vegetables as well.
Lastly, it must enable legislation that loan waivers are not allowed.  They are bad in law, bad in value promotion.  Instead, give each farm family some money with the stipulation that loans must be repaid.
In addition to all this embark on privatized decentralised solar power generation (http://www.asiaconverge.com/2017/12/sabotaging-rooftop-solar-and-employment-generation/), methane generation (http://www.asiaconverge.com/2018/04/shit-can-mean-big-money/) , and begin work on at least a million affordable homes (http://www.asiaconverge.com/2015/03/762affordable-housing-what-india-can-learn-from-iran/).
If the government does all this, some of the storm clouds could get dispersed.  Else be prepared for a discomforting cold and wet spell.
Comments can be posted to RNB@asiaconverge.com