https://www.freepressjournal.in/uncategorized/vpm-trust-chairman-vijay-bedekar-india-needs-a-forward-looking-visionary-in-education/1416360
VPM's Bedekar has big plans for education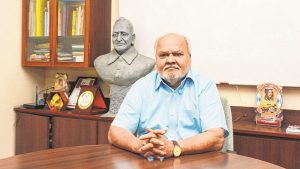 Thane-based Vidya Prasarak Mandal (VPM) came into existence in August 1935. It has immovable assets of over Rs 12 crore. VPM has eight institutions under it with around 70,000 students. It has recently launched an Engineering College in Velneshwar with an investment of Rs 100 crore. Today, VPM's educational institutions offer short-term and long-term courses, with an aim to make the youth future-ready. Keeping the need to empower the youth of the country to the core, Chairman of the VPM Trust, Vijay Bedekar shares the hurdles in the education sector with Free Press Journal's R N Bhaskar and Jescilia Karayamparambil.
Edited Excerpts
There are a lot of restrictions imposed by the government when it comes to fees that  educational institutions charge and regarding the corpus. What is your views on the same?
I believe a lot of thinking has gone into such policies after Independence. All governments have put in serious thought into this. In case of Radhakrishnan Committee report, the suggestions are acceptable, but politicising it when it comes to economics is unacceptable. A lot of competent people have put in their efforts to develop policies over years. However, I believe politicising any issue is not the right way.
Let me take you back to the Liberalisation era (in 1991). Liberalisation, which was stuck at industrial level, should have percolated to education sector as well. But that did not happen. Post 90s, there was a huge growth of the middle class. Authorities talk about growth but do not understand that middle class in the country is growing and they are unable to address the aspirations of this group.
What are the trends seen between English and vernacular medium?
In the last 20-25 years, there has been a growth in English medium schools. People are starting English medium schools rather than Marathi medium schools. English medium schools have reached a saturation point. If they start any more English medium schools, there will not be enough students in the classroom. Today, cities around the country have enough English medium schools.
These English medium schools are unaided. They started off with a slightly better fee structure, no one thought it will have students (in the early days). Over years, people from middle class thought there is no prospect for students coming from vernacular medium. I am a Marathi medium pass out, but I did better in life. If the students want to go for Engineering and Medical courses then they have to know English rather than vernacular languages.
Do you think government policies affected education sector?
I think government policies went wrong due to the politicisation of issues related to education sector and lack of vision for the sector. If you look at government spending on education, it is peanuts. For my institution whose only source of income is fee, do not have spending capacities as the government. Despite having many sources of income, the government does not spend heavily in the sector.
The government should not shun themselves from the responsibility of education. Ideally, there should be two models—the government-run and unaided institutions. These government run institutions should act as a benchmark for unaided institutions but that is not the case in the country. The government has to fund and maintain a quality education system in the country.
What are the issues that pain unaided  institutions?
At times, there are parents who are competent enough but they do not pay the fees of their children. Still institutions are penalised if they take action against such parents. The lag in part of parents should not result in trouble for students and institutions. There should be something done in this line.
There are educational institutions across the country that support students of all economic background. This is where I feel more government-run institutions should come up.  Our country is progressing so I understand that we put some restrictions. My institutions adhere to all rules and regulations even though it can be painful for us.
It is important that we start to have some benchmark for our schools and colleges. Let there be a benchmark for the teachers that we hire or a minimum pay scale, whatever it takes to improve quality of education. But at the same time, we should have mechanism where parents are made accountable as well. I agree there are poor people and the government should take care of them.
I am not against All India Council for Technical Education (AICTE) or any bodies that control the education sector. In the last 25 years, there has been no Engineering College started by the government. I believe the government should enter into education. The authorities should scrutinise institutions that do not follow norms. If they are incapable of running educational institutions, they should be asked to shut down the entity and the students from the college should be distributed to institutions close-by. Otherwise to keep the institution afloat, they resort to malpractices and the quality of education is hampered.
Like any industry, there should be an exit and bankruptcy policy for educational institutions like schools and colleges, as well. There are too many restrictions when it comes to closing down an institution. That results in decline in quality of education. This is a huge disservice
Do you want licence Raj in education to go?
I believe to a great extend licence Raj has ended.   Ideally, the government should say you can have anything but you need to compete with me. If government is serious about education then no one can reach its standards. At present, all government institutes in the state has decayed.
There are good bodies that govern educational institutions but the government should not create any opportunity for corruptions there. There are some institutions like IITs, are doing good job. So, the government should stop interfering in institutions that are doing well for themselves. But the government is trying to interfere in different ways.
There should be de-licensing. The government and private institutes should compete with each other. There should be processes in place and not restrictions. For instance, the authorities do not allow us to take donations for the seats that come under management quota. We are scrutinised for it. Let there be a process, where parents or guardians take the receipt for the donation they give educational institutions.
People are not fools. Make all the money accountable. So it is important that we do not make such laws that can encourage under table activity. Authorities do not understand that every Engineering and Medical college have to submit their financial reports.
What is the response from the Maharashtra government over delayed dues from them?
The government is fooling people. The government has to pay Vidhya Mandal Rs 8 crore. The government is supposed to pay some portion of the fees of the students that fall under the reserved category but they have not paid it. They have deprived many educational institutions their dues. The government has not paid a single penny this year. There are 1,000s of institutions in Maharashtra that are not getting paid.
We are taking bank loans and paying interest on top of it, to pay salaries and meet other requirements of the institution. The Maharashtra government has to pay crores of Rupees. After the Maratha quota was announced, we realised that we will only get fees for 32 per cent and rest we will have to depend on government again. This is dependence is for salary and this is going to increase, with increase in reservation category.
The government should meet their obligations first and then introduce new spending plans. There are sections of educational institutions that are unable to make noise. In one of the meetings chaired by the Chief Minister, he assured that by October the dues will be cleared but that has not happened. Let the government declare that they will not pay us.
The government keeps saying that it will pay salaries of teachers and that is of aided institutions. But post 80s, we have not seen any new aided colleges. There are more unaided colleges than aided. In case of unaided, you are not paying the fees. Ideally, the government should pay us all the dues by July of every year as admissions of students take place in June. But this is not the case.
What are the trends that you have seen lately?
Today, there is a growing middle class and upper middle class that is ready to pay for their child's education. But they want quality. People are not ready to accept that people in the country are growing financially. When you ask them to pay for something substandard then they are not ready to pay.
Maharashtra government's Shikshan Shulka Samiti is not ready to accept the decision of the Supreme Court— the court has asked students under management quota to shell out more compared to students with merit. This has to be considered because students who are weak in academics, have to compensate somewhere.
Today, our expenses go beyond salaries and other traditional expenses, there is also the cost of technology. For instance, we have to replace computers and other aids regularly. Then there is a need to have internet connections to these systems which is again a huge cost annually. These are areas where government should subsidise.
Today, education is not related to book education but other educational resources like research paper, research database, etc. If I want to have access to such knowledge paper, then I have to shell out crores of Rupees to subscribe to such material. In Western countries, at school level they might not have the database but they have at college level. Today, if I have to conduct research no one goes to the library but goes online. Without that database, there is not much that can be done. Now-a-days, the education is through research and the ability to find answers.
Our institution in Velneshwar is such that no institution in Maharashtra can match us. I have done that because people in that region deserve the same rights as any students in Mumbai and Pune. This is a Rs 100 crore institute. Today, the trend is about having residential facility.
I have taken loan to establish the institution. If you look at the facilities including the database we have in the college, you will understand that efforts put in the institution.
What does India need today?
India needs a forward looking visionary in education. Let government start institutions and promote free education. The government can afford to do it. But they have totally withdrawn and they are trying to control institutions that are doing well. You are doing disfavour.
Comments can be posted to RNB@asiaconverge.com