https://www.freepressjournal.in/analysis/infrastructure-spending-has-been-great-under-nda-government/1414386
Great news about infrastructure spending
RN Bhaskar — 13 December 2018
One of the major achievements of the BJP led NDA government is the huge step forward it has made in respect of central sector infrastructure projects. CARE Ratings recently brought out a report on such projects that cost the national Rs.150 crore or more,.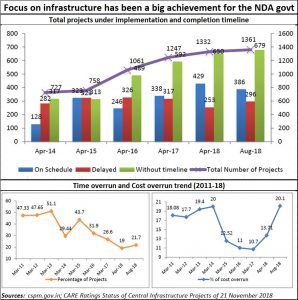 The report thus deals with the status of 1,361 such projects that have been gleaned from the Quarterly Status Report of Central Sector projects published by the Infrastructure and Project Monitoring Division of MOSPI.
The most commendable performance indicator is the surge in the number of projects under implementation — from 727 in April 2014 to 1,361 in August 2018. That represents an average compounded average rate of growth (CAGR) of 20% during the past four years (see chart).
Out of these, as many as 400 are mega projects. They have an individual outlay of over Rs. 1,000 crore (77% of total project development outlay).
The number of projects delayed has been kept under check at 296.  But what is worrying is the large number of projects which are under implementation, but have no timeline specified against them (71% of total projects).
Maharashtra has been the biggest recipients for such projects – accounting for 9.2% of projects by value being implemented in India. (This does not include value of projects which are a part of the multi-state projects). The state has 129 projects being implemented at a total original cost of Rs. 1.72 lakh crore. The other state beneficiaries are Uttar Pradesh (6%), Tamil Nadu (6.5%), Andhra Pradesh (5.1%) and Odisha (4.3%).  Together, these five states account for 30.2% of the total projects being implemented by value and 29% of the total number of projects being implemented.
Steel, power & transmission, atomic energy, petroleum & petrochemicals and urban development projects were the major sectors which witnessed most completions during the year. 34 major projects have been completed between April-July 2018.
Time overruns have been kept under control.  In fact, they have declined tremendously when compared to the projects implemented by the previous government.  But there have been attendant cost overruns – of around 20% — a bit higher than the cost overruns during the previous government. The anticipated cost for completion of these projects has grown from an original cost outlay of Rs. 16.78 lakh cr to Rs. 20.16 lakh crore.
The biggest challenge for the government will be meeting the residual cost for completion of projects under implementation.  According to the CARE report, the costs incurred as of February 2018 was Rs. 7.86 lakh crore or 38.1% of the total anticipated cost of all projects.  That means that the cost for the balance – of around Rs.12.3 lakh crore (Rs.20.16 lakh crore less Rs.7.86 lakh crore) will have to be provided for.  It remains to be seen how much of the cost will be left for the next government to take care of.
The best record for containing both time and cost of projects must go to the roads sector.  This sector accounts for as many as 543 or 40% of the total projects. It suffered a cost overrun of just 1.7% of the total outlay. One wishes that other ministries could have been equally diligent and painstaking about meting time and cost deadlines.
The railways accounted for 32% of the number of projects and 32% by value as well. Most of the projects in the sector are for doubling of lines especially in north-east, laying of new lines and addition of 3rd and 4th line for network decongestion. Interestingly, certain projects under implementation for extending routes and laying new lines, date back to as far back as 1981 like (e.g. Nagal Dam-Talwara line, Guna-Etawah (1986), Muzzaffarpur-Sitamarhi (1991)). These projects are still under implementation and not yet completed. As many as 185 projects or 53% of the projects in the sector are facing cost overrun. Time overruns afflict 65 projects are delayed
In terms of breakup of costs, the largest share was grabbed by the railways (32%), followed by power (18.7%), roads (18%), petroleum and gas (11%) and coal (4.5%). Other miscellaneous projects accounted for 16% of total costs.
Clearly, one is left with two lingering thoughts.  First, why can't more ministries be run as efficientl;y as the roads sector (run by Union Minister Nitin Gadkari)?  Second, how will the government rustle up the additional Rs.12.3 lakh crore?  It is possible that a few more major projects may get announced.  That could be a big albatross round the neck of the next government.
Comments can be posted to RNB@asiaconverge.com