Northeast India is tranforming rapidly
RN Bhaskar — 12 March, 2019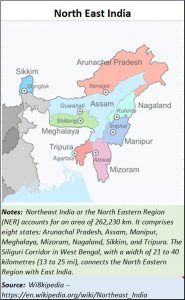 There's an air of urgency in the Northeast.  Developments in this region could completely alter trade routes, logistics, and economic growth. It could change military strategy too – especially for India and China. And the North-east, with Tripura as the hub, could even change the traditional patterns of doing business. Expect an economic boom in this region.  Unless the government foolishly tries to play political games instead.
Almost left ignored by India for decades, the last ten years have witnessed a sense of intense discussions about Northeast India, also referred to as the North Eastern Region (NER). It comprises eight states —  Arunachal Pradesh, Assam, Manipur, Meghalaya, Mizoram, Nagaland, Sikkim, and Tripura (see map).  Collectively these starts account an area of 262,230 square km, almost 8% of India's geographical area.
Currently, it is connected to the rest of India through the Siliguri Corridor – also referred to as the Chicken's Neck. This corridor has a width of just 21 to 40 km.  It is a military nightmare, as the recent tensions along Doklam showed.
The NER comes under the control of the North Eastern Council (NEC) constituted in 1971.  It was possibly the Bangladesh war that made India realise that it had not paid enough attention to this region.  The subsequent Quit Assam movement against foreigners made the need to pay more attention to this region extremely crucial.  Linked to this region, and possibly the whole of India is the Assam Accord which promises to look into the issue of migrants (http://www.asiaconverge.com/2018/05/citizenship-votebank-northeast-and-work-permits/).
Issues surrounding citizenship
The way this accord is implemented, and the issues relating to citizenship, will actually have an impact on the whole of India.  The rules of migrants, and citizenship could also get linked to slum formation (http://www.asiaconverge.com/2018/09/slums-democracy-and-governance/), which politicians use for creating vote-banks.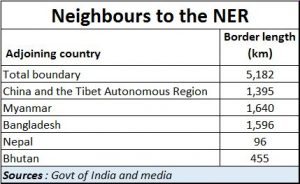 Slum formation abetted by politicians effectively does two things: It erodes the voting clout of original dwellers, as they see hordes of migrants squatting on government land, not paying for their dwellings, water, electricity or even property taxes and then being regularised as they become vote banks. Second, it teaches po9liticians that this way of rigging votes is safer than stuffing ballot-boxes.  Together they make a mockery of democracy.  And the roots for such a change could lie in the NER.  This is because the NER has a long international boundary with several countries.  If the citizens of the NER begin to believe that they are being marginalised by the political leaders for electoral gains, their attemps to secede could gain momentum.  That is the last thing that any government would want.  That is why, some of the issues surrounding citizenship will gain clarity and resolution first in the NER and then for the rest of India.
The stakes are higher than they appear at first glance.
Thus – post 1971, the government has been confronted with three imperatives.  The first is to bring the NER closer to the rest of India.  Second, to strengthen and fortify the NER by making military movements between the mainland and the NER more convenient.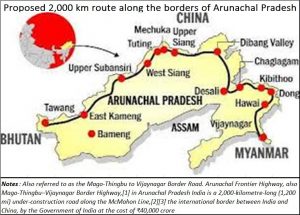 And the third is to boost economic and political relations with all the neighbours of the NER (see chart).  And since the best way to promote ties is through commerce, and transport linkages, the latter becomes a matter of economic and military strategy as well.
One solution
One of the solutions mooted by the government is building a highway along Arunachal Pradesh — the most vulnerable of the NER. It involves building a 2,000 km highway which is also known as the Mago-Thingbu to Vijaynagar Border Road or the Arunachal Frontier Highway.  China objects to the building of this road, because it claims Arunachal Pradersh as its territory – though there are signs that its claims will not be pursued vigorously (http://www.asiaconverge.com/2018/08/northeast-votebanks-and-election-rigging/).
As there is little habitation along the path of this proposed road, the government belies it can get this built quickly – maybe by 2022. That deadline may have to be pushed because current assessments show that of the 503 stretches on the borders planned to be completed by 2022, only 17 were completed by 2013. Currently, work is being done only on 50 additional stretches.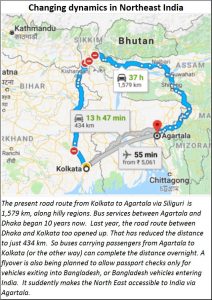 As Kiren Rijiju, Union minister of stqate for home Affairs stated in October 2014, 2014, work along this highway is being expedited with another highway – known as the East-West Industrial Corridor.   He stated, "I am proposing to undertake this road along with another in the foothill areas of Arunachal Pradesh state from Bhairabkunda in Assam located at the tri-junction of Bhutan, Assam and Arunachal Pradesh to Ruksin in East Siang district of Arunachal Pradesh state which will serve as an industrial corridor for the people residing in the foothill areas of the state".
The new alternatives
Even while these proposals are being pushed, three interesting developments are rapidly changing the contours of the North East.
The first was the conventional road from Kolkata and Dhaka.  In 1999, both India and Bangladesh agreed to start a bus service between Kolkata and Dhaka.  This was further extended to another route between Dhaka and Agartala in 2001 (http://www.asiaconverge.com/2019/02/tripura-will-be-an-economic-powerhouse/).
Then, by 2008, this connectivity was further bolstered by reviving an old rail link between Kolkata and Dhaka.  The present government is in the process of extending this rail link by connecting Dhaka and Agartala.
Hitherto, the only way for reaching goods from Kolkata to Agartala was by taking a road that wound across 1,579 km through the Siliguri corridor.
This road reduces the road distance to just 434 km.  Already, night bus services have begun plying between Agartala and Dhaka, and then from Dhaka to Kolkata (and vice versa).
Plans are discussed to build an elevated highway between Kolkata and Agartala with customs and immigration manned exits which can take vehicles to (and from) Dhaka. If and when that happens, transportation between the mainland and the NER will become seamless (http://www.asiaconverge.com/2019/02/agartala-way-becoming-major-hub-trade-commerce/).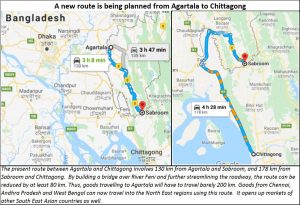 Meanwhile a third alternative – and a more attractive one – has begun to take shape.  Thanks to the efforts of the chief minister Biplab Kumar Deb (see full interview at http://www.asiaconverge.com/2019/03/biplab-kumar-deb-has-big-plans-for-tripura/) there are moves that will make Chittagong in Bangladesh the biggest transshipment hub for the NER and neighbouring countries.
In this context two plans are being pursued.  The first involves a road link connecting Agartala to Chittagong.  Currently, the ro9ad between Agartala and Cittagong involves some 300 km of travel.  The road goes to Sabroom, where it travels northwest and then turns towards Chittagong.
Deb's government in Tripura has already ordered the construction of a bridge over the River Feni at Sabroom, which could then lead to a new corridor connecting Sabroom and Chittagong.  Efforts are underway to make this an international highway.  That could help Tripura and Bangadesh become beneficiary.  Tripura sees the distance bween its capital Agartala and Chittagone reduce by half to under 150 km.  Bangladesh begins to upgrade Chittagong into the largest trans-shipment port in the Bay of Bengal.  The chief minister expects work on the bridge to be completed by 2019.
Chief minister Deb has done other things as well. As he puts it, "Our biggest project is building a jetty at Sonambra, which will allow goods to go up the Meghna river, via Ashuganj to Gomti river.  Small ships can travel these waterways, each capable of picking up 50 truckloads of cargo. That will reduce transportation costs. Mizoram and lower Assam are with us as many of their villages can be reached only through rivers. The road distance between Ashuganj and Agartala is only 32 km.  This project is being funded by the Central government."
There is much more to both the plans using Chittagong than is currently being talked about.  The military brass is excited about this route  Shipment of men and material to the Northeast via Chittqagong will be far more convenient and swifter than people imagine.  This is because more villages in the entire NER are connected to the innumerable rivers that flow through this territory. Large boats can disgorge their contents to smaller boats which are yet able to carry 50 truckloads of material, and then weave their way across the whole of the NER.
Advantage Tripura
Chief minister Deb's excitement is understandable.  Hitherto, the state was one of the most impoverished in the North East.  It was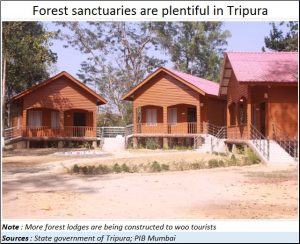 hemmed in on three sides by Bangladesh.  Hence when relations between the two countries – India and Bangladesh – were strained, Tripura was actually constricted in wevery way.  Almost everything had to be imported, and continues to be brought down all the way from Siliguri even today.  This includes rice (the non-sticky variety), vegetables and other items of daily necessity.  Else it has to come from Bangladesh.
The state now views Bangladesh as an economic partners  "We are connected to Bangladesh in Agartala as well — through the border gate at Akhaura." States Deb.  Plans are afoot to make the beating of the retreat ceremony of the border guards as much of an event as the Wagah border is. This author was witness to one such ceremony, and it was quite an experience.  The only difference is that at the Wagah Border, one sees warlike postures on the part of both countries. At Akhaura, there is the professionalism but with mutual respect and camaraderie.  People from both sides walk across the border constantly – after clearing immigration and customs – with little anxiety.  The common language, Bengali, makes both territories almost seamless.
The state now wants to reach out to the 85,000 Bangladeshi patients who come to India for medical treatment. "Each of them spends around Rs. 4 lakh on an average. We have offered out largest hospital —  BM hospital – to large hospital chains from India – like Apollo, Fortis and others – to develop medical facilities here. Our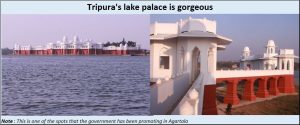 plan is to build a medical hub here. Hence, we are getting our GB Hospital to build a cancer treatment wing.. We think this is a Rs.1,000 crore business a year. We don't think that the government can do everything. Hence the decision to partner with private sector hospital chains.  But we shall fix some rates for the needy and for the locals.  This will help both Bangladesh and Tripura.  Bangladeshi's save almost Rs.1 lakh on airfare.  So treatment costs get reduced.  India benefits because it develops medical tourism."
But medical tourism is just one part of the plans.  The state wants to promote spiritual tourism as well. "we have no five star hotels.  We need to encourage them." In the meantime, till more holiday resorts are built and hotels come up, "we want to promote spiritual tourism here.  We have some of the holiest of temples and religious places in this state.  Pilgrims do not bother about five-star comforts.  So we believe we could start that first," says Deb.
The state also has some of the most picturesque sanctuaries and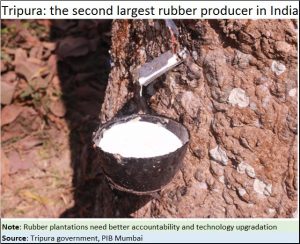 resorts – 7-0% of its land enjoys forest cover. Plans are afoot to build new resorts in these sanctuaries and forests.
The state has plans to upgrade its rubber production.  Few people know that Tripura is the second largest producer of rubber (after Kerala). But its smoke house and other technologies need to be improved. For making tyres you need rubber and carbon black.  The state also has abundant gas – both ONGC and Indian Oil have their operations here — which can be used for making carbon black.  It has now begun wooing investors. It also has plans to make electric vehicles and even export them to Bangladesh.
One of the biggest moves it is making is to promote dairy farming and livestock rearing.   The state government has just given away around 1,000 cows for backyar4d farming to its people. It wants to ensure that 10,000 more  cows to small farmers and landowners.  The idea is to make the state self sufficient in milk, and then even begin exporting it to other NER territories.  The entire region is milk deficient.  The chief minister puts the NER market for milk at around Rs.18,000 crore a year, of which Tripura alone accounts for Rs.1,100 crore.  He believes he can cater to both markets.  Last December (2018) key officials from GCMMF and Amul were in Agartala to explore ways in which a collection and distribution could be set up.  Expect more news on this front.

The state is also looking at ways to promote fishery.  Fortunately, almost every household in Tripura has a backyard pond.  The state has – in partnership with Indian Council for Agricultural Research (ICAR – begun distributing fish fingerlings which farmers can breed in their ponds. The state government estimates that around 20,000 tonnes of fish gets consumed each year within Tripura itself.  This fish comes from Bangladesh, West Bengal and even Andhra Pradesh. The chief minister expects to grow a market worth Rs.400 crore withinOur fish business is easily worth Rs.400 crore a year within his state very soon.
Similar work is happening in piggeries and poultry, which account for a market worth Rs.150 crore each year.  A great deal of work is being done to promote cattle feed, fish feed and feed for other animals.  Fortunately, unlike UP and Haryana, the entire Northeast region is not squeamish about beef.  Expect the market for beef and leather exports to grow in TRripura.  Moreover, since all the neighbouring countries of the NER are milk deficit, the export potential for milk and milk products is quite high.  Incidentally, a couple of years ago, NDDB began setting up a milk processing unit in Guwahati, and began encouraging the formation of producer owned milk cooperatives.  Expect similar moves in Tripura as well.  Since the NER has plentiful water and foliage, the cattle business should do extremely well here once distribution and marketing chains are put in place.
These are some of the many moves being planned in Tripura.  Expect the momentum to gather once elections are over.  Its people have got a whiff of what economic prosperity means.  That and the plans should do the trick.
Comments can be posted to RNB@asiaconverge.com