http://epaper.freepressjournal.in/2060821/Free-Press-Mumbai-Edition/09-Mar-2019#page/24/1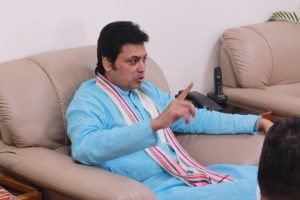 Interview
Biplab Kumar Deb wants to make Tripura an economic powerhouse
Biplab Kumar Deb became chief minister of Tripura on 9 March 2018 at the age of 47/  He was the state president of the Bharatiya Janata Party (BJP) since January 2016.  He led the BJP to electoral victory in the 2018 Legislative Assembly Elections, thus ending 25 years of Left government rule (aided by the Congress).
He spoke to a group of journalists from Maharashtra – including RN Bhaskar from FPJ — in the second week of February 2019, outlining his plans.
Given below are edited excerpts.
On key improvements on gas and power
When central and state governments are on the same page, the benefits are many.  This benefit was available to Tripura after a wait of some 40 years.
For instance, till 2017 before the BJP government came to power, only 34,000 gas connections were provided to the people of Tripura.  In less than 11 months we have provided connections to 2.11 lakh people. This benefits women who used to cook on firewood, inhale the smoke and have tears in their eyes, and suffer from respiratory ailments.
By the end of March this year, according to the implementation schedule we have worked out with Indian Oil Corporation, we want to reach a target of 4 lakh connections. Thus, we want to be the first state to meet the targets laid down by the honourable prime minister under the Pradhan Mantri Ujjwala Yojana (http://www.pmujjwalayojana.com/).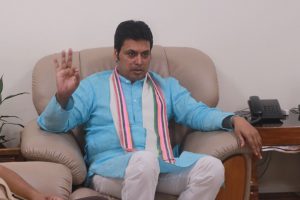 Then take the Saubhagya scheme under which each rural household should get electricity (http://saubhagya.gov.in/). Under this, the poor must get free electricity connection. Almost 60% of the people in this state are tribals. These people live in clusters of one family or four families – spread out over vast territories. Connecting spread out communities is quite expensive. If we provide connections through wires over pillars the cost per household goes up to Rs2-3 lakh per connection. So our state had discussions with the union minister for power, RK Singh, We explained to him that there are around 50,000 households of tribals which are in remote and dispersed locations. We decided to supply them power through (decentralised-off-grid) solar  connections instead – each costing around Rs.50,000.  Wires would have been costlier.  It also leads to theft and irregular supply. We have supplied solar power connections to 50,000 families, and as of 27 November 2018, we have provided electricity connections to 1.37 lakh households.
This shows that when state and central government work towards the same goals, the results can be excellent. The central government provided funding of around Rs.822 crore for this.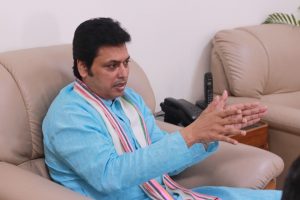 Then we have the Pradhan Mantri Awas Yojana [housing for all], and the Sauchalaya yojana (toilets for all). We started working with all our municipal councils and corporations. As of now we have covered 100% of houses in urban areas, and around 90% in rural areas,
On farmers, MSP  and procurement
To alleviate the lot of farmers, we have worked very closely with the prime minister to ensure MSP (minimum support price) was increased for farmers. Unfortunately the benefits of MSP could not be availed of by many farmers. So we met [Union Minister] Ram Vilas Paswan to talk to the FCI [Food Corporation of India] to procure our grain instead.  But FCI raised the problem that Tripura's flour mills offer just 56 kg for each 100 kg of rice. FCI's minimum target is 67 kg.  Unfortunately, Tripura's mills are small and face technical problems. We had several meetings with the millers, but they wanted cash compensation to supply 67 kg.  Then after several rounds of talks, it was decided that they would meet an output target of 65 kg.  The state government agreed to pay the FCI the difference cost of two kg. Then there was another problem.  FCI pays a milling charge of Rs.15 per 100 kg.  That is good for Punjab and Haryana, which can extract other products from the grain, like oil or animal feed. Our charges were Rs.150 per quintal (100 kg).  So we went to Ram Vilas Paswan again.  We offered to pay the difference between the milling charges FCI was willing to pay and the charges demanded by this state's millers.  The minister wanted a written assurance.  So, there itself, I asked my office to prepare the letter of commitment that he wanted, and got the issue resolved. With this resolved, procurement began.  By now around 10,000 tonnes of rice have already been procured.  For the first time, farmers here have got Rs.9 crore, and there is a possibility that they will get more.  Because we hope to procure an additional 30,000 tonnes. As a result, the price of grain was just around Rs.10-12 a kg in the past.  Today, go to the market.  You will not get rice at under Rs.17.50 a kg.  Now no farmer sells at Rs.9-10. Moreover, the money goes direct to the farmer's account within three days. Earlier, money would not reach him for four months or more. The power of the middleman has been broken.
The amount of money that the prime minister has given to the farmers, Rs.6,000 per farmer household per year, is unprecedented.  Every month his family gets Rs.500. Today, the farmer has money to buy his seeds and fertiliser without borrowing from the moneylender. Unless the farmer is empowered, his son will not be able to become an engineer, and there is no way his family or the state will progress.
On jobs
WE have also begun creating jobs. We have also begun clamping down on drug addiction.  During the past one year, we have seized almost 68,000 tonnes of mandrax, brown sugar, heroin, and marijuana. Most of the drug peddlers are now in prison or out on bail.
Instead of providing jobs to people who have enjoyed party connections, as was done earlier, we have adopted a transparent process.
Today, most of the jobs come from the government and from the security forces. This must change. This must change.
On electricity
We are an electricity surplus state, and export to Bangladesh, Mizoram and other states. Our annual production is around 700-750 MW and we use just 150 MW. We offer the lowest commercial tariff of Rs.9 per unit, against Rs.14 elsewhere.
Drinking water
As of now, 80% villages have been provided with water through pipelines with taps at 40 points. We don't think this is good enough.  Our plan is to provide, by 2022, a water connection to each house.  We have already received from the government a fund of Rs.850 crore to implement this plan. We have promised people that they will not be billed for three months once water connections are provided.
Business hub for South East Asia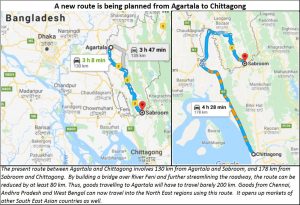 Tripura will become the business corridor for the Southeast Asia.  We are building a bridge over River Feni for transporting goods from Chittagong port to Agartala. We are confident that this bridge will be completed before December 2019.
Our biggest project is building a jetty at Sonambra, which will allow goods to go up the Meghna river, via Ashuganj to Gomti river.  Small ships can travel these waterways, each capable of picking up 50 truckloads of cargo. That will reduce transportation costs. Mizoram and lower Assam are with us as many of their villages can be reached only through rivers. The road distance between Ashuganj and Agartala is only 32 km.  This project is being funded by the Central government. The roadway between the two countries could get treated as an international highway.
We are also connected to Bangladesh.  Through the border gate at Akhaura at Agartala.  Even our expanded airport touches Bangladesh.  We want to reach out to the 85,000 Bangladeshi patients who come to India for medical treatment. Each of them spends around Rs. 4 lakh on an average. We have offered out largest hospital —  BM hospital – to large hospital chains from India – like Apollo, Fortis and others – to develop medical facilities here. Our plan is to build a medical hub here. Hence, we are getting our GB Hospital to build a cancer treatment wing..
We think this is a Rs.1,000 crore business a year. We don't think that the government can do everything. Hence the decision to partner with private sector hospital chains.  But we shall fix some rates for the needy and for the locals.
This will help both Bangladesh and Tripura.  Bangladeshi's save almost Rs.1 lakh on airfare.  So treatment costs get reduced.  India benefits because it develops medical tourism.
On tax
Our revenue collections were not transparent.  We have tried to change that.  Hence while tax collections for 2017-18 were Rs. 14,022 crore, this year — 2018-19  — they have climbed by 25% to Rs.17,090 crore.
On education
We are looking for granting land for schools, engineering and medical colleges, but only to large groups which run a chain of prestigious institutions.
Our quality of education is poor at school levels.  Hence we have decided to introduce the NCERT syllabus instead of developing our own syllabus.
New qualified teachers are being recruited.  Today, more requests cometo me for facilitating admission for children to government schools instead of private schools.  That makes me happy.  People always go to a school, where a good teacher is there.  Our official languages remain Bengali and English.  Kokapura [local tribal language] is the third language.
On Tourism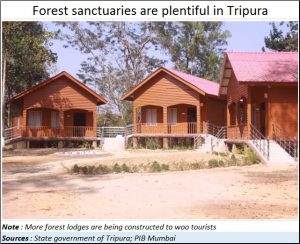 Tourism is a big potential for us. Within a small area we have more tourist spots than most states.
Lots of picturesque water bodies.  We are developing them. Our Neel Mahal, which is like the lake palace of Jairpur is exquisite. But, we have no five star hotels.  We need to encourage them.
So we want to promote spiritual tourism here.  We have some of the holiest of temples and religious places in this state.  Pilgrims do not bother about five-star comforts.  So we believe we could start that first.
In this state you can watch the border gate with Bangladesh – 80% of our border is shared with Bangladesh.  It is good that we have cordial relations with this country, unlike our western neighbour.
On Industry and urbanisation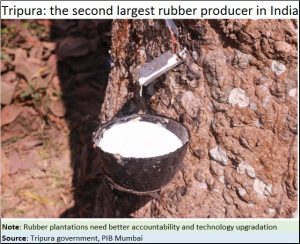 We are the second largest rubber producers in India, after Kerala.  But our processes are not good enough. Our smoke house and other technologies need to be improved. For making tyres you need rubber and carbon black.  We have abundant gas, which can be used for making carbon black.  We need investors here.
We are planning to introduce electric vehicles and even export them to Bangladesh from here.
Our development programme involves building several small towns, each of them as small as 50 acres. Big towns and cities cause displacement and concentration of people.  We want to have one such town every 30 km. Each of them will have the amenities cities have.
Milk
The Northeast has a milk demand worth Rs. Rs.18,000 crore. Tripura alone uses milk worth Rs. 1100 crore each year. All of this comes from elsewhere – from Siliguri, From West Bengal. That is why we are talking with Amul to set up a milk processing centre here.

So we are persuading our existing dairies to upgrade. All of them are already all profitable. We have just given away around 1,000 cows to farmers.  Our idea is to get each household own around two cows in his backyard. We want to get people to own some 10,000 cows with subsidies and incentives from Nabard.. Work has started.  New cows have come [for cross breeding].
We are also developing fisheries. We consume around 20,000 tonnes annually. These come from Bangladesh, West Bengal and even Andhra Pradesh. Our fish business is easily worth Rs.400 crore a year.
We are therefore encouraging building of check dams – some in partnership with the forest department. A fund of Rs.1,000 crore has already been provided for this.
Piggeries are also being developed. So is poultry which accounts for a market of Rs.150 crore.
We are developing new recipies for fish and cattle feed, with powder from crushed drumsticks and other plants.
Comments can be posted to RNB@asiaconverge.com