https://www.freepressjournal.in/analysis/maharashtras-agricultural-woes-will-continue/1475943
Maharashtra and its water diversion
RN Bhaskar – 7 March, 2019
Maharashtra has one of the highest farmer suicide rates in India.  It also has the maximum number of farm agitations in India.
And the reason is quite clear if one studies the data from the latest RBI's Handbook of Statistics on Indian States – 2018-19. The numbers suggest that Maharashtra's farmers will continue to suffer deprivation and consequent distress for many more years to come.
Logically, yes, the farm-distress can be reduced.  And yes, the disparity in incomes between those of rich and poor farmers can be reduced.  But it would require tremendous political will.  Unfortunately, the past 15 years have shown that no party has the stomach for this – not even the BJP which has often championed the cause of farmers.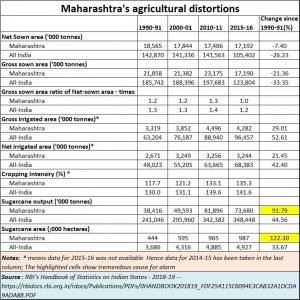 Look at the table alongside.
It tells you that both net sown and gross sown areas have declined since 1990-91. The only solace for the state is that the area for the entire country declined more sharply.
That is worrisome.  It could mean that agricultural land was taken over for non-agricultural purposes. It could also mean that more land had increasingly become unfit for growing anything.
This could be true of Maharashtra, because barely 29% of the arable land is irrigated, compared to the all-India average of 50.2% (http://www.asiaconverge.com/2018/11/maharashtra-promotes-water-scarcity-and-abets-farm-suicides/).  Neighbouring states like Gujarat, Karnataka, Madhya Pradesh and Andhra Pradesh show better performance and achievement if you consider irrigated land as a percentage of total arable land.
But why has the state not irrigated its land? Well, there are two answers for that.  Both are linked to greed.
The first answer is sugarcane.  That is the crop on which many of the political bosses in the National Congress Party (NCP) and the Congress have fattened themselves. It is true that they continue to claim that they make losses on sugarcane.  But that is because the other benefits that come from sugarcane are not included in the profit and loss statements of the sugar cooperatives.  Lately, even some political heavyweights from other parties have learnt how to play this game.
The huge income from distilleries – that make use of the molasses from sugarcane – are never seldom in the cooperative farm income.  They are shown as separate entities.  And do also remember that the high taxes on liquor make it an ideal target for diversion and tax evasion.  That is why liquor barons have conventionally been one of the largest (and most powerful) of political fund contributors. The problem with sugarcane is that it is a water guzzler – as is cotton, the other favourite crop of the politically powerful.
It is sugarcane that caused has usurped both land and water in Maharashtra.
Go back to the table and then look at the numbers that are highlighted. Despite net sown acreage shrinking, the acreage under sugarcane grew by 122% — it more than doubled its acreage from around 444,000 hectares in 1990-91 to around 987,000 hectares in 2015-16. Compare this with the all-India increase in acreage of just 33%.  What this means is that states like Uttar Pradesh and Karnataka – which have more water than Maharashtra – did not push up their sugarcane acreage as enthusiastically as Maharashtra did (could the ill-gotten gains from liquor be the bigger motivating factor?).
Total tonnage of sugarcane produced also increased by 92% from 38 million tonnes to 74 million tonnes. Once again, watch how, in spite of increasing the acreage by 33% at the national level, production went up by 45% for the entire country.  Maharashtra, on the other hand, pushed up acreage by 122% but could register a production increase of just 92%.  Clearly, it could not be as productive as the rest of India.
Then there is the second reason. Ill-gotten money. Irrigation was not allowed to expand for other crop growing areas in Maharashtra.  That itself offered any opportunity. The states politicians could divert the funds earmarked for irrigation to their own pockets instead. That money was thus siphoned out.  That could explain why the irrigation scam which hit national headlines has not been pursued very vigorously.  This is despite the courts stepping in to ensure that investigation is not allowed to be closed against the irrigation money scamsters.
Now you begin to understand why the Telgi scam, the irrigation scam, and other such scams were never investigated fully. Farmer deaths do not matter.  What matters is the money (and hence political power) that can be grabbed, disregardful of ethics and legality.
Maharashtra has shown that money talks; but farmer deaths don't.
Comments can be posted to RNB@asiaconverge.com