https://www.moneycontrol.com/news/india/new-government-will-inherit-unpaid-infrastructure-bill-of-rs-12-4-lakh-crore-3937001.html
Unpaid bills for the new government
RN Bhaskar — May 06, 2019
The latest report titled 'Status of Infrastructure projects', from CARE Ratings (dated 18 April 2019) makes for interesting reading.  But reading between the numbers, it becomes evident that the next government will have to pay for the as-yet-unpaid costs for infrastructure development.  The unpaid costs total to a sizeable Rs.12.4 lakh crore.
The CARE Ratings report has compiled the infrastructure spend during the past five years, and has pointed out the time and cost overruns for various sector projects over this period.  It also informs you how – of the total 1,424 projects under implementation —  444 are mega projects with project outlay of over Rs. 1,000 crore and the combined costs of these projects constitute 80% of the total project development outlay.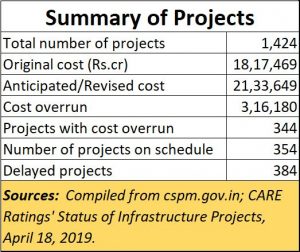 It tell you about the total costs involved – and that the anticipated cost of implementation for 1,424 projects is currently pegged at Rs. 21.34 lakh crore. These projects were originally expected to be completed at a cost of Rs. 18.17 lakh crore, of which Rs. 8.07 lakh crore or 37.8% of anticipated cost has been already incurred.
What this means is that the cost overrun amounted to Rs.3.16 lakh crore.  Yet, significantly, sectors relating to power, roads, railways and petroleum accounted for most project completions (85 out of 101) by December 2018.  This, underscores CARE Ratings, is a considerable improvement over the previous years and the number of projects completed by year-end would be at least a 50% improvement over the previous years. The present government needs to be complimented on this performance.
However, in spite of this improved project management, the fact remains that the present government has left behind 384 projects which collectively account for pending bills worth Rs.12.4 l;akh crore.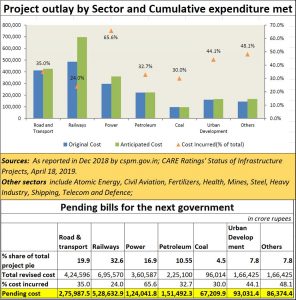 This figure may not have mattered much in the normal course of things.  Projects do get carried over from the term of one government to another.  But this time, the country's banking sector already faces the problem of burgeoning non-performing assets (they had surged beyond Rs.10 lakh crore by the end of 2018).
The total power sector is reeling under losses – estimated to have crossed Rs.3 lakh crore (https://www.moneycontrol.com/news/business/comment-praapti-transparency-or-tokenism-you-decide-2606461.html and http://www.praapti.in/). Then there are liabilities on account of welfare schemes already announced by the government.  Then you have state government deficits as well, which have to be borne in mind.
Finally, you have the welfare schemes anno0unced by the government – with even more welfare schemes political parties have promised in their respective manifestoes. With tax collection targets being missed, industrial output not picking up as expected, the only silver linings could be the rising stockmarket indices, the surge in foreign portfolio investments (FPI) and higher foreign exchange reserves.  But as economists point out, it would be too early to celebrate this news, because it is not unusual for funds to flow into the country during election season (https://www.moneycontrol.com/news/business/economy/opinion-brace-for-economic-slowdown-after-2019-lok-sabha-polls-3289271.html).  It is best to postpone uncorking the champagne bottle.
Finally, there is always the awareness that government spending is always higher in the two years prior to elections.  There is little money left after elections are over.
Expect government spending to be, therefore, tighter come June 2019.  With little FDI (foreign direct investment) taking place, there are urgent calls for reworking the clauses relating to investment protection.  It is three years now, and not a single government has signed the present governments new version of the Bilateral Investment Treaty (BIT).  One of the vexatious clauses there is the right to arbitration from a seat outside India (http://www.asiaconverge.com/2018/12/tapping-private-investment-and-equity-inflows/).
It is clear, therefore, that someone has to blink.  If the new government has to create jobs, it has to promote investment.  Unlike as in the past few years, the new government may not have the financial bandwidth for making fresh investments. It has already used up money from PSUs as part of its off-budget-financing strategies (http://www.asiaconverge.com/2019/02/india-splurges-money/); it has arm-twisted the RBI into giving it higher dividends, and it has burdened LIC with IDBI shares and the losses of many companies (disclosures have not yet been made about the amounts involved).
And given the way politics works, it is probable that the focus will be on freebies and doles.  This has two advantages.  First, it can be politically populist.  Second, it allows for a lot of skimming of funds (https://www.moneycontrol.com/news/business/more-doles-for-the-needy-will-only-result-in-more-corruption-3838161.html).  Expect this approach to result in a crisis, which may push the government into finally reconsidering its stand on investment protection. And if the recent surge in FPI proves to be ephemeral, and if funds disappear from the stockmarkets, expect a full-blown financial crisis to confront the new government.
In other words, the new government will have to manoeuvre through some very dangerous rocks in the coming months.  But the flip side is that India ends up doing the right thing only when there is a crisis.  Remember 1991 and the financial crisis confronting India then? Recall how India had no option left but to break down some of its licence raj barriers?
And the past pattern suggests that India does well when the government at the centre is weak (https://www.moneycontrol.com/news/business/economy/comment-are-strong-governments-bad-for-the-indian-economy-2528037.html). So, could it be the heralding of spring when winter sets in?
Very interesting times ahead.
Comments can be posted to RNB@asiaconverge.com