A modified version of this article can be found at https://www.moneycontrol.com/news/tags/haier-india.html
Haier India soars higher and higher in India
RN Bhaskar  – Nov 7, 2019
Also look up http://www.asiaconverge.com/2019/11/flying-higher-higher-haier/
Last year (2018), Haier India achieved net sales of Rs.3,500 crore in India, making it the fourth largest white goods company in this country.  Globally, it had already become No1# almost ten years ago.  But in India, it hopes to double its sales and become a a $1 billion company by 2020.  It also hopes to become #3, just behind LG and Samsung.  It will then have overtaken Whirlpool, the current #3.
In some ways, Haier has begun to enjoy the same reputation that Whirpool did till a decade ago. It was then believed that wherever Whirpool went, it would eventually emerge as #1. But Haier came on the scene.  Global rankings have changed. So what makes Haier tick?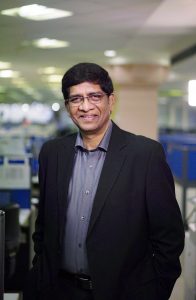 Eric Braganza, president, Haier India,  spoke with Moneycontrol about how his company managed to grow in India.  He refuses to talk about global operations, because that is not his area of responsibility.  But piecing together information available in the public domain, and on the basis of discussions that this publication had with Haier India, it is possible to identify a few things that made Haier a winner.
Management makes a difference
To understand Haier's success in India, it is necessary to first look at the way its parent grew. The Haier Group Corporation has often been described as a Chinese collective multinational consumer electronics and home appliances company.  It is headquartered in the picturesque seaside city of Qingdao on the eastern coast of China.  It designs, develops, manufactures and sells a variety of products including air conditioners, washing machines, water heaters (geysers) television sets and refrigerators in India.  Globally, it is engaged in mobile phones, computers, and microwave ovens as well.  It is a possible that such products may also find their way in India.
By 2014, according to Euromonitor, Haier had the world's largest share in the white goods market.  It enjoyed a 10.2% market share then. It was then the sixth consecutive year that it was Numero Uno.   It remains the global #1 even today, with the gap between the #1 and $2 increasing each year.
Its origins lie in building refrigerators in Qingdao, and then selling them to the Chinese market. But it became a state-owned enterprise in 1949 after the establishment of the People's Republic of China. By the 1980s it ran aground to near bankruptcy. In 1984 the state government of Qingdao decided to hand over charge of this company to Zhang Ruimin, a young city manager.
Much of Haier's success can be traced to the way Zhang ushered in concepts that actually changed the work culture of the company.  When Zhang inherited the refrigerator company, it had a debt of over CNY ¥1.4 million. It was plagued with dilapidated infrastructure, poor management, and lack of quality control.  It produced barely 800 refrigerators a month. Under Zhang, it entered into a joint venture contract with Liebherr, a German refrigeration company.
The introduction of German technology and equipment helped it upgrade quality control and management processes. By 1986, the company returned to profitability.  Its sales were now growing at an average annual growth rate of 83%. Zhang saw sales grow from CNY 3.5 million in 1984 to CNY 40.5 billion in 2000.  Just around that time, in 1988, the company, now also known as Haier (possibly because the last two Chinese characters of Liebherr were Haier), was asked by the Qingdao government to take over other ailing appliance manufacturers.  Its move into growth through acquisitions had begun.
Quality an entrepreneurship matter
But there was a second reason for Haier's success.  It was Zhang's ruthless commitment to quality standards.  There is one anecdote that Haier's employees talk about – of how – in 1985, Zhang ordered his employees to destroy 76 refrigerators with sledge-hammers.  A customer had filed a complaint about the poor quality of its refrigerators.  The demolition of the refrigerators actually sent a chilling (pun intended) message down the ranks.  That poor quality would not be tolerated at all. That adherence to quality standards also did a lot to change the way the public now began viewing Haier.  It also made employees more vigilant and alert to customer complaints.
There was a third reason.  It was the new management philosophy that Zhang introduced. As Braganza says, "Haier's Rendanheyi Model for management is based upon creating a huge value of its services for customers, employees and enterprise and maintain the vitality of venture enterprises in the fast-paced age of Internet. Under this model we segregated the functioning enterprises within the company into micro-enterprises. These self-organizing micro businesses act as separate entities where the employees do not wait to hear from the boss, but rather listen to their valuable customers. The core idea behind this is to ensure that employees get ownership, decision-making rights and a customer-paid salary. With such a working set-up they themselves begin thinking like entrepreneurs. As a result, we have one of the lowest attrition rates in the country."
This management model brought in high levels of entrepreneurship.  Each division of the company began looking at itself as a profit centre.  For instance, a budget was allocated to the customer service department.  It had to manage its work within that budget.  It had to ensure that all the check-boxes of do's and don't's had been ticked, and the minimum standards achieved.  If the department went beyond this, and within the budget, and if it managed to save some of the money as well, it earned a bonus.  Thus, even service centres became business enterprises.
Acquisitions and global expansion
There was a fourth reason as well – acquisitions.  By 1991, the company officially changed its name to Qingdao Haier Group.  It had by now taken over a microwave company, and also an air-conditioner and freezer company. Soon it took over a washing machine enterprise as well.  Between 1995 and 1997, it had acquired as many as seven companies, and had even embarked on exports to other countries.
Its acquisitions include some very big names. In 2012 it acquired the New Zealand appliance manufacturing company Fisher & Paykel. In January 2016, it acquired the appliance division of General Electric.  In September 2018, it acquired the Candy group in Italy.
And all this inevitably led to the fifth reason behind its incredibly rapid growth.  Global expansion. In 1996 and 1997, Haier opened production facilities in Indonesia and the Philippines. In 1999 Haier entered the US markets.
To entrench itself in the US markets it looked for niche products and found them in making compact refrigerators and electric wine cellars.  Soon, Haier began to manufacture full-sized refrigerators for the North American market.  That brought it into head-on competition with the liked of GE, Whirlpool, Fridgedaire and Maytag (its bid to acquire Maytag failed). Yet it continued to grow.  By 2002 sales in the US alone crossed $200 million.
The same year saw it set up production facilities in Pakistan. In 2003 it entered Jordan.  It then began expanding within the African continent and set up production facilities in Tunisia, Nigeria, Egypt, Algeria and South Africa. It then entered European markets with an acquisition of a (Meneghetti) factory in Italy.  It then placing its products in European retail chains, or got products made under OEM agreements but under the Haier brand. It entered similar arrangements in Venezuela too.
It entered India in January 2004 and started building its distribution network. Today it has 38 offices across India, with its manufacturing unit on the outskirts of Pune. "But we have reached the capacity limits at this location even earlier than we thought we would, and have now decided to open another unit in Noida which will be significantly larger than the current one," excplains Braganza.  The current Pune facility produces refrigerators (0.5 million), air-conditioners (0.5 million), washing machines (0.5 million), TV sets (0.5 million) and water heaters (0.5 million).  The New Noida facility will be much larger – spread over 123 acres and involved an investment outlay of around Rs.3,000 crore. It will produce a million additional units of each of the above products, and may even consider introducing newer products.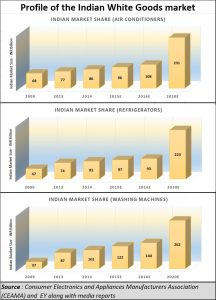 The India story
But what made it succeed in a fiercely competitive market in India?  Well, it was touch, admits Braganza who took over as President of Haier India in September 2009. Haier India had a turnover of just Rs.200 crore then.
Building a distribution network was one thing.  Today, Haier has a network of 17,000 dealers across India, comprising 2,000 direct dealers and 15,000 indirect.
But it was critical to find the right price point.  As one analyst points out, the problem Haier faced was that it did not want to be known as a Chinese company – at least initially.  This was because many people in India associated Chinese products with poor quality.  It was a crazy situation.  Traders bought goods from China that were the cheapest, because they wanted a higher margin.  Cheap goods thus flooded the Indian market giving Chinese goods the unfortunate reputation of being cheap b oth in price and quality.  Haier had to break that impression.  So it actually avoided advertising itself as a Chinese company.
So it took a price point that was a bit lower than the market leader, but a bit higher than the cheapest brands. Getting the pricing right was a key factor.
The second was to get the right strategies.  It did that brilliantly with refrigerators. Explaints Braganza, "we analyzed how the traditional refrigerators are designed in a way where the less-used freezer section is at the top and the more-often-used refrigerator section is at the bottom. Thus, every time the user needs to use the refrigerator section, he has to bend down to access it. Keeping this in mind, we launched a campaign focused on our Bottom Mounted Refrigerators on the narrative "Ulte ko Seedha" in 2016. We were the first-ever brand in the industry to introduce this range of Bottom Mounted Refrigerators which helped in reducing bending of consumers by 90% and enabled greater visibility of the refrigerator section with food items stored at the eye-level."  |That worked, and its refrigerators became immensely popular.
Or it meant adding a unique feature that other products did not have in the same range.  Take for instance its water heaters.  Unlike many other brands which offered to cope with water supply coming in at a pressure of 6 bar, Haier had water heaters that worked well with 8 bar pressure levels.  Unlike many other water heaters, it got for its range a 5 star energy efficiency rating, and unlike other heaters, it also displayed the water temperature.  And it was a bit less expensive that other similar brands. That too appears to have worked. Thus in almost all the products, where unique features were introduced which enhanced customer appeal.
As a result, Haier has done better than most of its market peers.  In an industry which has rarely seen growth of over 10% y-o-y, Haier has been blitzkrieging across the country.  Braganza admits this, "we registered growth [rates] of around 50 per cent and became one of the top five consumer durables brands in India. In 2018, we grew 71 per cent in our overall refrigerator business and doubled our sales in the mid and high segment. In the washing machine segment, we grew 55 per cent and in the air conditioner segment we witnessed a growth of 40 per cent. In our commercial AC business, we witnessed an equally impressive growth of 50 per cent."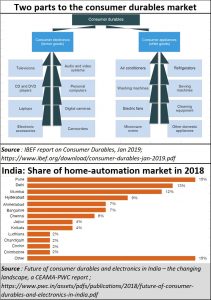 Compare this with what the industry has seen (see chart above). According to a report by Consumer Electronics and Appliances Manufacturers Association (CEAMA) and consultancy firm EY, India is expected to rank fifth in the consumer durables market in the world by 2025. "The Indian market for consumer electronics and appliances is around $9.7 billion and has grown at a CAGR of 9.7 per cent over the 2010-2014 period and is poised to reach $20.6 billion by 2020,"
This is echoed by another CEAMA-PWC report  — Future of consumer durables and electronics in India – the changing landscape (https://www.pwc.in/assets/pdfs/publications/2018/future-of-consumer-durables-and-electronics-in-india.pdf). Ditto with another report on Consumer durables of Jan 2019 by IBEF (https://www.ibef.org/download/consumer-durables-jan-2019.pdf)  . In fact, so low key has Haier been, despite its blazing growth rates, that the IBEF report does not even mention Haier among the top leading brands. The ones which got mention were Onida, Philips, Samsung, Sony, Videocon and Whirlpool.  Another name missing from the IBEF list was LG.
But the consumer goods market in India has been witnessing a bit of froth.  This is because of two reasons.  First, the growing middle class has an appetite for better consumer durables like never before.  Second, the market is terribly under-penetrated, which suggests that the growth potential is tremendous (see charts).
That could explain why in addition to the Rs.3,000 crore that Haier is investing in its new plants, others have come in with investment plans as well.  Media reports talk of a slew of players:
In July 2018, Samsung announced an investment of Rs 5,000 crore (US$ 745.82 million) for expansion of manufacturing capacity to 120 million from 68 million devices at its Noida plant in India.
In June 2018 Bajaj Electricals acquired Nirlep, a kitchenware manufacturing company for Rs 42.50 crore (US$ 6.34 million).
Then there are reports that Intex Technologies will invest around Rs 60 crore (US$ 9.27 million) in 2018 in technology software and Internet of Things (IoT) startups in India in order to create an ecosystem for its consumer appliances and mobile devices.
Micromax plans to invest US$ 89.25 million by 2020 for transforming itself into a consumer electronics company.
In January 2018, Panasonic started its first refrigerator plant in India with an annual production capacity of 500,000 units with an investment of Rs 115 crore (US$ 17.76 million).
In May 2017 Havells completed acquisition of Lloyd consumer durables business for an enterprise value of Rs 1,600 crore (US$ 248.2 million)
In October 2017, Flipkart launched its private label 'Marq' for selling large appliances in India.
And not to be left out, a British technology company Dyson will invest around Rs 1,300 crore (US$ 200 million) in the Indian consumer durables sector by 2023.
Clearly, the competition in the consumer goods segment in India is likely to get fiercer.  Haier is getting ready for this.  Given its track record in the world, and in India as well, it may continue to soar higher.
Comments can be posted to RNB@asiaconverge.com