https://www.freepressjournal.in/business/policy-watch-budget-2021-is-a-mixed-bag-with-too-many-causes-for-alarm
Budget 2021 is not really about Atma Nirbhar Bharat
RN Bhaskar — 05 February 2021
===============================
All the Budget 2021 articles can be found at http://www.asiaconverge.com/2021/02/budget-2021-series/
================================
First, there are some very good things about the budget.  Note, all the figures discussed here have been taken from the website of the finance ministry (https://www.indiabudget.gov.in/expenditure_profile.php)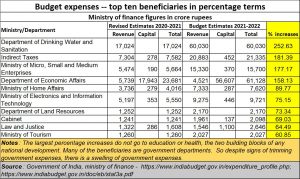 Budget 2021 allows for over Rs. 60,030 crore for drinking water (up from Rs. 17,024 crore last year).
The allocation for Micro, Small and Medium Enterprises (MSMEs) has also swelled from Rs. 5,604 crore to Rs.15,629 crore. This is good because this sector is the largest employer and wealth generator in India (http://www.asiaconverge.com/2018/11/please-leave-msme-interest-rates-alone/).
The reduction of import duties on gold (from 12.5% to 7;5%) was long overdue, and it is good that the government finally did this.  One factor that helped the government was soaring gold prices.  So, the reduction in duty will not reduce the government's receipts on account of customs duty on gold overmuch. Great timing.  It will certainly dampen gold smuggling (http://www.asiaconverge.com/2020/10/gold-smuggling-ii-a-cleanup-is-urgently-needed/)
The focused approach towards disinvestment is another commendable move. India cannot afford to keep pouring good money over bad.
And it is good that a policy for scrapping vehicle (a variant of the US government's Cash for clunkers scheme has finally been accepted.  It was pending since 2016, when India's automobile associations mooted it, and Nitin Gadkari, Union Minister for Transport had backed it (http://www.asiaconverge.com/2016/05/scrapping-old-vehicle-policy/). It is heartening that the government finally woke up after almost five years!
And yes, let us not forget infrastructure. The ministry of Road Transport and Railways saw allocations go up from 101,823 crore last year to Rs. 118,101crore (16%) this year .  However, it is intriguing that Rs.9871 crore will be by way of recurring expenses (presumably salaries) which accounts for 8% of the outlay.
But the list of what the government did not do or did what should not have been done is longer.  This is sad, because this is what is being glossed over by key spokespersons in the market, many of them close to the Prime Minister's office.  When analysts become propagandists, the danger to the economy becomes greater than ever before.
Take education and health first.  These are the two key measures that the government promised would get priority.  But those promises have been forgotten.
Education
Short of railing against agencies which showed up India's poor ranking on PISA, QS and other academic scores (http://www.asiaconverge.com/2020/06/the-qs-scores-highlight-5-things-india-should-not-do/) and the Human Capital Index as well (http://www.asiaconverge.com/2018/10/poor-hci-rankings-and-a-soaring-stockmarket/), the government has done precious little. The department of Agricultural Research and education saw its funds allocation go up from Rs. 7,762 crore last year to Rs. 8,514 crore (barely a 10% increase). The Department of Schools and Literacy saw allocations go up from Rs. 52,189 crore to Rs. 54,874 (just 5%). Higher education got a better deal with allocations climbing from Rs. 32,900 crore to Rs. 38,351 crore (17%).  Strangely, however, only Rs.25.5 crore (7%) is meant for capital expenditure.  In other words, even higher education did not get much.  Sigh!
But this is also where the situation becomes farcical.  The urgent need is for primary and secondary education.  The findings of Pratham are quite well known — in 2018, only 44.2% of the boys in Std V could read the books meant for Std II.  The score had declined from 53.1 in 2008 (http://www.asiaconverge.com/2020/01/pre-budget-series-barbarians-at-the-gates-of-education/).  And everyone knows that if the quality of students coming from schools is poor, the contamination of colleges and universities is inevitable.  There will be demands for diluting syllabi, scrapping examinations, and granting of grace marks (a veritable disgrace).
In fact, improving school education does not even require allocation of funds.  It only needs the government to inform school managements that all tax exemptions and other centrally administered fiscal benefits will stand withdrawn if outcomes of students at the end of each academic year was not up to the mark.  Let states decide how to measure outcomes.  The centre should have a qualifying examination at the end of Std V and std VIII.  The withdrawal of tax exemptions will compel managements to pay more attention to the quality of education being imparted.
That will make the selection and retention of teachers better, and the quality of school education will improve. If a school consistently fails in improving outcomes (say for three years), the school itself – along with all its assets and students – should be taken away from the inept management and handed over to another management that has consistently performed well on outcomes. That will allow the quality of education management to improve dramatically. There is no additional money required here.  Only vision, and political will. Both seem to be missing with the government on this score.
That alone will help improve India's PISA and QS scores as well.
Health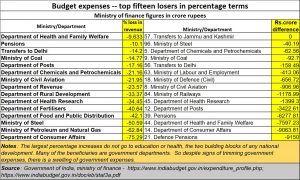 A similar lack of vision is visible in the government's approach towards health.
Take the numbers first. The Department of Health and Family Welfare saw its allocations decrease from Rs. 78,866 crore last year to Rs. 71,269 crore (-9.6%) this year.  Capital expenditure declined even more sharply, from Rs. 4,234 crore to Rs.2,509 crore (a worrying -60%).
Wait for more bad news. The Department of Health Research similar saw its funds slashed from Rs. 4,062 crore to Rs. 2,663 crore (-34%).
But just a minute! Didn't the finance minister talk about enhancing the funds for the health sector?  Was that a lie, or was that a whitewashed truth?  Some analysts say that the government tried to conceal these cuts by clubbing drinking water and sanitation with health services and could thus claim that allocations had gone up.  What a shame!  And didn't someone not call this the most transparent budget in decades? Ouch!!!
Ah, yes.  There is indeed one part of medicare that has received funds. The Ministry of Ayurveda, Yoga and Naturopathy, Unani, Siddha and Homoeopathy (AYUSH) has been blessed with huge fund increases – up from Rs. 2,322 crore last year to Rs. 2,970 crore this year (28%).  It will be good if the government follows this up with a policy announcement that all ministers and bureaucrats must be treated only at Ayurveda hospitals henceforth, failing which they lose any government expenditure sanctions.
In fact, medicare can be improved almost overnight, without the government spending overmuch. All it requires is vision and political determination. Sadly, the government likes playing politics with budgets.  Like roads, which are being built mostly in states where elections are to take place, hospitals are opened with much fanfare and celebration in states where the government hopes to extract maximum political mileage.
As mentioned above, much could have been achieved without spending much money.  Once again, the government could use the budgetary and finance ministry tools of tax exemption, duty waivers and other fiscal benefits.  The way to do this is by allowing private parties to build a minimum of 10 floors on existing government hospitals (doesn't matter if they belong to state or central governments – fiscal benefits are applicable to all).
All government hospitals have land.  Persuade the state governments to allow them additional FSI of at least additional 10 floors.  Let the private sector use the FSI and the land — free of cost — and take care of the building and the basic medical equipment cost.  Get suppliers of medical equipment to extend generous financial packages for easy lease rental for such machines Charge a nominal fee from patients.  They will gladly pay such fees in return for good medicare.
Let the private parties give 40% of the treatment at subsidised costs, and the rest at market rates by way of cross subsidising expenses.  The private parties will make money, the long queue of patients standing in undignified misery will disappear.  Healthcare facilities will come up, at cheaper costs than if the entire deal were given to private players.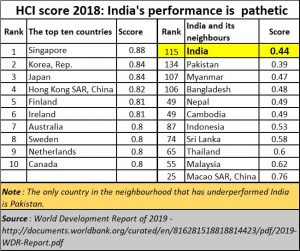 That will reduce the risk of expenses for families and for insurance companies.  In fact, insurance companies could be persuaded to take up stakes in the out-patient-department (OPD) facilities, so that diagnostics could permit them to introduce premiums based on preventive treatment.
Simultaneously increase the number of medical seats – and seats for nursing and paramedics — so that the numbers double each year for the next five years.  That will ensure that the blackmarket in medical education vanishes.
India could begin attracting students from overseas and earn precious foreign exchange.  Moreover, every foreign student is like a long-stay tourist, who also contributes to the rest of the economy. The student travels, entertains and celebrates, making purchases from local suppliers.   India benefits.  Blackmarketeers lose.
By not doing this, the government appears to be protecting the interests of education blackmarketeers and actually make this country weaker.  Not surprisingly, India's HCI is the lowest in this neighbourhood (with the sole exception of Pakistan). Even Bangladesh invites some 500 students from India to study medicine there.
Handled well, this could allow medical tourism to flourish as well.
One more thing – if India produces more doctors and nurses than the domestic demand, they can become part of India's manpower exports which bring in remittances.
Are India's policymakers that dumb? Can they stop eulogising political leaders and instead get down to drafting sensible policies?
The government's utter failure to strengthen India – Atma Nirbhar is only a slogan without education and health – should not be concealed.  India's policymakers will never learn how to make India strong, unless analysts point out to the  basic flaws in their approach towards economic reform. If the policymakers genuinely believe in Atma Nirbharta(self reliance), please begin with education and health.
Unfortunately, these two sectors are the primary major failings of this budget.  More on other shortcomings in the next part of this article.
Comments can be posted to RNB@asiaconverge.com