Kajol benefited from ASDC training she improved on her communication skill, soft skill, personality,etc.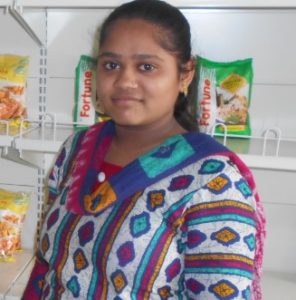 Kajol lives in small village near Surat with her parents. Her father works in a small firm near their village and mother is a housewife.
Kajol had convinced her parents that if she takes up this training, this would guide her to achieve her dreams. She started to stay with her aunt at Surat and enrolled herself for Retail Sales Associate course. She is working at Samsung store, Surat and earns a monthly income of Rs 8,500/-
Kajol's job provides her a vast career growth in marketing and customer services; this will be a good platform to learn many new things which would help her to grow to the next level. Her parents state "We are thankful to ASDC for making our daughter SAKSHAM and for giving her a great opportunity to work in a reputed company, this has changed our lives".
Kajol has benefited from this training as she has improved on her communication skill, soft skill, personality, spoken English and vocabulary. She learned how to sell a product, handling customer and practical skill with addition to retail Sales Associate certificate.
Kajol concludes stating "I am thankful to ASDC for giving me the best opportunity to learn new things and also helping me to get job in which I can outshine".
Comments can be posted to RNB@asiaconverge.com