Why I prefer flying Indigo, not Vistara
Updates: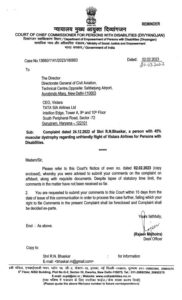 21 March 2023 — Another update.  The Office of the Chief Commissioner for Persons with Disabilities sent out another notice to the Vistara management, stating the following see image alongside.  Please click to enlarge it):
"Please refer to this Court's Notice of even no. dated 02.02.2023 (copy enclosed), whereby you were advised to submit your comments on the complaint on affidavit, along with requisite documents. Despite lapse of statutory time limit, the comments in the matter have not been received so far.
2, You are requested to submit your comments to this Court within 15 days from the date of issue of this communication in order to process the case further, failing which your right to file Comments in the present Complaint shall be foreclosed and Complaint shall be decided ex-parte."
I have not heard anything from the Vistara management either, ever since the iuuse of the earlier notice (see below).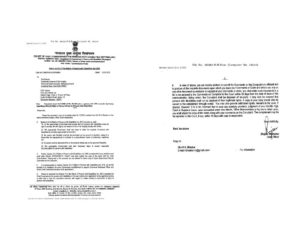 27 February, 2023: I am glad to state that the Office of the Chief Commissioner for Persons with Disabilities has taken cognizance of my complaint, and has asked Vistara for its explanation.  The letter dated 27 February 2023 is reproduced alongside.  Vistara has not got back to me as yet on what remedial steps they plan taking.  I haven't cared to fly Vistara since the episode narrated below.
The incident on 5 December, 2022
On 5 December 2022, I was invited to the Symbiosis Institute of Management Studies (SIBM) to visit its Hyderabad campus and discuss the strategies of Gautam Adani.  Penguin RandomHouse had just brought out this book, authored by me, and I looked forward to interacting with SIBM's faculty and students.
I flew into Hyderabad on an Indigo flight.  Since I am disabled (2022-12-24_2013-08-28_Disability-certificate-colour-rnb), the airline made provisions for my wheelchair and a seat near the exit gateways, as they always do.  In fact, Indigo always ensures that it provides me a seat anywhere between rows 2 and 8 on my travel journeys to different parts of India.  That is one of the many reasons hy I love Indigo's services.
For the return journey to Mumbai, I chose to fly Vistara on the same night (UK 876).
When the travel agent in Hyderabad sent me the Vistara ticket that had been issued on 26 November, 2022 (2022-12-24_Vistara-Hyd-Bom-ticket1), I discovered that despite my instructions for wheelchair and an aisle seat, neither was mentioned on the ticket.  The travel agent had sent my request and my medical certificate to the airline.  Evidently, they did not want to even consider it.
I wrote to Vistara and was told that both the wheelchair and the seat would be provided to me when I reached the airport check-in counters.  I retorted that airlines always mention both wheelchair facility and seat number on tickets, I was assured wheelchair assistance, and was told to approach the check-in counter for seat allocation.  Another interaction made the airline finally issue to me a ticket with wheelchair assistance.  My aisle seat request was met by providing me a seat on row 28 (2022-12-24_Vistara-Hyd-Bom-ticket2).
I wrote to the airline once again on 3 December (2022-12-24_Gmail – EXTREMELY URGENT – PNR – MUBXNM – Need wheelchair and aisle seat – Is Vistara being DISABLED UNFRIENDLY_), asking it to provide me a better seat, but the airline did not reply to my email.  In that email I told the airline that if my request was not heeded to I would take up this matter through "the ministry for social justice and empowerment which is in charge of the Department of empowerment of persons with disabilities (https://disabilityaffairs.gov.in/content/page/national-policy.php) . I also intend to take this issue on social media, unless steps are taken to redress my grievances immediately."  Clearly, the airline was not bothered.
I finally had to travel via Vistara and occupied seat 28 D.  The cabin crew, I must admit, was extremely helpful.  Nut I was livid at the airline giving me a seat towards the very end of the aircraft.  Maybe, the airline should study the guidelines of the ministry.  A good summary can be found at https://www.canefoundation.org/flying-with-disability-aviation-guidelines-in-india/.  Another document that the airline ought to study is at (2022-12-24_2006-02-10_National Policy for Persons with Disabilities)
I was busy thereafter, travelling to other cities and speaking at other fora.
Three days after my travel by Vistara, a girl claiming to be speaking from Vistara rang me up and said that she was from the social media department.  She tried to explain to me that the reason by the last row had been given was to enable disabled people to be near the toilets.  I asked her if that was a requirement for a one-hour flight from Mumbai to Hyderabad.  She had no reply.
Clearly, Vistara does not care for the disabled.  Unlike Indigo, there is no facility on its ticketing website allowing a disabled person to register himself (or herself) as being such.  The airline had a copy of my medical certificate, but did nothing.  It first sent a ticket without wheelchair and seating as requested.  It then sent only the wheelchair facility details.  It finally sent a ticket mentioning both but with the seat at 28 D.
I shall be populating this through social media, as I had stated in my email.  I shall also be informing the ministry concerned because the civil aviation ministry and the ministry for social welfare need to work in tandem to protect the interests of the disabled as well. The fact that Vistara does not offer these facilities on its website, issues tickets without providing these facilities, expects passengers to send it repeated emails making such requests, convinces me that Vistara does not care for the disabled.  It is more concerned about putting the disabled near toilets even when shorty flights do not warrant this, or when customers have not requested for this facility.
That is why I shall always have a great deal of regard for Indigo.  That could also explain why Indigo is more profitable.  It is not just efficiency that matters.  The airline industry is a service industry where care for customers is of paramount importance.
Vistara has yet to show me that it cares (though, I repeat, the cabin crew were excellent).  My vote of support is for Indigo.
rn bhaskar
Comments can be posted to RNB@asiaconverge.com