Gautam Adani becomes more relevant for India than ever before
 By RN Bhaskar

Historically, perceptions are often created by media and sometimes by design.
An interesting anecdote that media managers need to remember is one that I learnt from Ravi Boothalingam (https://asiaconverge.com/2021/12/india-china-the-long-view/). I met him when he was the MD of Vazir Sultan Tobacco (VST) till it got taken over and merged into ITC.  He was then a director on ITC's board.  Moreover, he was a Chinese scholar and today runs Manas Advisory.  He was commissioned by National Geographic to lead a team to explore Mongolia and find out where Genghis Khan was buried.
When he returned to India, I asked him if Genghis Khan was really all that blood-thirsty as history books and folklore lead us to believe.  He chuckled; his eyes crinkled; and he replied in a single sentence, "Genghis Khan was the only world conqueror, whose history was written by those he defeated." The penny dropped.  What else do you expect defeated people to say about one who has vanquished them ( https://asiaconverge.com/2021/05/genghis-khan-dont-shoot-down-the-messenger/)?
That story comes to mind when I watch people attacking Gautam Adani as a billionaire without a base or when people say that he used the CBI and the Enforcement Directorate to acquire the Bombay Airport.  Rubbish!
Bombay Airport (MIAL) was acquired when GVK did not pay the principal instalment for years.  Not even the interest.  Adani went to the banker and offered to clear all the pending dues if the pledged shares could be transferred to him.  The banker asked him for 15 days' time.  The banker rang up GVK's promoter and asked him to pay. in 15 days.  at least the interest amount so that the loan would not remain in the contaminated category.  When no money came forth, the banker transferred the shares to Adani.  This is reinforced by GVK's own statement that Adani did not pressure him (https://www.newsx.com/gvk-boss-refutes-rahul-gandhis-charges-says-no-pressure-from-adani-group/). All along Adani kept silent, refusing to debunk his critics.
As for being a billionaire without a base, it is worth remembering that Adani runs and manages schools – most of them government owned.  By my reckoning, he must be managing some 6,000 schools across the country, without charging the state governments anything.  Today, parents of students from private schools, come to the Adani managers requesting them if they could transfer their children to an Adani managed school instead of the private school that they have been attending (https://asiaconverge.com/2019/10/priti-adani-interview-goodness-at-the-grassroots/). Education is – after all — the building block for any nation.
In Himachal Pradesh his group teaches farmers how to grow apples in a more scientific way. It teaches them how to pluck apples, and even provides them free medicare.  The beneficiaries have been farmers – without any assistance from the government. The apples from this state are then exported.
The trouble is that Adani himself has not not released advertisements extolling the good work he had been doing.  He has only focussed on implementing his projects to make them both more efficient and more profitable.  In the absence of such proclamations, people end up declaring that he is a billionaire without a base.
Take another instance – Gautam Adani has injected funds into a government hospital in the Kutch region increasing its capacity from 300 beds to 900 beds.  Even when doing so, he told the government that he did not want any management quota seats – that the government should manage admissions both to the medical college and the hospital. Nobody from the Adani group tomtommed this fact. I had to ferret out such details when I began researching the industrialist for my recently released book – Gautam Adani – Reimagining business in India and the world. I had to battle the group to even let me publish the biography, and it was only in March 2022 that I got permission to do so.
Adani is a media shy person, and has begun talking about his dreams only 18 months ago over several platforms.  Maybe, he should have done so earlier.  But then, it would be shifting focus from business to media management, which is another thing he loves to avoid.
One more factor that people often overlook is that many of his projects have been won through open tender, and not through government grants.  And when it comes to ports – the initial ports were given to him by the government – it was the Congress Party that did so.  Ditto with the land acquisition, or the port-rail connectivity policy. Yet, today, he is building ports in non-BJP West Bengal, Odisha and Kerala.  He has been invited to make investments in Chhattisgarh and Rajasthan.  Where is the BJP footprint there?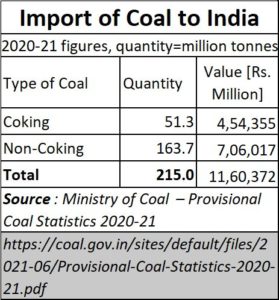 To make the port viable, he set up the first thermal power station using equipment from the Chinese that were cheaper than that of other industrialists in India.  The power station was set up in record time, and then he set up a huge UMPP (ultra mega power plant) at Mundra. His own power plants and the Tata UMPP (also at Mundra), together created the volumes of coal imports he needed to make this business a thriving one.  This was in addition to the import of coal for other state government power stations (incidentally, none of his critics ever admit that he was one industrialist not involved in any of the coal scams). He then focussed on more synergies in the energy space by moving into transmission (he is the largest player in this segment too) and in electricity distribution.  Then he moved into green energy – solar and hydrogen (which might see some delays now).
When it came to crude oil, he built an oil-tank farm for Indian Oil Corporation, and then a pipeline from Mundra to Bhatinda when IOC had its refineries.  And to make the imports viable, he built an oil evacuation terminal.  The liquid cargo terminal then began dealing with edible oil imports as well, giving him an edge in coal and liquid cargo.  FCI's import of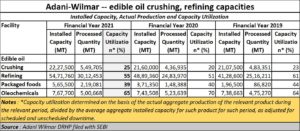 grain, got him into another agricultural product. In edible oil, which is an open market business, his Fortune oil has become India's leading brand.  And the grain that he stores for FCI commands a premium in commodity markets.  The last is proof of his ability to store grain better than any of his competitors as retail commodity market prices are not controlled by the government.
Today he has become indispensable to India (https://asiaconverge.com/2023/01/adani-indispensability-and-valuations/) in at least two industries – energy and ports. You can import petrochemicals, steel, copper, almost anything, but not infrastructure and energy.  They must be invested in domestically.  In global markets too, Adani has developed the largest coal mine which in turn provides energy security to developing countries in Latin America, Africa and India (India consumes more coal than it produces domestically).  He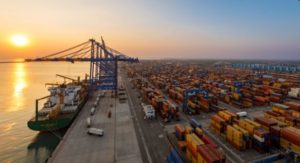 also owns a port in Australia.  He owns a 200 km railway line too in that country.  Combine the mine, the railway line, the port, power stations and his own ships, and you realise that Adani has the pricing flexibility few miners enjoy in the entire world.
His Colombo port has already weaned away the business that would have gone to the Chinese built Hambantota.  And his port in Israel, plus the acquisition of an island nearby, gives him a formidable base for transhipment to and from the US and the EU.
Adani has constantly moved into projects that have become the very backbone of this country – in more than one sector. It then becomes obvious that he has a base that is just marvellous and more relevant than what most industrialists have in India.
It is only lately that Adani has begun to talk about his achievements.  That is why, earlier, he ran the risk of becoming another Genghis Khan.  Today, he is rapidly reshaping business for India and for the world. His base is expanding, not shrinking.
Comments can be posted to RNB@asiaconverge.com