http://www.freepressjournal.in/analysis/lessons-india-can-learn-from-thailand-r-n-bhaskar/1246406
Thailand pursues economic development aggressively
— By RN Bhaskar | Mar 29, 2018 08:00 am
India began talking about Make in India since 2014.  And it has been talking about India becoming the hub of innovation for several decades now.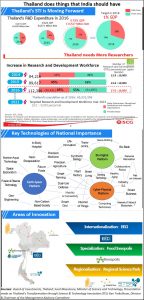 But quietly, and rather efficiently, Thailand has begun working on it.  It has begun revising its import tariffs, its visa regulations for trained professionals who could help the country in its march towards excellence, its internal systems of education and its focus on science and technology as well.  The idea is that Thailand should have a domestic workforce that could match the innovation levels that many developed countries have achieved.
India talks about such things.  Its Skill India programmes make immense sense.  But it has been unable to scale them up to transform the country.
Watch the chart alongside.  This little country has done things that India could have done better.  In order to get a perspective on this, it must be noted that India has a land-mass of 3,287,263 square Km that is thus six times larger than Thailand's 513,120 sq km.  True, India has a large population – almost 19 times larger than Thailand's 68.9 million.  But that could be the perfect reason for India to focus on developing his manpower resources, and look at people both as wealth creators and as manpower export opportunities.  Remember, Indians have already become the largest provider of remittances in the world – without much support from the government.
Instead, India has allowed its school education potential to get ravaged by policies that looked at reservations and entitlements instead of merit, ideology instead of excellence.  Not surprisingly – despite its weakened standards – India has a literacy level of just around 74.04% (which is more of a fudged rate – see http://www.asiaconverge.com/2016/12/fudging-education-data-produces-sludge/). Then compare this with Thailand which achieved a literacy level of 97% in 2015.
When it comes to the government's ability to splurge or misuse taxpayer-funds, once again it is Thailand that comes out with a better deal than India. It has a corporate income tax rate of 10-20%  and even lower rates for SEZ (or special economic zones), a withholding tax of 1-10% and a value added tax (read GST) of just 7%.
In fact it is the way Thailand has modified its national objectives from time to time that has allowed it to advertise itself as the Gateway to the ASEAN region. So while earlier, Thailand focussed on agriculture (Thailand version 1.0), it quickly moved to focus on productivity enhancement in light industries (Thailand 2.0). It then moved on to focus on labor and heavy-machinery-intensive production (Thailand 3.0).  It has now begun promoting Thailand 4.0 which calls for focus on technology and innovation to add product service value.
Over the last four years, it has seen its expenditure on R&D climb from 0.45% in 2014 to 0.78% of GDPin 2016.  Its target for 2018 is 1% of GDP, and it hopes to achieve its target of 1.5% by 2021.  Two-thirds of this is from the private sector. As a result, its ratio of R&D personnel per 10,000 workers has climbed from 12.9 persons in 2014 to 12 persons in 2016. It has set 25 as its its target for 2021.
It hopes to achieve this by focussing on three years – through Internationalisation, through specialization – especially in areas related to food technology, and through regionalization (regional science parks).
One of the most impressive focus areas remains the Eastern Economic Corridor (http://thaiembdc.org/eastern-economic-corridor-eec/)  – a 13.3 square km SEZ  — which Thailand has been positioning as the gateway to Asia. It has begun working on enhancing its transportation and logistical systems. Work has already begun for setting up a high speed train network that will connect three major international airports – Don Muang, Suvarnabhumi (Bangkok) and U-tapao. Its double track railways line and motorway networks are also being expanded.  The U-Tapao airport is being planned with its own FTZ (free trade zone) freight-rail-yard and aviation hub. The last is to have its own merchant MRO (Maintenance, Repair and Overhaul) facilities, which the government believes will become the biggest MRO in South Asia in the coming decade. Included in the plans are Phase 3 of the Laem Chabang Port, Phase 3 of the Map Ta Phut industrial port, the Sattahip commercial port and supporting ferry ports.
But are all these efforts getting translated to actual industrial investment by foreign players?  Yes, indeed. Thailand has witnessed a surge in foreign direct investment (FDI) inflows, which have been growing at around 21%  over the past six years (compared to a global average of 0.7%)..  That is not surprising considering that the World Bank in 2016 ranked Thailand 2nd in terms of ease of doing business among emerging economies in East Asia. Mastercard has ranked it #5 on Asia's financial literacy index.
In fact, the manner in which Thailand has begun attracting investments is also a story worth telling. Some of them include medium sized Indian entrepreneurs who see in Thailand the flexibility to expand in a manner that was not possible in India.  But that is a story that needs to be looked at some other time.
Comments can be posted to RNB@asiaconverge.com