Are India's milk markets up for sale?
RN Bhaskar
I have been this way before, and I am sure

To be this way again. Once again

Excerpt from a Neil Diamond song in the Serenade album
Update: After this article appeared, the government of India issued a clarification (https://pib.gov.in/PressReleasePage.aspx?PRID=1914391). It also stated that "In case the situation warrants, the import may be done to help ease out the situation for the dairy cooperatives to meet the summer demands. However, in that case also it will be ensured that it is routed only through NDDB and the needy Unions may be given the stocks at the market price after proper assessment."  Finally, NDDB is being given the role it was created for.   Thank you Govt of India.
==========================
For most economy watchers, it is déjà vu all over again. India's farmers are being short sold. The government does not really care for their well-being.
The latest salvo comes in the form of the government informing people – through the Press Trust of India – that milk imports are to be allowed henceforth (https://news.abplive.com/business/with-stagnant-milk-output-in-india-govt-may-consider-import-of-diary-products-1593456) .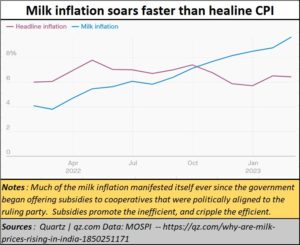 Welcoming imports?
The last time such a move was sought to be made was in August 2019, when RCEP (Regional Comprehensive Economic Partnership( negotiations were underway.  India had then almost agreed to allow New Zealand, the largest player in the milk markets in the world, to sell some of its milk products to India.
This was opposed fiercely by none other than RS Sodhi, then head of the GCMMF (Gujarat Cooperative Milk Marketing Federation) which sells milk and milk products under the Amul brand.  He pointed out ow even 5% of imports would cripple the milk industry (https://asiaconverge.com/2019/08/indian-bureaucrats-almost-shortsold-the-milk-industry-at-fta-cpec-negotiations/).
He also made a presentation (http://www.asiaconverge.com/wp-content/uploads/2019/08/2019-07-22_GCMMF-Presentation-to-Minister-and-Additional-Secretary-Commerce-Ministry-Mumbai-22nd-July-2019.pdf) to Piyush Goyal, the minister in charge of RCEP negotiations, how this would hurt India's farmers grievously.
The groundswell of protest from the farmers made the government retract from its plans to allow milk and milk product imports.
One would have thought that this was over and done with.  Not really.  This time the government has tried to justify milk imports on the grounds that domestic prices need to be cooled.  It may be recalled that during the last few weeks, milk prices climbed by Rs.5 a litre, though Amul – the largest player, and the biggest brand – chose to increase it by only Rs.2, that that too sometime after the Rs.5 increases were announced and implemented.
Specious arguments
But the justification sounds weak.  Had the government been concerned about not hurting

both farmers and consumers, it would have also said that all imports would be canalized through NDDB – just as they had been during the time when Verghese Kurien was at the helm of the milk industry.
He wanted NDDB to be the canalizing agency for all imported milk and milk products – either purchased, or received as gifts. Such milk would be released into India's markets gradually at prevailing prices, so that the farmers would not suffer a price distortion or face losses (https://asiaconverge.com/2021/11/remembering-kurien-and-how-much-the-country-owes-to-him/).  NDDB was a farmers' organisation, set up to empower them. The government's refusal to canalize imports through NDDB only confirms fears that traders and foreign suppliers are sought to be benefitted.
This becomes clear when one studies India's inflation indices.  Milk prices began climbing faster than consumer prices only after the government moved to modify laws relating to cooperatives, and even tried to control the largest players in the milk cooperative sector.  It first tried to discount the influence of Verghese Kurien in September 2022 (https://asiaconverge.com/2022/09/world-dairy-summit-forgets-verghese-kurien/). The presentation NDDB made for the biggest milk conference in India did not mention Kurien at all.
That was sad, because it was Kurien who ensured that Indian farmers would get a steady income from milk.  Today, milk is the backbone of the agriculture sector.  Almost 10 crore farmers – 80 % of them with less than two cattleheads – earn a daily cashflow of Rs.100 per cow per day for 300 days in a year.  Do bear in mind that 10 crore farmers means 50 crore people, because each rural household usually comprises five members. That translates into one-third of the country's population. Without this income, farmer distress in India is bound to become be more acute than ever before.
Equally significant is that milk accounts for the highest share in India's agricultural GDP.  It accounts for almost a quarter of agricultural production.  At 5.2% of India's GDP, it is larger than rice and wheat put together.
Sodhi exit
The other significant move of the government appears to be when milk cooperative heads (many of them affiliated to the BJP) called an emergency meeting and asked Sodhi to step down (https://asiaconverge.com/2023/01/sodhis-resignation-has-dire-warnings-for-agriculture-and-milk/).  The writing was on the wall.  India's ministers and bureaucrats could not stomach an independent head of the most powerful agricultural company in India.  After all, Sodhi was one of the first to protest against the government move to allow New Zealand to sell its milk and milk products in India.
The decision to import milk was thus to be expected.  There is a possibility that the government wanted to bail out New Zealand and other global milk producers.  Milk prices overseas had begun to fall precipitously.  Farmers overseas were howling with pain.  The FAO Index shows this quite clearly. Milk prices were falling rapidly overseas (https://www.fao.org/fileadmin/user_upload/est_new2020/xlsFileToUpload/Indices/FAO_Dairy_Price_Indices.xlsx).
Someone in the government must have thought it more profitable to ease the plight of farmers overseas than farmers in India. Nobody talked about atma nirbharta  or self-reliance this time. The government did not even call a press conference to explain its moves.  The information came from news media sources (through the PTI) instead.
Protests begin
This time, the first signs of protest came from Sharad Pawar, one of the most important leaders of the opposition, and one who has close links to both agriculture and milk cooperatives (https://www.outlookindia.com/national/pawar-writes-to-centre-urging-it-not-to-consider-import-of-dairy-products-news-276408/amp).
He cautioned the government that any such decision, to import milk and milk products, will be totally unacceptable.
Edible oil too
The government's penchant for using a surge in domestic prices as an excuse to import has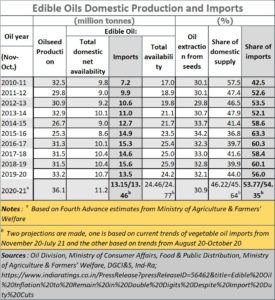 been tried before as well.  Piyush Goyal addressed a conference in December 2022 trying to explain why import duties on edible oils had to be lowered to curb the surge in domestic prices.  The government should have instead offered farmers a higher purchasing price. That would have encouraged them to grow more oilseeds in the country.
Not surprisingly, India continues to depend on imports for over 50% of its requirements.
What is worse, the government's claims of trying to cool runaway prices in India is a bit hard to believe.  Data collected by CARERatings in 2021 showed how any attempt to import oil only causes global prices of edible oil to flare up as well.  And while domestic prices can cool down, global prices remain high.  That's because overseas suppliers know that by then many Indian farmers would have given up on growing oil seeds. No farmer likes to be caught unawares by a sudden government decision to import a crop.
It is such price analyses that should have warned domestic policy makers to be careful before announcing any decision to permit imports.  Could it be that the blandishments and incentives offered by global players were found irresistible by this country's policymakers?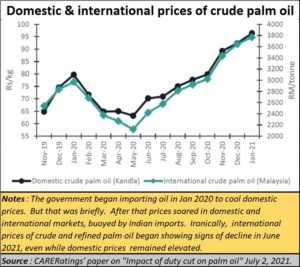 The government's decision to allow milk imports flies in the face of the presentations Sodhi made in 2019,  The situation has not changed.  On the contrary, farmer distress has worsened, and this decision of the government could worsen it further (https://asiaconverge.com/2023/02/budget-2023-and-agriculture/).
Short-selling farmers
The government's disdain for the plight of farmers, and willingness to benefit traders, is evident in other instances as well.
Do recall how the farmers were short-sold to benefit traders in 2016-17.  That was when the government chose to import pulses, even when almost every agricultural expert knew that India's production volumes would soar (https://asiaconverge.com/2017/05/how-pulses-imports-drove-domestic-growers-to-the-ground/).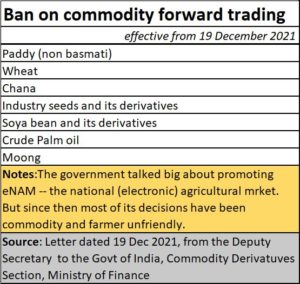 Then there was the ban on futures trading in commodities.  To be fair, such bans were in evidence even before this government came to power.  Such bans were evident in 2007, 2008, 2009 and 2012. But after this government came to power, such bans resurfaced first in 2016 and then in 2021 (https://asiaconverge.com/2022/10/the-folly-of-banning-futures-trading-in-commodities/).  And unlike older times, this government has banned more items from forward trading than ever before. What is extremely distressful is that the 2021 ban has been extended till the end of the coming financial year.
Such bans are repugnant.  They prevent farmers from discovering future prices and plan their cultivation strategies accordingly.  Without such knowledge, they are compelled to depend on government grants and doles at times of distress.  The very concept of atma nirbharta has been thrown to the winds. The sheer folly of banning forward trade appears to be lost on the government (https://asiaconverge.com/2022/10/the-folly-of-banning-futures-trading-in-commodities/).
The latest blow against farmers – in the government's decision to allow milk imports – is likely to create a storm among farmers.  One just hopes that good sense prevails, and the government retracts.  The very future of India's agricultural sector could be at stake.
Comments can be posted to RNB@asiaconverge.com