https://www.moneycontrol.com/news/business/comment-praapti-transparency-or-tokenism-you-decide-2606461.html
PRAAPTI looks and sounds good, but could be plain tokenism
RN Bhaskar
Late last month, R.K.Singh, minister of state  in charge of power, launched the PRAAPTI app and web portal (http://pib.nic.in/newsite/PrintRelease.aspx?relid=179615). The idea was to bring in transparency related to electricity payments to power generators.
PRAAPTI is the acronym for Payment Ratification And Analysis in Power procurement for bringing Transparency in Invoicing of generators. Its website (www.praapti.in) is visually pleasing, and provides information relating to payments and outstandings state-wise in quite a comprehensive manner. In attendance at the launch of PRAAPTI were power secretary A.K. Bhalla and, Power Finance Corp chief Rajeev Sharma, and the heads of other power sector PSUs.
T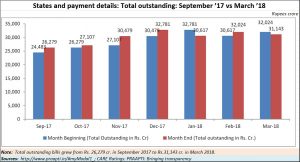 he minister stated that the app and website had been developed to usher in transparency in power purchase transactions between power generators and discoms (power distribution companies).  The app and website are supposed to capture the invoicing and payment data for various long-term PPAs (power purchase agreements) from the generators. This is intended to help stakeholders in getting month-wise and legacy data on outstanding amounts of discoms against power purchase and enable consumers evaluate financial performance.
But there are reasons for being a bit cynical about such efforts.
But there are more reasons for being a bit cynical about such First, the relevance of the app and web portal will depend on the ability of the web masters to be able to collect the required data from state government bodies in charge of discoms and finance departments.  Take for instance the figures given on the portal on May 29.  The figures relate to March-end.  This is quite strange because according to the Electricity Act, all purchases of power are to be paid for 24 hours in advance.
In a world where all transactions and invoices are captured electronically, the data should have reflected the position as of the previous week at the very latest.  But the data shown relates to information that is at least two months old.  It was possibly made available because it pertained to financial year-end information which all discoms and state electricity boards are required to give to the Central Electricity Authority (CEA) and to the ministry. If the data comes in late, there can be no real transparency.
Moreover, see how the month end figures of outstandings are invariably higher than the beginning of each month.  That indicates that the net amount owed to power generators keeps increasing each month, because the outstandings invariably exceed payments month after month. And while the total outstandings do appear to be declining during January-March, it is early days yet.  That could be an attempt to clean up a bit of the mess before the financial year got over.
Second, in spite of the data being made available, it is quite well known that power subsidies, inefficiency and a blind eye to power theft have left power discoms bleeding.  Most of the discoms are state owned, and are not known for either transparency or fiscal discipline (https://www.moneycontrol.com/news/business/companies/interview-tata-power-ceo-praveer-sinha-says-best-positioned-to-deal-with-coming-disruptions-in-energy-markets-2582025.html).  UDAY was touted as a panacea, but the results prove otherwise.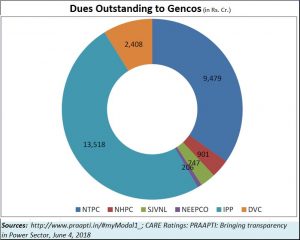 Third, see the chart alongside. As a CARE Ratings report of June 4 points out, the outstanding dues of state electricity boards and discoms to power generators presents a dismal picture.
Independent power producers (Private Power Producers) were owed 49.6% of the total outstanding dues followed by NTPC (34.8%), Damodar Valley Corporation (8.8%) and the remaining to NHPC, SJVNL, DVC etc.
NTPC (State-owned) is the single largest genco accounting for 34.8% or Rs. 8,454 cr. of outstanding dues to be paid.
• Among Independent Power Producers (IPPs) – Adani Power, Sembcorp, JSPL, DB Power and JP Associates are the other generation companies which are collectively owed Rs. 11,450 cr. (approx.) of dues by discoms.
state governments may have invested in data systems that allow all related parties to view such information
That could explain how the total outstanding amounts keep increasing even though the monthly payouts by discoms seem to be increasing.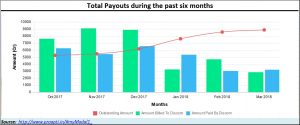 In a season where most people are lulled into believing that having an app is the best solution for all ailments, it is wise to go by numbers and not by appearances. Eventually, an app or a portal is only a front end for user friendly interfaces.  The soul and the essence lie at the backend. That is what often gets ignored or even sabotaged. This is true of police complaint portals, municipal payment gateways and government complaint portals as well.
The power sector is bleeding – both in terms of total losses (UDAY commitments alone account for Rs.2.69 lakh crore) and delayed payments.  Something has to give.  That is why, the solution might not be an app, but a total restructuring of the power industry itself.
Comments can be posted to RNB@asiaconverge.com