https://www.firstpost.com/business/creation-of-jobs-improving-judicial-adjudication-and-bringing-in-foreign-investment-to-remain-concerns-in-2019-5791051.html
The year that was – dreams, prayers and promises — jobs, adjudication, FDI
RN Bhaskar — December 26, 2017
When one thinks of the past year, one must see it as a culmination of the four years gone by – when the Modi government was swept into power. That was when the markets were euphoric and rose in a crescendo, They too liked the promises that were made during the election season.
Four years later the aftertaste is a bit acidic.  Two lines come to mind: one by Leonard Cohen in his Songs of the Street –
"Now the infant with his cord is hauled in like a kite
With one eye filled with blueprints; one eye filled with night"
And the famous line by James Joyce
"History is a nightmare from which I am trying to awake".
…filled with blueprints
There were blueprints aplenty when Modi strode in to grab the post of prime minister.  He had promised more governance less government; there was the assurance of a bigger role for the private sector; and even if one were to ignore the hyperbole of Rs.15 lakh in each person's account, there was certainly an assurance that corruption would be wiped off.
Modi's impressive track record made people ready believers.  He had transformed Gujarat.  He had ushered in power reforms, and had brought in technology to trigger an agricultural revolution. Some of these reforms are now being rolled back (https://www.firstpost.com/india/gujarat-power-bill-waiver-beginning-of-downward-spiral-towards-bankruptcy-india-needs-to-check-frenzy-of-freebies-5761821.html).
The iron hand with which he managed to control the boisterous VHP and the Bajrang Dal in Gujarat has almost been forgotten now.  But he managed to do that as well.  And he did nothing that would adversely hurt the prospect of Gujarat being the second largest producer of milk.
. . .filled with night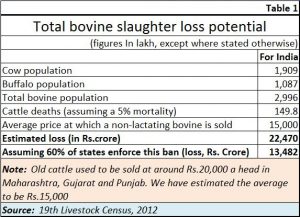 Strangely, for a chief minister who nurtured the milk industry in Gujarat, it wasn't long that he allowed BJP ruled state governments to bring in harsh laws relating to cow slaughter.  This time the laws went further than mere slaughter.  The new laws banned transport of cows as well.  So while early, devout Hindu cow owners in Gujarat would sell off their old cow to traders, who in turn sold them to slaughterhouses, this was no longer possible.
Worse was yet to come.  Soon the laws were expanded to cover buffaloes as well, and had it not been for the Supreme Court stepping in and rescinding such laws, matters could have got worse.
Overnight, the economic consequences of this decision were dramatic. Farmers got prepared to face losses of upto Rs.13,000 crore a year (see table 1).
And this was without taking into account the losses that could have been suffered by the leather and beef industries (http://www.firstpost.com/business/ups-job-woes-cm-yogi-adityanaths-slaughterhouse-ban-could-see-painfull-days-ahead-3347442.html).  These were major employers in the country, and even while new jobs could not be created, existing jobs were being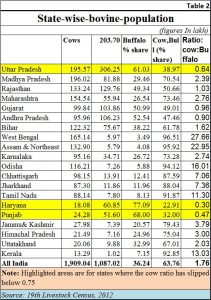 jeopardized. Since most of the people involved in these two industries were Muslims and backward classes, it was only a matter of time before these two communities found common ground for their disappointment and pain.
There were two more developments that were taking place.  States that had been shrill in their denunciation of cattle slaughter, and had even permitted screaming vigilantes to spill on to the streets had begun to witness a decline in the population of cows over buffaloes.  The population of cows was more robust in states where the ban was not being enforced (see table 2). States in the Northeast vehemently opposed any move to ban the consumption of beef.  Expect these states to become the new centres for milk production, beef and leather industries as well. Ditto for states in the south which had a thriving industry in leather.
The geography of milk, leather and beef is now being redefined in post independence India.
The hope
The biggest economic achievement during the past five years has been the introduction of GST.  Unfortunately, it was brought into the markets in a rather ham handed way and too close to the unfortunate demonetisation.  Demonetisation, by itself, was not a bad idea.  It was one of the best ways to bring currency back into the banking sector.  But that could have been achieved even if people had been given six months to convert their old high value currency into new notes.  The panic could have been avoided.  After all, as developments were analysed, very little of black money got impounded.  Cash transaction did not get wiped out.  Instead, there was a move back to cash after the initial resort to e-payments.
But GST is gradually bringing the grey sector back to the formal economy.  Hopefully, this move alone could transform the Indian economy by minimizing the role that cash currently playes in the financial ecosystem. GST may actually mark a watershed moment for the country. One only wishes, it had been done more carefully, and without having to deal with the harshness with which demonetisation was introduced.
History is a nightmare
But there are many more moves that the government has made – especially in the past one year, that have left both economists and sociologists baffled. One relates to the retrospective effect given to the amendments to the FCRA (http://www.asiaconverge.com/2018/03/corruption-collusion-legislative-filibustering/). In March 2018, the government passed major amendments to the Foreign Contributions Regulations Act which protected all political parties from disclosing or explaining the source of their funds from overseas – retrospectively for the past 42 years.  That this was done even while the matter was being perused by the Supreme Court sets in a dangerous move where the legislature is now attempting to change rules even when the courts decide against the government.  That is not good for the economy, because business knows quite well that there is a cost to legal processes.  And when you have a government that chooses to bring in laws that seek to frustrate court judgements, the feeling of discomfort grows. These amendments are currently being challenged before the Supreme Court.
That is why foreign investments are not pouring in as quickly as they ought to have. Most fresh foreign direct investment (FDI)  has slowed down because the government has not yet permitted foreign companies to take recourse to arbitration in a seat outside India.  Foreign investors want this, because this move prohibits Indian courts from reopening arbitral awards thanks to a Supreme Court ruling (http://www.asiaconverge.com/2018/01/asking-investments-good-can-india-guarantee-speedy-fair-grievance-redressal/).  The government wants disputes to go to the Arbitration Centre in Mumbai, but without the guarantee that Indian courts will not reopen arbitral awards.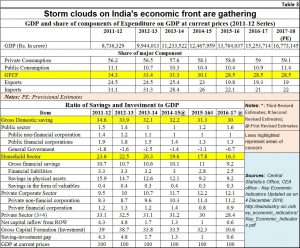 That in turn has slowed down investments, and even GFCF or gross fixed capital formation (see table 3).  The only exception to the rule appears to be China which has continued pouring investments into India even though it has not been given the right to seek arbitration in a place outside India.  Currently the only country that appears to have this advantage is Japan.  But in spite of this assurance, Daiichi is still struggling to make Ranbaxy pay the damages awarded. The matter is before the courts now.
The government has not even moved to pay Devas Multimedia the damages awarded to it by arbitral courts.
Unless the issue of dispute resolution is resolved, expect the flow of investments to remain poor. Even the World Vank knows that this area is India's proverbial Achilles heel.  That is why even while registering India's ranking on the ease of doing business to jump 23 places to rank #77 in the World Bank's Doing Business 2019 report, it also showed that when it comes to enforcement of contracts India still ranks #163; it ranks #137 on starting a business; and #108 in resolving insolvency (http://www.asiaconverge.com/2018/11/controlled-debt-but-worsening-investment-climate-are-not-good-for-the-economy/).
Other concerns
There are other signs that should worry economy watchers.  The rate of savings has begun to slow down.  It could have been because of demonetisation, or it could be because of consumerism (see table 3).  But with little FDI and slowing savings, the prospect of job formation could be a difficult exercise. Combined with soaring bank non-performing assets (NPAs and the virulent spread of farm-loan-writeoffs (http://www.asiaconverge.com/2018/12/the-pestilence-of-farm-loan-waivers/), expect major tensions on the fiscal front.
Yet there is no denying that the home made products like NACH, BHIM, UPI, IMPS and Rupay have taken epayment to smaller customers.  Almost overnight, such payment gateways and systems have begun to account for over 50% of transactions within India, though the figure could be small in terms of value.  But there is no denying that the market has been opened up.  It is only a matter of time that these small value transactions become larger, and Indian payment gateways could give the likes of Mastercard and Visa a stiff competition.
Equally mixed has been the government's claim to have stanched corruption.  The government's move to amend the Prevention of Corruption Act has only spurred on more petty corruption (http://www.asiaconverge.com/2018/08/amendments-to-prevention-of-corruption-act-protect-corruption/).
Clearly, the challenges for the government will be many. Creation of jobs, improving judicial adjudication, and bringing in foreign investment will be concerns. The coming New Year could be a turbulent one.
Comments can be posted to RNB@asiaconverge.com